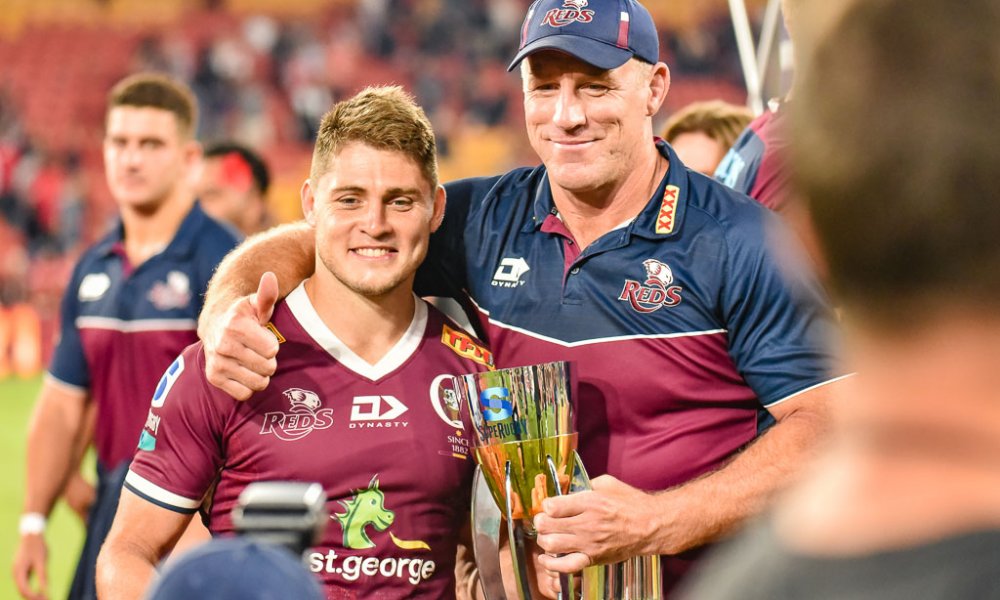 In this loig-free Wednesday's Rugby News, possible Super-style card treatment at World Cup (and Stuart Hogg retirement), ABs lament lack of ideas, Brad Thorn chatter and Deaf Rugby Sevens.
Super(ish) card treatment at 2023 World Cup?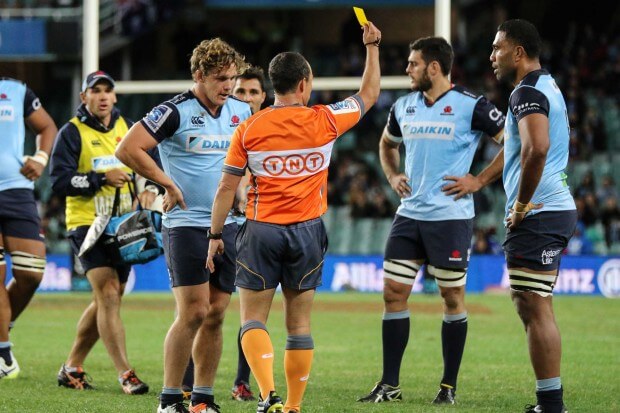 Nine reports that the Super Rugby yellow/red card system is being seriously investigated ahead of the 2023 Rugby World Cup in France.
This year, Super Rugby Pacific organisers introduced a new procedure whereby television match officials review yellow card infringements and determine whether it warrants an upgrade to a red card with very little loss of game time.
However, there would be a distinct difference between the two systems. In Super Rugby Pacific, if a yellow card is upgraded, the player would be removed from the match but would be permitted to be replaced after 20 minutes from the time of the incident. Should World Rugby adopt the review system, a red card at international Test match level would see the offender's team a player down for the time remaining in the game.
Apparently one bugbear is that upgrades from yellow to red haven't always been communicated to spectators. World Rugby is considering ways to deliver that message, in the event the system is implemented. G&GR suggests they use the bloody great big screens and loudspeakers at the stadiums. Complimentary tickets and flights in lieu of our usual "Brains Trust" fee will be fine.
Stuart Hogg announces post World Cup retirement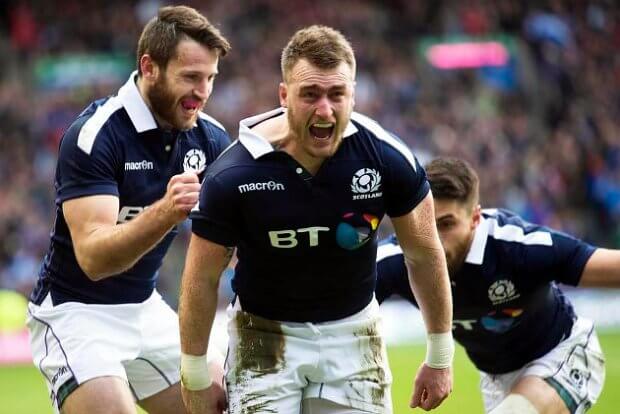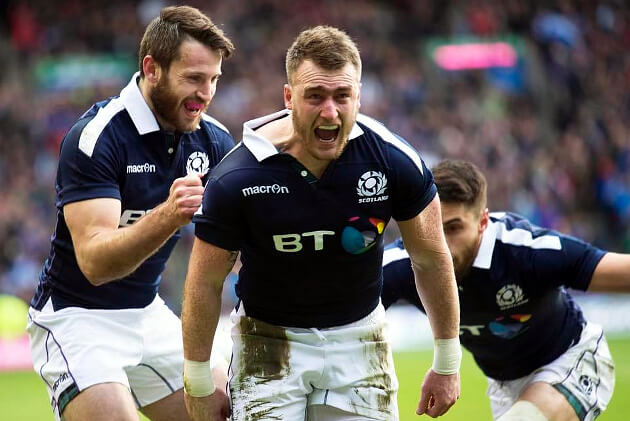 Rugby 365 reports that the Scottish rugby star, Stuart Hogg, is hanging up his boots following the Rugby World Cup later this year, He announced his pending retirement on Monday, saying he felt the physical demands of the sport were beyond him. This will be Hogg's third World Cup if he plays.
The full-back, who turns 31 in June, won his 100th cap for the Jocks in the Six Nations defeat by the Paddies earlier this month but limped off injured and missed their final game against the Eyeties.
Hogg, who signed his first professional deal with Glasgow Warriors in 2011, said a "new career beckons". "I don't feel my body can achieve the standards that I set myself for much longer," he said. "I've always wanted to finish at the top end of the game. After the tournament, a new career beckons and I will attack it in the same manner as I play the game."
Hogg made his Scotland debut during the 2012 Six Nations and was selected for the British & Irish Lions on three successive occasions (2013, 2017 and 2021). His 2017 tour was cut short by a facial fracture, but in 2021 he gained two Lions Test caps against South Africa.
His relationship with present Scotland coach Gregor Townsend hasn't been plain sailing; there've been disciplinary issues and he was replaced as captain last October by Jamie Ritchie.
ABs thought of it first! A couple of years ago!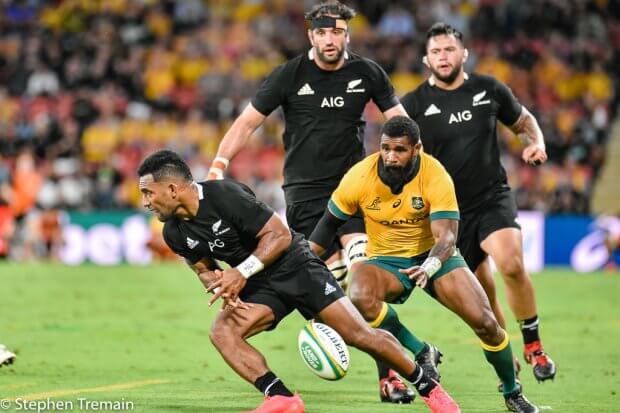 Rugbypass reports that "ideas man" Steve has been missing from the NZ setup recently.
The 2010s-era AB dominance has apparently faded with the semi-final loss at the 2019 World Cup, triggering a fresh wave of scrutiny. Some claimed the team was hanging on to old tactics and not evolving at the rate of the rest of the world.
"For me, we've got to stop following," former All Black Sir John Kirwin told his fellow pundits on this week's episode of The Breakdown. "I think we invented pods, we invented a lot of stuff 10-12 years ago, and I think the Northern Hemisphere are coming up with different ways to attack. That's what we need to do."
With a new assistant coaching group beside him, Ian Foster's team looked to be attacking with renewed freedom at various points during last year's campaign. The appointments of Jason Ryan and Joe Schmidt as forwards and attack coaches respectively came three games into the 2022 season, following the series loss to Ireland and just ten days prior to the start of The Rugby Championship. The improvements the team enjoyed given that short turnaround period will spark some optimism among the Kiwi faithful, but only time will tell how effective of a scheme the coaching group can muster.
Thorn succession plan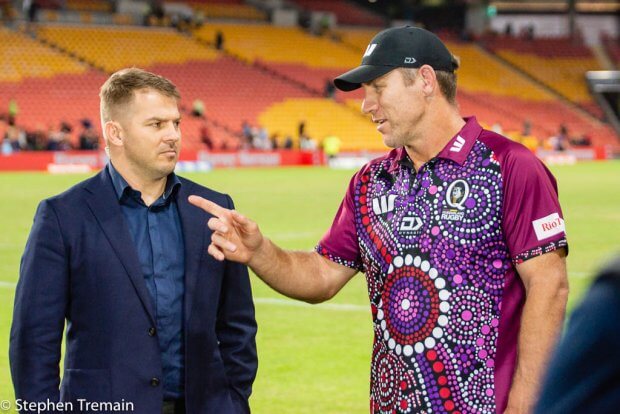 Nine reports that chatter about an early end to Brad Thorn's tenure is greatly exaggerated.
Former Wallaby Stephen Hoiles believes Brad Thorn should see out the season as Queensland Reds coach before a likely transition to his assistant Mick Heenan for 2024 and beyond. Thorn is off contract at the end of the season and Queensland greats Tim Horan and James Horwill believe it could be the dual code legend's last Super Rugby Pacific campaign.
The Reds are 2-3 following Saturday's 40-34 loss to the Melbourne Rebels at AAMI Park in front of Melbourne's dozens of rugby fans. But while pressure is building on Thorn, Hoiles doesn't believe it is the right time to pull the trigger. "Not based on that performance, they weren't bad," the Randwick coach said on Stan Sport's Between Two Posts. "If you are sitting here in four weeks' time and they haven't won another game since… sometimes change in the mid-season doesn't solve anything, you've just got to let it ride its course."
Thorn's right hand man Mick Heenan is arguably the most successful coach in Hospital Cup history, guiding the University of Queensland to six premierships in his 13-year tenure before joining the Reds this season. In appointing Heenan as an assistant, the Reds said he would be "responsible for co-ordinating the Reds coaching program, maximising the development of non-matchday 23 players and emphasising off ball effort areas and attack breakdown."
Hoiles was interested in observing Heenan interact with the Reds players on Saturday. "I watched Mick Heenan address the whole side, it looks like he's got a senior role there," Hoiles said. "And to be fair, Mick Heenan isn't an assistant coach, he has run University of Queensland successfully as a head coach for a long time. It looks as though they know who the next person is if it isn't Brad Thorn. I just assumed they prepared themselves for change with who they have brought in."
Deaf Rugby 7s World Cup
Finally, check out this SBS News item on the deaf and partially-deaf Australians going to the Deaf Rugby Sevens World Cup being staged in Cordoba, Argentina 5–9 April 2023.
"If a scrum-half yabbers constantly in a game and no one around has to hear it, does he make a sound?"
Best of luck from G&GR.