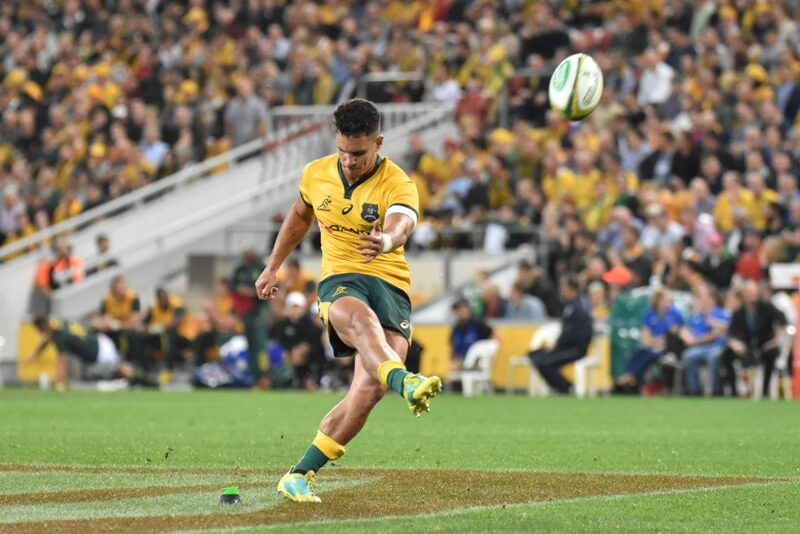 Wednesday's Rugby News looks at the fresh players in the Wallabies squad, the forgotten flyhalf in the Wallabies squad, a raid on a trio of the West's finest talent and the last hurrah for a dual-code superstar
---
Fresh Meat
With the Wallabies finishing off their final days in (World Cup) Survivor: Noumea, Michael Chieka is set to deploy the freshest legs in and out of his squad against Samoa at Bankwest Stadium.
It was reported in yesterday's news that Jack Maddocks and Rob Valentini have been drafted into the side with the expectation of playing on Saturday, with the pair set to be joined by the likes of Joe Powell, Bernard Foley and Matt Toomua in the matchday squad.
Toomua has detailed the rigorous training schedule that the squad has undertaken over the past ten days, which has essentially been eat-sleep-rave-train repeat.
"Very, very busy. It's pretty much get up, train, eat sleep, get up, train, eat, sleep," Toomua said.
"Session start at 6am for training and getting done late in the night too but it's been great and everyone is working hard now for the World Cup."
The Wallabies are well aware of the dangers that Samoa presents, with the memories of 2011 still burnt in the minds of players and fans alike.
Toomua was itching at the bit to start in the test match, with the flyhalf/inside centre one of the six guys in the squad with Samoan heritage.
"We have about five or six Samoan guys, who come from Samoan heritage, in the squad, so I am sure my Dad (Ieru) will be torn," Toomua said.
"He will probably be wearing half-half. If I have a chance to play against the Manu, Dad will be very excited. We will have a lot of family in both camps I think.
"Any time you get to wear the gold jersey is important, so obviously…people are looking at the World Cup, that's only natural, but we do have a Test this weekend against a cherry strong Samoan team at home.
"It's our last opportunity to play in front of our fans before we head up to Japan. It will be a huge opportunity for the guys picked. We are looking forward to it."
The forgotten fly half
Exiled fly half Bernard Foley has opened up after he was usurped for the starting position in the Wallabies World Cup squad.
He finds himself in the reverse situation to four years ago, when he skipped ahead of Quade Cooper for the prized position on the eve of the 2015 World Cup.
Despite the relegation, Foley has taken the decision on the chin and believes that it was the best move for the team heading forward.
"It's always tough not playing," Foley said.
"But I've just really enjoyed being a part of the squad and trying to help out. It's all for the best for the team.
"As selfish as it is wanting to be in the team, you're actually really wanting them to do well and the team to succeed."
He was full of praise for his replacement, Christian Lealiifano, suggesting that his battles both on and off the field can inspire the squad heading into Japan.
"I've really enjoyed having Christian here," he said.
"The experience he brings and the experiences he's had on and off the field can only be a valuable thing for this team.
"I've enjoyed playing against him at training and that's the best thing in this team, the competition in every spot is immense and every week you're not sure who's going to be picked and who is going to miss out, so for us it's exciting times and that competition is only a strength in our bow."
Foley has often been the whipping boy at both state and national level for poor performances, however, the 29-year-old has chosen to block out any outside noise and concentrate on trying to earn his spot in the matchday 23 for the opening World Cup match in three weeks time.
"I don't really listen to that," Foley said.
"I don't want to be living that roller coaster of the highs and the lows and reading peoples' feedback and opinion.
"We're so privileged to get this opportunity to go on the biggest world stage this year and we know how much it means to Australians and how much they like getting behind the Wallabies.
"I'm remarkably privileged to have this opportunity to go up there and support them and hopefully make them proud."
Raid on Western(os)
A trio of the Western Force's most promising players have been snatched up by the East Coast Mafia (ECM) with fly-half Andrew Deegan heading to the Melbourne Rebels, whilst Junior Wallabies Michael McDonald and Carlo Tizzano are expected to join the NSW Waratahs.
Deegan confirmed his departure on Tuesday, replacing the outgoing Quade Cooper.
"It was a very tough decision but just at my age and the point I am in my rugby career, there was a lot of going back and forth with (Force coach) Tim Sampson and (GRR head of rugby) Matt Hodgson," Deegan said.
"I just think unfortunately it has led me to leave the Western Force but I am looking forward to a new endeavour and a new challenge by heading down to the Rebels.
"It was a very tough decision but just at my age and the point I am in my rugby career, there was a lot of going back and forth with (Force coach) Tim Sampson and (GRR head of rugby) Matt Hodgson," Deegan said.
"I just think unfortunately it has led me to leave the Western Force but I am looking forward to a new endeavour and a new challenge by heading down to the Rebels."
Deegan is set to be joined in Melbourne by a pair of halfbacks in former Force scrum-half Ryan Louwrens and disgruntled Queenslander James Tuttle, whose unfortunate run of injuries saw the 23-year-old slide down the depth charts at Ballymore.
The news of his exit is set to be compounded by the loss of McDonald and Tizzano, who are set to depart to Daceyville and sign with the Waratahs over the next couple of days.
McDonald steered the Junior Wallabies to the final of Under 20s World Championships and is expected to battle Jack Gordon for the starting no.9 jersey as Nick Phipps marks his territory in football fields (and bars) across Europe.
Tizzano, in my opinion, is one of the most exciting prospects coming through the system, with the 19-year-old loose forward fighting off older rivals to earn a spot on the bench in that much-heralded Under 20s side.
Final Walk
Dual code superstar Andrew Walker is set to officially retire from rugby union when he takes the field during Randwick's clash against Argentina at Coogee Oval on Saturday afternoon.
Walker began his career in the mighty myrtle green and he was convinced by former teammate Stephen Holies to return to finish off his storied career at the place he calls 'mother earth'.
"I call this Mother Earth, this is where it all started," Andrew Walker said when asked about Coogee Oval.
"I'm probably going to finish it here — hopefully walking off, not getting dragged off in an ambulance.
"Hoilesy said 'We've got a game against Argentina, we've got a lot of young kids here, it would be good for you to come back and talk about what it was like for you to play at Randwick and how passionate it was,
"I was here when the All Blacks played, and I said 'How good would it have been to play in a game like that', so that's how it came about."
The 45-year-old's retirement at the ground he referred to as his 'Colosseum' will be a fitting farewell, with his first taste of rugby coming at the ground in 1988 when Randwick hosted the All Blacks.
"I remember that ABs game, the Wicks were right in that game, it was the Australian team anyway, and [Grant] Fox kicking all the goals got them home (25-9)," he said.
"The crowd was green and so fanatical about Randwick, and I absolutely loved it. That was my first live experience of rugby union, I was a leaguie from the bush.
"I was 17 when I played first grade for Randwick and went right through. This was my first ever club, it wasn't professional then, and I've stayed here."
Randwick coach Hadley Jackson will bring Walker off the bench with the hopes that he can inject his vast experience and trademark speed into the contest against what is expected to be a near-full strength Pumas.
"He brings 30 years of professional experience at the highest level in both codes, that's something our 20-year-olds who are extremely talented with big futures ahead, he can impart that knowledge on them, he's going to be a huge part of the group for the whole week," Jackson said.