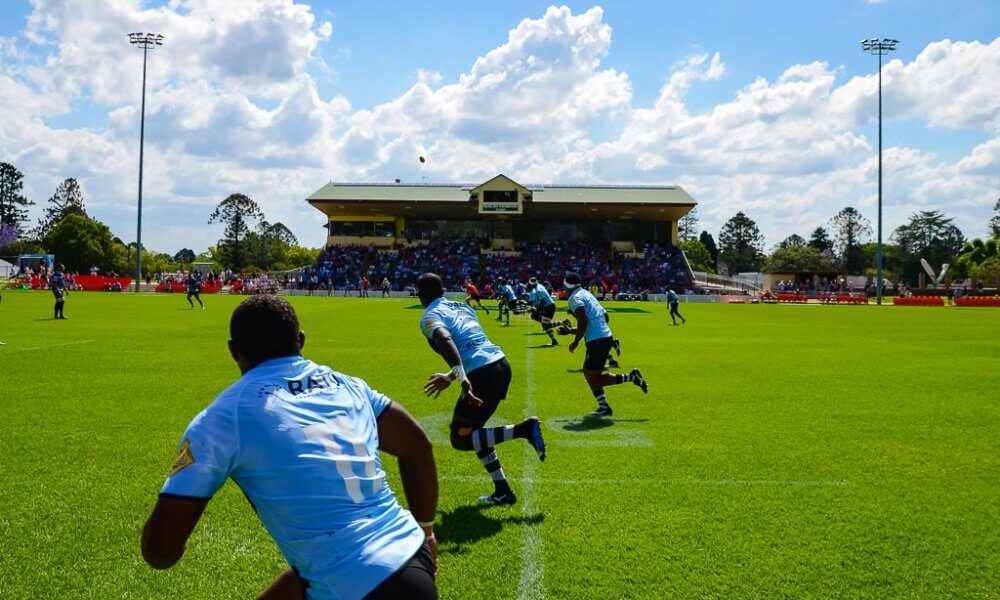 Wednesday's Rugby News sees the Kiwis looking to the Pacific, Beale looking to Western Sydney, Fakaosiliea looking towards Centrelink and Samu potentially looking towards the Wallabies.
If you haven't already, take the chance to have a look at Jamie Miller's piece where he examines every nook and cranny of Australian rugby. Whatever can be said, he says it. Read it, share it and support it.
---
NZ looks to Pacific
The Kiwis have decided to consider launching a Super Rugby side in the Pacific, but it's for a reason that will surprise many of you.
The Kiwi government wants to launch the franchise to help offset China's rising influence in the region.
China has reportedly donated US$1.78 billion in aid, including concessional loans, to Pacific nations between 2006 and 2016. This has the Kiwis quite concerned, and what better way to get the Pacific Islanders back on their side than through rugby.
You only have to look at the huge crowds the Drua brought in through the NRC to see the potential for a club there.
The New Zealand Rugby Union Players Association worked with the government, carrying out a feasibility test on the prospect of having a team.
Under a certain arrangement, a team could be comprised of players from Fiji, Samoa and Tonga, and would be primarily based in Suva, while also playing matches in the other capitals, and in Auckland and Sydney.
The current working name for the team, is (sorry WA fans, I'm seriously not joking), the Pacific Force.
"Part of the plan is that rugby can be a diplomatic force to counter China's influence in the Pacific," the report said.
"The idea is that rugby will help keep hearts and minds away from China, which is saturating the region with money to obtain influence."
NZRPA chief Rob Nichol however quashed rumours that the Kiwis would bankroll the team (at least for the time being), due to the many millions of dollars that would required to set such a team up.
"(The study) raised as many questions as it answered… to suggest plans are afoot and it's all going to happen is a bit premature," he said.
Even the Kiwi prime minister, Jacinda Ardern got involved, confirming her government undertook the study.
"It certainly wouldn't be something, right off the bat, that I would have thought would fulfil our criteria."
There's a lot of talk at the moment around expansion of Super Rugby into the Pacific and North and South America. How interesting that it also coincides with rumours of South Africa leaving. Coincidence?
Go West, says Beale
It's been a shit couple of weeks for Western Sydney rugby. With the removal of the Penrith Emus from the Shute Shield, many rugby folks out west rightly feel like those in the East have turned their backs on them.
However, one player in the Waratahs finally admitted that more needs to be done, a certain Kurtley Beale.
Despite being one of many, many, many players who were originally from out west before being picked up and put in an eastern suburbs side in Randwick, Beale said that not enough is being done to support the game out there.
"I think there's so much talent out there, being born and bred from the area and growing up seeing talent being pushed to league, it's certainly something we need to tap into," he said to rugby.com.au. 
"I know speaking to (former Penrith players and Waratahs) Dave Dennis and Cliffy Palu in the past years, trying to figure out something to try and help out wherever we can to be able to do what we can to be able to keep some of the talent and a lot of the supporters out there in the game."
The Wallabies trained out at Penrith last year, and the Waratahs are likely to move to Parramatta Stadium when Allianz is getting torn down. Beale hopes the move will reinvigorate fans to look past the removal of a club they've been supporting most of their lives. You know, cause that's easy.
"We trained out at Penrith Park for the Wallabies last year and that was pretty cool," Beale said.
"No doubt there's a lot of support out there for rugby union, it's a matter of getting out there and doing it."
This weekend the Tahs will play in their school socks against the Highlanders, aiming to recognise the efforts of grassroots for the club.
"It's obviously an exciting week for club rugby, the start of the Shute Shield. It's a great competition and it's a good opportunity for a lot of the guys to represent their club colours on the weekend," Beale added.
"Grassroots is an important part of our game, especially for the growth of our game and for our guys to be able to represent their colours and be the role models for a lot of our young guys to look up to, it would be a really good opportunity to do that."
Another one follows the money
The Brumbies have announced they have released Lolo Fakaosilea from his contract, effective immediately.
A staple player amongst the Canberra Vikings outfit last year, Fakaosilea has been at the Ponies for nearly two years, but has found caps hard to come by due to injury and being placed further and further behind in the second row pecking order.
And that was even before David Pocock came back.
He has only played four games for the Brums this year, and wasn't even used in last weeks loss to the Rebels, despite being named on the bench.
His contract was supposed to run until the end of this year, but both he and the Brums have decided to call it early.
According to the folks at rugby.com.au, Lolo looks set to sign with a Japanese team near Osaka, although nothing has been confirmed.
A rising prospect, Lolo has been part of the Aussie Sevens program and was at the Reds for two years before he moved to Canberra.
If this move doesn't prove Jamie's article right then nothing will. Lolo is leaving Aussie rugby in his prime. He is only 22 years old.
Big Samu
In what is a surprise move, two potential players could find themselves earning their Wallaby debuts in the Ireland series next month.
As reported in The Australian, Australian-born Crusaders backrower Pete Samu is reportedly in negotiation to play for the Brumbies next season, and he if signs in time, he could find himself in contention to play for the Wallabies next month.
Rugby Australia will apparently invoke the  "Brad Shields clause" to get him over, named after the Kiwi player who played for England. The rule applies to players who were born in another country, but from parents who are from the country picking the player.
Samu however was born and raised in Melbourne and played for Randwick before moving to Christchurch. His call up could come as a result of Ned Hanigan's knee injury that sees him in doubt to play the first test on June 9.
Samu is not the only one slated for a return to Australia, with Rebels foundation member Luke Jones apparently considering return to his old club as well.
Originally debuting for the Western Force at age 18, RA is apparently looking to have him released from his contract at Bordeaux earlier than expected, but with our governing body having nothing but door mouses in their coffers, that is unlikely to happen.
Jones has reportedly not ruled it out though, and Dave Wessels did volunteer to bring him down to Melbourne.
If a early release is granted, Jones could be in line to start for the Rugby Championship.
Interesting times be ahead…