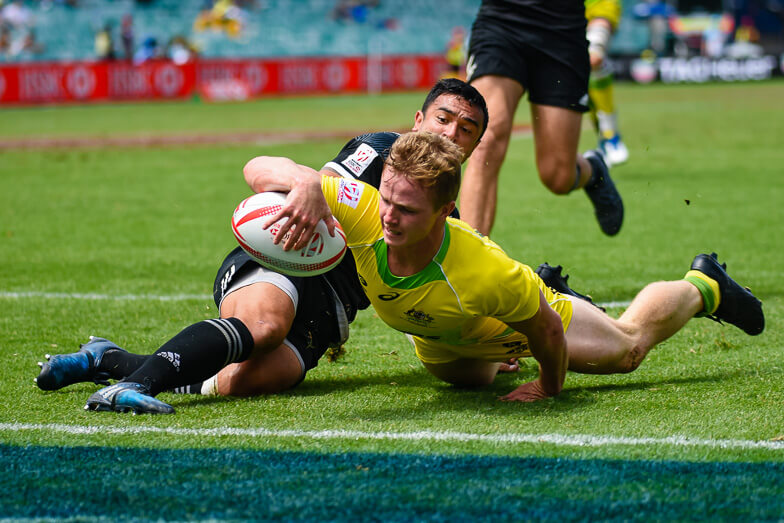 Wednesday's Rugby News Hutchy having high hopes, the Brums having a point to prove, Newsome in the hunt, and some opinions on the Trans-Tasman situation.
Sorry guys, unfortunately there won't be a new podcast this week. Reg won't come on unless the Reds are playing. Rest assured, we'll be back next week.
---
Hopeful Hutchy
Hong Kong seems to be the last place to go if you're looking to earn a maiden Super Rugby berth. But for Henry Hutchison, it's the perfect place.
With the Dewar Shield not kicking off for another fortnight, Hutchison is hoping to use his time in the Hong Kong Tens to push for a Super Rugby debut for the Rebels.
Considering the size of the Rebels roster, it isn't surprising Hutchison hasn't had the chance for any game time. He, along with fellow Rebel Dave Horowitz, will be representing the Classic Wallabies side that will be contesting for the honours.
"I'm really enjoying my time in Melbourne at the Rebels, but it has been tough not playing," he said to rugby.com.au. 
"I do understand that I am essentially re-learning the game and it will take time to get to a level where I demand selection.
"This Tens competition gives me the opportunity to show (Rebels coaches) David Wessels and Shaun Berne what I can do, and I am really keen to have a run and show where I am at and put my hand up for selection.
"I haven't played a lot of footy this year, but the club were keen for me to come and they really do want to give me the best opportunity to put my hand up for selection and break into the 23."
While some might see the tournament as a 'golden oldies' event, Hutchison is in no doubt that some of the teams competing will have a lot of exciting young blood.
"UBB, who we play in our final pool game, have got five contracted Fiji Sevens players who are getting some game time in this tournament – the Tens competition is really used as a stepping stone for them," he said.
"There are a lot of overseas teams who are here to win and take it seriously, and as much as we're getting around each other and having a good time we are also here to have a crack and try and win.
"The Classic Wallabies concept is awesome and to see the friendships on hand and the gratitude from the players involved shows much it means to them."
The Classic Wallabies side will be captained by Stephen Hoiles, and feature the likes of Luke Burgess,  Justin Harrison, Morgan Turinui, Bill Young and even Wendell Sailor. The competition kicks off later today.
Point to Prove
Many Brumbies fans, myself included, were pretty bloody pissed at the teams performance on Saturday night.
Thankfully, a lot of the team knew it was crap too, and are vowing to make amends when they face the Reds in Canberra this weekend.
The last time they met, the Queensland forwards bashed the Brums forwards into the ground to win 18-10, and Rory Arnold wants to give them a taste of their own medicine.
"We've got a long way to go in the season, (so) it's not make or break, but we do identify it's a big game for us, (because we're) probably not where we want to be on the table," he said to rugby.com.au. 
"We haven't won a game against an Australian franchise yet, so it is a big game for us and we have to get the result this week."
The horses are currently on a four match losing streak to Aussie opposition, but if they lose to the Reds, it'll be the first time in their entire history that they will have lost five in a row.
"They get to come down to Canberra now and it's time for us to draw a line in the sand and everybody's got to step up and get this result this week, it's going to be a big game."
According to Arnold, despite the loss the team feels a lot better now that they have David Pocock back in the forward pack.
"You've seen how good he was on the weekend on the ball, able to get two or three pilfers," Rory admitted.
"It's just massive, it slows the play down and lets our defence get set."
The Brums will be hosting the Reds on Saturday night in Canberra.
Newsome in the hunt
Well, Israel Folau is confirmed to be out for up to four weeks with a hammy injury, however, the Tahs have plenty of options to cover him on the wing.
Forwards coach Simon Cron broke the news of Folau's duration on the sideline yesterday, however also revealed that Alex Newsome and Cam Clark will look set to take his place. And both of them have been in some pretty damn good form.
"[Folau] had a scan and they believe it's more muscular than tendon based and it's going to be four weeks at this stage is what they're saying, pretty accurate assumption post-game," he said.
"[But,] Alex Newsome came on and played for most of that game, 75 minutes, played really well so he's a genuine option.
"You've got Cam Clark coming back from injury, Bryce Hegarty playing 15, he's been going well. So there's a few options for us in those wide channels."
Then there's Taqele Naiyaravoro, who steamrolled Henry Speight twice last Saturday. Personally, I don't rate Speight's defensive abilities in general, but in his defence this time round, it's bloody hard to tackle a winger this big one-on-one.
"[Taqele] gives us something different, he gives us line bend, he gives us gain line quite well," he said.
"Off set piece, he's a big bit of meat and when he gets his timing right he's hard in motion to stop.
"The key thing is there's still work in his game, we've got things in his game that he's constantly working on so that he can be the best he can be, and he knows those areas of work on. But, he's a weapon.
"Speight didn't tackle him too well in that last one down the sideline."
The Waratahs will head off to play the Sunwolves this weekend in Tokyo, and will aim to become the third Aussie team this year to grab three wins in a row. Despite the fact the Moon Dogs haven't won a game yet, Damien Fitzpatrick isn't taking them lightly, comparing their play to the Highlanders from a few years back.
"Tony Brown's got them playing incredibly structured (rugby)," he elaborated.
"They look for space a lot, they're a very, very fast team, so we're going to have to make sure we've got our defensive structures well in place because on the turnover ball they're very good at spreading it wide and they've also got a pretty diligent set piece as well.
"At scrum and line out time, they also get the job done, they're very structured there, but when the turnover ball's on they know exactly where they want to play so we've got to be on our game."
Trans-Tasman comp?
It's interesting that, despite the fact that Super Rugby has been a lot more engaging this year, this overhanging question of whether the Saffas will stay beyond 2020 seems to be on plenty of people's minds.
Many have thrown up the idea of a Trans-Tasman comp as replacing the Saffas, but an interesting opinion piece out of The Guardian yesterday raised a very valid point: that New Zealand's current dominance at the Super Rugby level is really putting that idea to bed.
There was a lot of hope this year that things might turn around, however, to see the result in Melbourne on Friday night put that gut-punch feeling into every Aussie fan that the darkness might not be over yet.
It could be argued that the NZRU would see the trans-Tasman competition model as a more valid one if their opposition was  competitive, but the 0-27 record we currently have isn't exactly showing us to be that competitive.
"The Kiwi sides are looking as strong as ever and, really, how much have the Australian teams improved following the reduction of five to four franchises with the axing of the Western Force?
"The Rebels, who benefitted the most from the culling of the Force, have been the best performing Australian team, but they were thrashed by the Hurricanes, the New Zealand conference leaders.
"The Queensland Reds have shown a lot of true grit under new coach Brad Thorn, but not a lot of scoring, while the Brumbies and NSW Waratahs have been hot and cold."
But there is one thing to consider here: that two South African teams, the Bulls and the Sharks, have beaten Kiwi teams. And both of those teams didn't grab a single win when they toured Australia.
It shows that there is potential for Australian teams to finally break the hoodoo this year. But all counts for nought if we don't start winning against the Kiwi teams, and winning quickly.
"Even if the Australian teams managed to win the odd game against the Kiwis, it would not be enough to rejuvenate Super Rugby on this side of the ditch. Super Rugby in general and Australian rugby in particular desperately need the Australian teams to be competitive with the New Zealanders and that does not mean losing gallantly, but beating them regularly," the article elaborates.
"The more Australian teams lose to the New Zealanders, the more Australian fans will lose interest in Super Rugby. Fans will stop tuning into games if they think the Australian sides have no chance of winning.
"And with many Australian rugby officials arguing for a trans-Tasman competition to replace the existing four-nation Super Rugby structure post 2020, there could be wide-ranging ramifications.
"They want more income-generating home games against drawcard Kiwi teams and less revenue-depleting travel costs to Africa and South America. But New Zealand will never sever their historical ties with South Africa to play in a trans-Tasman competition against weak Australian opposition.
"For the Kiwis, Super Rugby is a means to an end – to prepare the All Blacks for Test rugby. If Australia want to convince New Zealand to become part of a trans-Tasman competition, they will have to prove they are worthy opponents."
Thoughts, GAGRs?