Wednesday's Rugby News has Adam Coleman and Alister Coetzee chatting, a possible change to the Lions tour and Cheika not happy at the field size…
---
[one_half last="no"]
Coleman Chats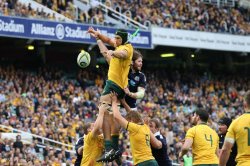 Adam Coleman is a lot of things to a lot of people, but most importantly he's a really good rugby player.
And it's that rugby playing thing that he's good at that is the purpose of his chat with the media. Coleman, who used to play for the Western Twiggies, has a future that is up in the air. Where will he play next year?
"In terms of me, personally, there is a lot of water to go under the bridge and I am just assessing my options at the moment," Coleman said, gracing rugby.com.au in particular with his spoken word.
"I love playing for the Wallabies and what I want to do, for this year, is play the best rugby I can, for my country."
As the huge-unit-in-residence at the Force, Coleman is in a quandary vis-a-vis Twiggysloe.
"I think it's a great idea, the new competition, but like I said, I'm just assessing my options and I am really loving my rugby here at the Wallabies."
Indeed, Coleman has gone from being a lanky Tasmanian one year to being touted as a possible Wallabies captain the next.
"(It's crazy) how quickly the year goes. You go on Spring Tour, have a month preseason and then go straight into Super Rugby," he said.
"It's definitely a big learning curve for me, coming from not having a preseason and then turning around and playing Super Rugby, but it's something I've been really enjoying.
"I've really been enjoying running lineouts in the squad and the youth in the squad now is amazing – I have a lot of belief in the squad.
"You've got Lukhan Tui, he's training the house down, Izack Rodda – they both bring a lot of enthusiasm and youth to the squad – that's invaluable for us and then you've got Simmo, who has played a lot of Tests and Rory, who's a big, physical lock.
"Whoever is there, I have faith in them that they will do their job and I know I will do my job."
[/one_half][one_half last="yes"]
Coetzee Chats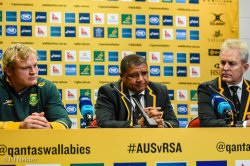 South African coach Alister Coetzee – who, remember, was crap last year – reckons that his team's record 57-0 loss to the ABs won't 'make' his team.
"I want to say it up front that the Albany game doesn't define this team," Coetzee said, according to rugby.com.au.
"It was one game where we were definitely poor… I'll never sweep that under the carpet.
"The players already know it was sub-standard but again, we won five out of seven matches and in those wins, we were outstanding.
"The All Blacks showed why they were the number one team in the world. On the night they were unbelievable and it worked out for them.
"We needed the perfect storm and the ball bounced perfectly for them on the night."
Hooker and possible communist Malcolm Marx, along with really fast bloke Raymond Rhule had Barry Crockers against the ABs, but Coetzee ain't gonna change his team because of that.
"Don't forget how good Raymond was against Australia," Coetzee said.
"I'm not a coach who will look at one poor performance and chuck someone away. He was outstanding against the Wallabies.
"He was the first guy to text me and say 'I watched the game again and I could have been better here or there'.
"In the seven Tests Raymond has played, he has gained a lot of experience, so now do I just throw him out and start all over again with a new player?"
[/one_half][one_half last="no"]
Smaller Lions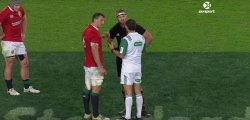 There have been chats between the Home Nations and the SANZAR nations about future Lions tours, the Guardian reports.
It seems that the South African tour (2021) will have 2 less tour games – so 8 in total – with Australia (2025) also possibly being 8 games long too.
"The Lions have come under pressure from the Premiership, which secured the backing of the Rugby Football Union, to cut the duration of tours and reduce the load on leading players," reads the article.
"The Lions toured New Zealand this summer and played 10 matches but the first was staged three days after their arrival with the players so jet-lagged that at least one fell asleep on the coach to the game against an invitation side in Whangarei. The squad did not have one training session as a whole group before flying out because of the Premiership and the then Pro12 finals."
While the discussion about cutting games has been going on for a while, one of the reasons to cut games is because South Africa – and Australia –  can't field strong enough teams. If NZ remains strong, the article says, they will keep their 10 games.
"Each tour will be looked at on its merits," one administrator told the Guardian.
"We will be keeping an open mind. A shorter tour means longer preparation time and clearly had the Lions been in South Africa this year, it is unlikely that there would have been the 10 meaningful fixtures that there were in New Zealand where the strength of the warm-up teams meant the Lions went into the Test series battle-hardened."
England and France have recently failed in their attempt to cut the length of the Six Nations (from 7 weeks down).
[/one_half][one_half last="yes"]
Field Dramas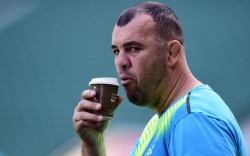 The SMH is reporting that Michael Cheika was very visibly annoyed – in a window-smashing mood, as the old saying goes – after  figuring out that the Wallabies training field was 20m too short.
The Wallabies, in Johannesburg, were at the Fourways High School, which is just a 10 minute walk away from their hotel.
Cheika spent a lot of time pacing out his steps to ascertain the proper dimensions of the field. The support staff apparently knew that the field might be a bit too small, but it appears they might have gotten into a bit of trouble as the Wallabies relocated their training location to the same high school they used last year. The Wallabies will train there until they head to Bloemfontein on Thursday.
Unfortunately for Reece Hodge, a shortened field meant an unchallenging training session, so he didn't get a chance to exercise his thunder thighs.
"It was a little bit different, probably not what you expect," Hodge said, via the SMH. "Hopefully it's sorted out before tomorrow [Tuesday] before we get going.
"There's nothing ever perfect on tour and you're always adapting … we'll adjust to the field."
[/one_half]