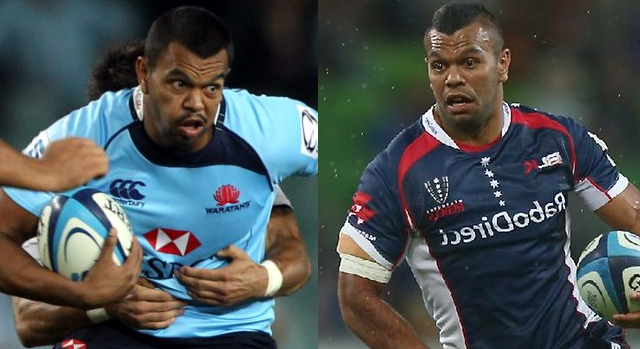 The traditional NSW/Victoria rivalry enters its fourth Super Rugby year tomorrow night, with the Melbourne Rebels travelling north to face the Waratahs for the Weary Dunlop Shield.
With the Waratahs leaving Canberra with little more than an invoice for a new window, and the Rebels' pre-season hype quickly giving way to middling reality, both teams will be looking to kick their season back into gear with a win over the other. I sat down with Waratahs tragic Braveheart81 for a gentlemanly, fact-driven discussion around this key Super Rugby match.
WARATAHS ARE GOING TO WIN
The Waratahs will be hurting from last week's loss in Canberra and pity help the poor team that has to face them this week. That poor team is the Rebels, and oh boy, they're in for a beating.
Michael Cheika has picked a monstrous pack that will throw the Rebels around like rag dolls. Luke Jones might be in good form but he's about to get destroyed by Big Willie Skelton. Jacques Potgieter returns to his favourite position on the side of the scrum and is going to give young Sean McMahon a reminder that he's barely out of high school. Rebels forwards will be hiding behind one another to avoid Potgieter's fearsome ball running. Just when the Rebels think they're in for some respite, Cheik will unleash Cliff Palu to cause havoc in the last half hour. Expect many run metres and some bone crushing tackles from the big number 8.
The Waratahs boast size, mobility and aggression in the front row, with Sekope Kepu making his first start of the season at loose head, combining with the barnstorming Paddy Ryan and Tatafu Polota-Nau, coming off easily his best game of the season against the Brumbies. This is a dynamic front row if ever I've seen one, and the Rebels will struggle to shut down their powerful running game. Benn Robinson will have smoke coming out of his ears by the time he enters the game and will destroy the Rebels scrum on his own.
Things don't get any easier for the Rebels once the ball gets out to the backline. Bernard Foley will be back to his attacking best and is surrounded by runners and ball players. Kurtley Beale will cut the Rebels defence to ribbons and Israel Folau will score tries at will. His season tally of six tries could hit double figures this weekend if he can put himself in the right place at the right time enough. Believe me, he'll have plenty of opportunities thanks to a Rebels backline that loves kicking the ball back to the opposition.
The Rebels have already lost two in a row and that streak is only going to increase this Friday night in Sydney. The Weary Dunlop Shield will be returning to Sydney and the Rebels will be on their way back Melbourne with their tails between their legs after a severe flogging.
Tahs by a thousand.

REBELS ARE GOING TO WIN
Yes, the odds are against the Rebels. We have had a poor fortnight, with losses against the Crusaders and Force, but these disappointments have only served to strengthen our resolve. Notwithstanding, of course, that this week, we're not playing a team from a place with proud rugby tradition, like Canterbury or South Africa.
No, Victoria are playing New South Wales, and we've always been better than New South Wales – especially at rugby union.
July 28, 1894 – the colony of New South Wales, with the hope of spreading rugby union to the surely-illiterate masses in Victoria, sent a team to tour our shores. The first time these two met was a David v. Goliath battle – except this time, David won. The 3-0 win to the mighty Vics sent the NSW public into such an insular cycle of denial, that to this day, locals still think a weird-looking theatre, a bridge and some water constitutes culture.
24 May, 2013 – the Melbourne Rebels were struggling through their third season in the competition. The Waratahs, meanwhile, were displaying what some might see as over-confidence. Most saw the result as a given, but not the mighty Rebels, who came out on top and brought the Weary Dunlop Shield home for the first time, defeating the Waratahs 24-22.
These comparisons are unfair to Chieka's chargers of 2014, you say?
1 February, 2014 – Playing in blistering 45-degree heat, and down 21-12 at half time, the grit, determination and sheer talent natural to all Victorians shone through in the Rebels, and they stormed home to a 33-28 win against a full-strength Waratahs, claiming the border city for Victoria.
Face it, you're afraid that, with Smith, Jones, Pyle, Neville, Fuglistaller, McMahon, and Higginbotham, soon there will come a day where the default jersey for a Wallaby forward is a different shade of blue. Afraid that Tom English breaks more tackles in a match than most make in a year. Afraid that you underestimated one of the nation's most promising flyhalfs in Bryce Hegarty, whose pairing with Luke Burgess gets better every week.
Maybe I'm wrong. Maybe you're not afraid. With Nick Phipps, Kurtley Beale and Peter Betham on your books, maybe you're hiding a crush?
That rickety Tahs bandwagon is no more reliable than every other year you've hopped on. You know it, Cheik knows it, a window in Canberra knows it.
Sydney, it's time to embrace your inner rebel.
Melbourne by lots.