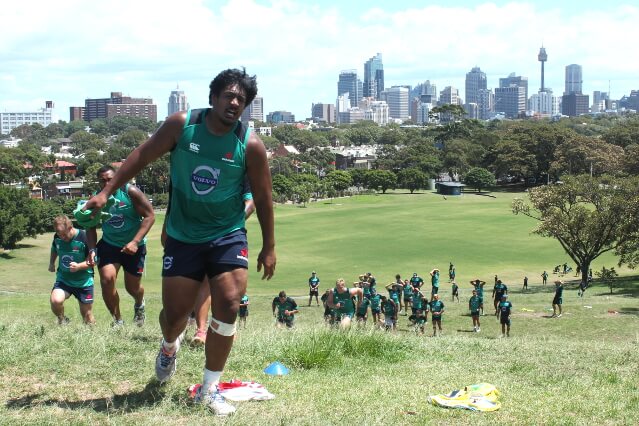 The NSW Waratahs headed for the hills near their training ground yesterday.
After a short training session they trouped over to near the parking lot of the Moore Park Golf Course, but it wasn't for a relaxing nine holes for the players: they had to attack the infamous terraced north-west slope and race against three team mates in pods of four—time and time again.
The session was part of the regime masterminded by the Waratahs' Athletic Development Manager Haydn Masters. The Waratahs were one of the fittest teams in 2014 yet to this observer's untrained eye Masters and his crew have done a superb job because the squad looks in better shape than it was a year ago.
This is in spite of there being a shorter preparation time for the 2015 season because of the late finishing date of the National Rugby Championship [NRC].
The players are putting in the work. Paddy Ryan, who was praised earlier by assistant coaches Daryl Gibson and Nathan Grey for his pre-season efforts, put in a tough session last Tuesday afternoon, appeared in Armidale with Tala Gray for a community event and a junior rugby clinic on Wednesday, and was back for the training session on Thursday morning.
The Wallabies came back early in the new year for assessment but were excused for a while though Kurtley Beale, Rob Horne and Benn Robinson got stuck into contact work and hit-outs immediately.
Will Skelton beat them all though – he showed up not long after he got off the plane from Europe. He was rewarded by getting flogged on the sidelines for weeks. The extra work that Skelton did appeared to bear fruit yesterday. He looked in great shape and was a regular stage winner of his tight five pod on the hill climb.
New Waratahs, scrumhalf Auvasa Faleli'i, flanker Jack Dempsey, and the youngest Tah member, Andrew Kellaway, "enjoyed" the hill sprints and there wouldn't have been too many faster up the slope than another newbie, winger Henry Cluines-Ross.
19-year-old Kellaway, whose non-identical twin brother Nick is with the NSW Under 20s as a second rower, was sensational on the wing for the Aussie Under 20 team in New Zealand last year when he scored ten tries in the tournament.
Kellaway, known simply as "Kell" at the Tahs, was kind enough to answer a few questions earlier.
You must be pinching yourself just over a year out of school after your success with Randwick, in the Under 20s, the NRC and now having a Waratahs contract.
Yeah, it's definitely been a crazy ride over the twelve months or so, but I'm absolutely stoked to have been offered a spot at the Tahs on the back of 2014 and hopefully I can have a good year in 2015 and learn off the more experienced players in the squad.
It will be great to get on the park with the likes of Folau, Ashley-Cooper, Beale and the other Wallabies, won't it?
If I'm lucky enough to be given that opportunity I think it'll definitely be something that I'll remember for the rest of my life. Playing with and learning from those blokes would be a really special experience and something I hope I can work towards this year.
You've been going full blast since the start of the 2013 Australian Schools' tour to Europe – how are you coping?
That's right, there hasn't been a great deal of down time over the last 18 months but I guess I'm running on excitement a little bit at the moment so I'm actually really enjoying the rigours of pre-season.
Have you moved out of home yet or are you still with the folks?
Nope, still living with mum and dad. I Haven't quite come to terms with the whole cooking, cleaning and washing stuff all on my own yet so I think ill be here for another year or two.
What's your favourite position fullback or wing?
To be perfectly honest I'd prefer to be playing outside centre but I'm happy to play anywhere if that's where I'm needed whether its fullback or wing.
If it came to the crunch: who would have first claim on you – the Waratahs or the Australian Under 20s?
I think that decision is something that'll have to be made by the bosses based on what they think is best for me and for the respective teams.
You had a good NRC – what did you think of the competition?
I think the NRC was a great opportunity for good club rugby players to test themselves against proven Super Rugby performers and learn from them. I think it will help Australian rugby to really develop the depth needed to compete with the likes of New Zealand and South Africa.
Wise words from the young man. Because of the stable of experienced backs at the Waratahs it is not certain that we will see him playing Super Rugby any time soon, but we can surer that when he does get on the park, he will be in top shape.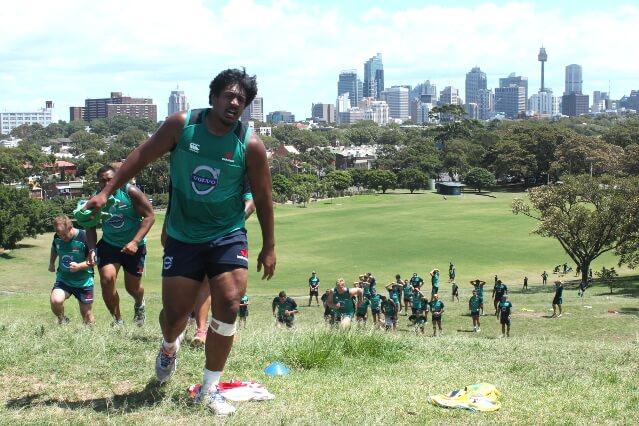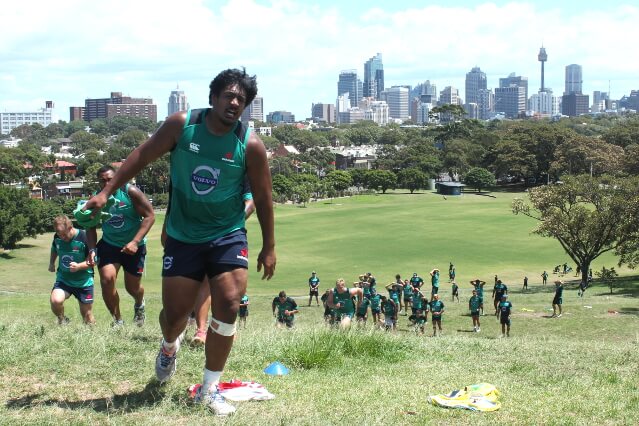 Photos by Lee Grant
.