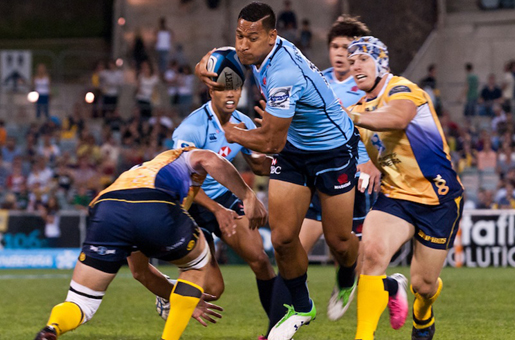 Nobody said it today, but other things being equal and all the rugby planets aligning right and the injury Gods smiling down from on high: Green and Gold Rugby is saying that Israel Folau will be the starting fullback for the Waratahs in their first game of Super Rugby this year.
This is despite Michael Cheika answering a question today about who would be the 15, Beale or Folau, by joking:
I'll give them seven and a half each, that will make 15.
Seven and a half?  That would mean that they would switch between openside flanker and no.8.  No, I don't think so either.
Cheika said:
I'll just see how it pans out. I don't have to worry about selecting the first competition game team until late in February.
Sure Cheik, but what you didn't say is that there would have to be a compelling reason why you would change something that has worked so well for both the Waratahs and the Wallabies: Izzy playing at fullback—and he with a first-year honours' list that was all but embarrassing.
But Cheika warned:
"I think there will be a big challenge for him this year, just adjusting from having such a massive season, a small break, backing up again.
"That's a first for him, so we're mindful in the way that we are preparing him this season, both for mental freshness and also physical."
But his enthusiasm is ridiculous. He wanted to come back early and start training and I had to tell him not to come.
Everybody was back on board at Moore Park today with Michael Hooper,  Adam Ashley-Cooper and Israel Folau the last ones to arrive—except for Jacques Potgieter, that is.
The aggressive South African's season is nearly over in Japan and according to Cheika, Potgieter keeps texting him and is eager to get to Sydney.
Training seemed to hit a higher gear in the heat and team units were hitting each other with a harder edge.  Cheika agreed that the take-no-prisoners training was ramping up and that it was fortunate that more of his players had not "perished".
Coaching junkie Cheika, who was earning his pay this week (and coached the Under 20s the day before) told the players not to take it easy on their team mates because they would thank them later in the season for the hard opposition they were getting now.
And the Waratahs were up-to-date too with the non-verbal protocols being used in scrum practice.
There weren't many training clues as to who was going to play where because Folau, Beale and Volavola took turns at fullback at team exercises, and Foley, Beale, Lance and Volavola rotated at flyhalf.  This was hardly a state secret because other teams in the land would be doing the same kind of thing.
People should not be writing off the chances of Lance and Volavola too easily.  They have been with the Tahs' programme all summer and look sharper than the Wallaby blow-ins.
Cheika was content that although there had been many changes to his squad since last year, his main core of players hadn't changed a lot compared to other Aussie teams.
He also confirmed what he indicated in November: that Dave Dennis would captain the side and that Pat McCutcheon would be the club captain. Adam Ashley-Cooper and Michael Hooper would be the vice-captains.
Dave Dennis said that now he had one season as captain already and was more comfortable with it,  he could concentrate more on his own game.
Or he could be playing cricket.
He said that he has been told so often how much he looks like England captain Alastair Cook, who is not batting that well, that he may get a game at the SCG on Sunday.
Photos on this page by Lee Grant
See below for slideshow of training photos today by LG
.