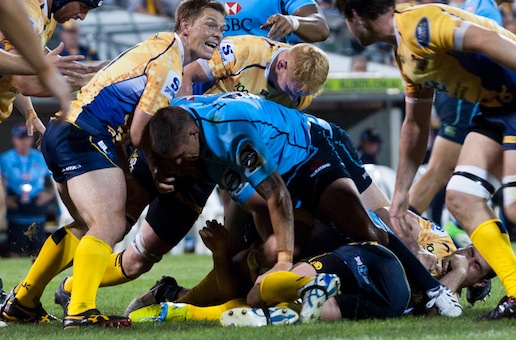 In recent weeks I've looked at the problems the Waratahs have been creating for themselves at the breakdown by having their support players positioned well away from the ball carrier.
The idea behind that part of the game plan appears to have been to try and create width in the attack and get runners into a better position to receive an offload, rather than being right on top of the ball carrier. The disadvantage is that the ball carrier has been getting isolated too often resulting in slow ball or a turnover.
It appears Michael Cheika has made some adjustments to this aspect of the game plan and the support runners have generally been closer to the ball carrier in the last few matches. However, the forwards have still been too slow getting into the breakdown and in the match against the Hurricanes last week turnovers and disrupted ball at the breakdown robbed the Waratahs of momentum on a number of occasions.
On top of that there has been a lack of accuracy when cleaning out which has allowed the opposition to stay in the contest when they should have been off their feet and out of the game.
It's great to make plans to play a running game where the ball is retained for as many phases as it takes to break down the opposition defence but those plans won't work unless the ball is secured and available cleanly from the breakdown. Unless the Waratahs address these issues they'll continue to lose matches at the breakdown.
Here are some examples from the game against the Hurricanes.