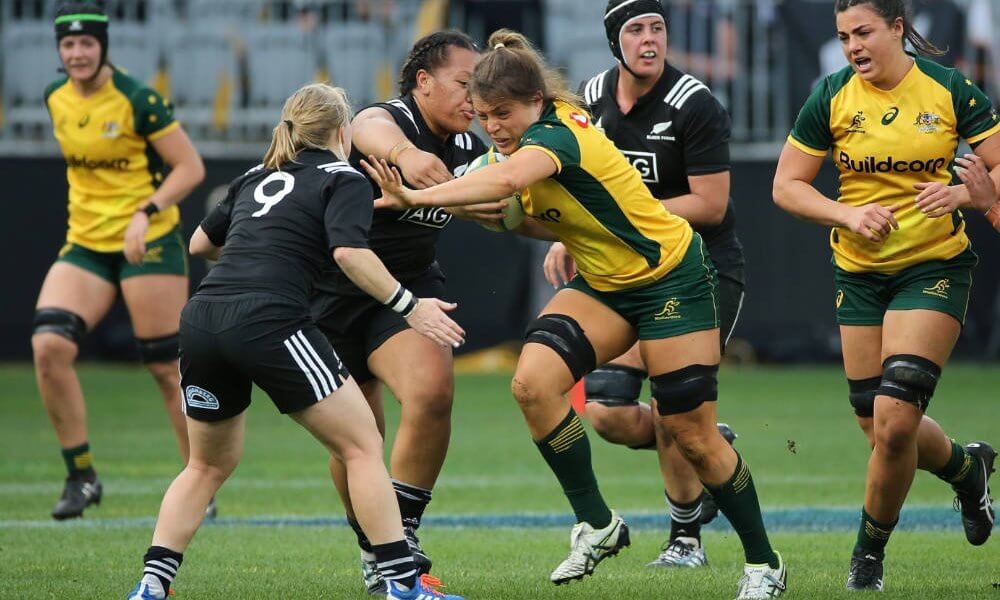 All attention in the rugby world at the moment, rightly, is on the upcoming Rugby World Cup.  With squads named and final tests being played, the wrap up of the Wallaroos season has been somewhat overlooked.
The Wallaroos have just completed their most extensive season of test matches, outside of a Rugby World Cup year, in their relatively short history.  Having played their first international, against New Zealand, in 1994 the Wallaroos have just completed a four test campaign with their next World Cup campaign still two years away.
The season will sit at a record of two and two, with a couple of big wins against Japan off-set by a couple of big losses to New Zealand. But looking back at the 'season' now, what can we take away from the campaign?
We've found a special leader
Grace Hamilton has made the Number 8 jersey her own over the last couple of years. This year she made the captaincy her own as well.  Having been handed the national team leadership this season, replacing last year's captain Liz Patu, Hamilton seemed the grow an extra leg.  If there was ever a skipper that led from the front, it was the 27 year old from country NSW.
She was nigh on unstoppable against Japan, which culminated in a hattrick in the second test at North Sydney Oval.  When up against the more formidable Black Ferns of New Zealand, Hamilton never shirked her duties.  The run metres might not have been as large, but the impact and effort remained.  Her ferocity on the field is inspirational while her calm decision making and personality off the field, makes her a role model that Rugby Australia can hold high as a icon of the modern game.
How do we unleash our back three?
In all honesty I am probably more specifically thinking about Mahalia Murphy, one of my favourite players to watch,  but we also failed to get the most out of Sammy Treherne, Mhicca Carter and Lori Cramer (despite her two wonderful tries v the Black Ferns in Perth). Our back three, in most tests, always looked to be potential game breakers and I maintain Murphy, at her best, could be Folau-like for this team in terms of game breaking ability (as evidenced by her own try v New Zealand in Auckland).  But we aren't getting them enough ball.  Look at these stats from the two New Zealand tests and check out the difference in the amount of runs our crew had as opposed to the kiwis.
Magic Mahalia ✨ Could watch this all day!@mahaliamurphy #ForTheLoveOfRugby pic.twitter.com/AamSi4rb2Q — NSW Waratahs (@NSWWaratahs) August 18, 2019
Now this is obviously weighted heavily the kiwis' way, particularly on the back of the 1st test where they absolutely dominated every aspect of that game. In fact each winger made more runs, individually, than our back three combined. It evened up a little in the 2nd test but we need to work out how to use Murphy better. Or indeed she needs to work out how to make the most of her abilities.
Of course we need to earn the right to go wide, something I will touch on a bit later, but I fear our halves haven't quite got the ability to bring our outside backs into the game. Even our centres, both rookies at this level, struggled to get their wings in space.  With the likelihood of Alysia Lefau-Fakaosilea joining the 7s program soon, our most exciting prospect will be lost to the team and new combinations will need to be filled. Perhaps Murphy, like Folau, could be a candidate for that 13 jersey?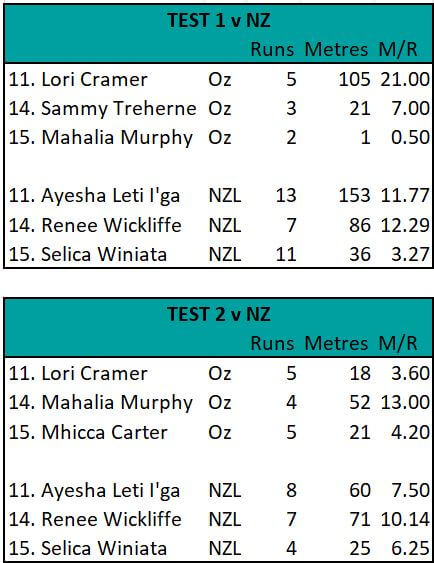 We need more from our tight 5
Our back row probably tops our back three in terms of world class ability and game breakers.  Hamilton alongside Millie Boyle and Emily Chancellor have proven they can match it with anyone.  While Chancellor probably didn't quite reach the same levels as last year, when she was named Wallaroo Player of the Year, Boyle and Hamilton were incredible.  Unfortunately they had to carry the bulk of the load – not that they ever shirked this responsibility.
However looking at the below stats from the two New Zealand games, it becomes apparent that we need more from our tight five.  Michela Lenonard, a test debutant this year, proved a tackle machine, but collectively our tight five did not work hard enough in defence or attack. As a unit the tight five were statistically bettered by the backrow in both tests, in terms of runs and tackles.  It's not totally unsual, and it must be bloody hard to get the ball out of Hamilton and Boyle's hands sometimes. But if we want to get the best out of these wonderful ball carriers, the rest of the pack needs to be rolling up their sleeves and doing some more of the dirty work.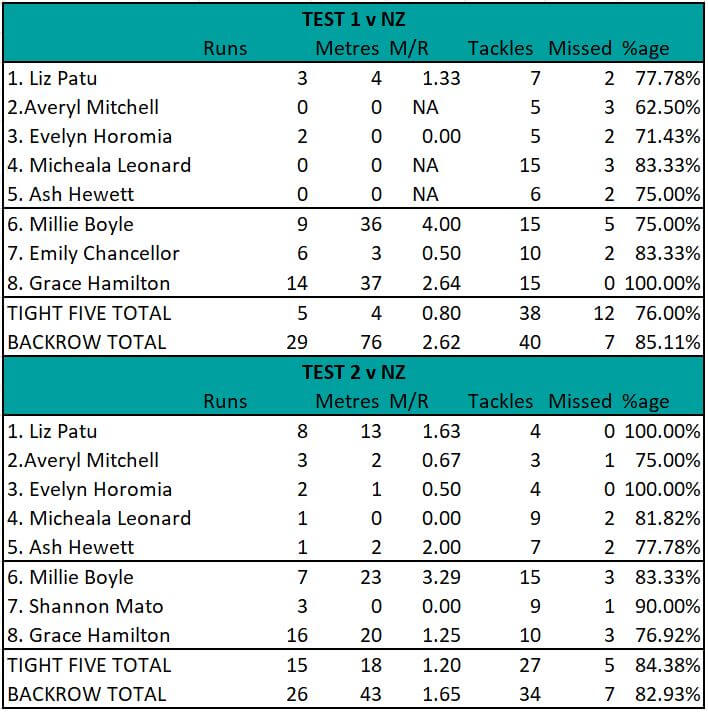 Liz Patu was brought in for the kiwi tests, replacing Emily Robinson, you would thinking largely for her running game which had been impactful off the bench. We got more from her in the Auckland test, but not enough.  Poor Averyl Mitchell, another test rookie this year, struggled throughout the series.  After an excellent Super W and eye-catching couple of games v Japan, Mitchell was found out a little against the Black Ferns.  She's not the first and won't be the last, and it's as much a further example of the difference in 'professionalism' of the two countries and their women's rugby.  Eva Karpani's debut v Japan is an exciting portent of what is to come, but again she's some way off of being able to match it with the top teams of world rugby.
The Black Ferns set the standard
As mentioned above, the Black Ferns remain an exceptional bench mark.  I had some level of quiet(ish) confidence entering that first test in Perth.  It did not take long for the reality of the difference in levels of the two teams to come back and slap me (and prorbably the players) cold in the face.  They were simply exceptional in terms of their physicality, athleticism, rugby nouse and gamesmanship.
They lost to France earlier this year, and have obvious challengers in the likes of England and Canada, but their class is as much obvious in this team as it is in their men's team.  The Perth test they blew Australia off the park early and we never recovered.  A more determined Wallaroos came at them in Eden Park and forced the home team to work hard. But their patience held and they came home strong and sealed the deal in front of a vocal crowd.
Early last year the NZRU announced their first ever contracted Black Ferns list with the players finally paid to play and receiving high performance coaching, strength and conditioning and recovery support.  It's not full time stuff yet (about $45-$50k a year apparently) but it's streets ahead of where the Wallaroos are. They won the last World Cup as amateurs (beating the professional English team in the final), so the step to professionalism will continue to enhance their performances.
It was all worth it
Don't let the two big losses to New Zealand dismay you. This was probably the most comprehensive season, in terms of preparation, ever in Australian women's rugby.  Coach Dwayne Nestor is playing the long game here with the 2021 World Cup very much at the front of his planning.  It started with a Cheika-like expanded training squad of almost 50 players back in April, including a whole host of fresh faces new to the national set up.
With the Super W continuing to improve as a competition, Nestor has the luxury of a legitimate talent identification pathway not enjoyed by previous coaches.  New blood such as Leonard, Mitchell, Cramer, Karpani, Hira-Herangi and Arabella McKenzie all played test match footy this year and will be better for the experience.
They will take the learnings of the thrashings of Japan with them in their preparations for the World Cup.  They will do the same, probably more so, from the defeats to New Zealand. Perhaps they were overconfident from the Japanese series as they entered the Perth test? If so they were deservedly pantsed.  They were vastly improved in the follow up test in Auckland, but learned that New Zealand rugby players are at their best at the tail end of a tight encounter. New players, new lessons, a renewed focus. 
The Future is bright
Credit must go to Rugby Australia for finally putting some strategy around the women's game, with the appointment of Jilly Collins as Head of Women's Rugby and Participation, a particularly savvy appointment.  The fact is women's rugby has had a long term presence in Australia, long before it became a tick box exercise in other sports. It's just now are we actually driving its growth and development.
Putting aside the potential talent-wise, there is a lot to look forward to in the women's game.  Long the poorer cousins of, not just the men, by their 7s counterparts as well, momentum seems to be building.  I'm not suggesting that we'll have professional contracts soon, but given the way the season is developing (Super W, Wallaroos, AON Uni 7s) perhaps we are not too far away from certain players being able to earn some decent dollars out of the sport.
With regards the calendar, and not only producing more content but also exposing our top women to more high quality competition, well that's happening too.  The biggest news is the launch of a new annual tournament where Australia will take on three of the best teams in the world in USA, Canada and the Black Ferns.  Throw in a special visit, next November, by England and France and the Wallaroos' preparation will continue to break new grounds. It's still a long way to go, but at least there is movement in the right direction.