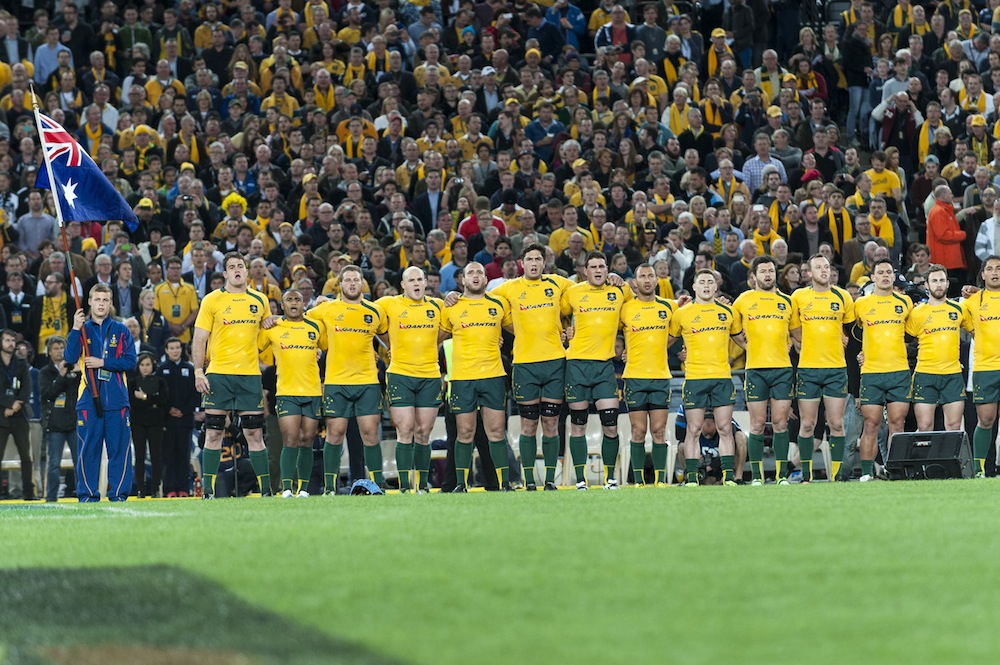 It's been a bad fortnight for Australian rugby. But all that is about to change.
Forget the off-field, backroom shit that has occupied the front and back pages the past week. It's a serious issue but now is not the time for that. The truth is still not known and processes are still to be carried out. Put it out of your mind and focus on what, for now, truly matters: Saturday.
This Saturday we play the All Blacks. The old enemy. The dark forces from across the Tasman who we have allowed to tarnish the reputation of the mighty Wallabies for far, far too long. It is imperative that we, the Australian rugby public, come together as one right here, right now.
This is the most important test for the Wallabies for at least a year. We have plenty on the line- an opportunity to tie the series, to beat the All Blacks for the first time since forever and to send a message to the rest of the rugby world who have already written us off as also-rans for the World Cup next year. They will regret the day they wrote off the Wallabies.
Forget your petty grievances with the players, or the coach. Have you ever agreed completely with the selected Wallaby side? I doubt it. But it never stopped you from giving them all your support. It is crucial that you don't stop now.
The fifteen guys that take the field on Saturday will bleed Wallaby gold, just like 870-odd others have done before them. Just like you would if you were lucky enough to pull on the gold jersey (presumably through some sort of horrible clerical error, or super pandemic). I don't care if it's Nick Phipps, Nick White, Will Genia, or Dazza from the pub- if they are wearing that jersey then I am cheering for them with all I've got. And you should too.
Sometimes on here we tend to forget that. We get so bogged down in the off-field sagas, the selection table battles, the contract rumours and the comings and goings of rugby that we miss the very reason we love it in the first place. We forget those days in the under 7s, wearing ill-fitting jerseys and playing rugby every Saturday because it was an AWESOME game and we loved playing it. We forget the thrill of our first Wallabies game, watching 15 superhuman blokes go at it with everything they've got.
This week more than ever has shown that we need to get back to basics. Back to rugby. Back to the team we all love so much.
Adam Ashley-Cooper is playing his 100th test this weekend. How good is that? He wasn't even expecting his debut, and had smashed a pie and a beer before he was told he was being added to the bench after a late injury. From that moment on he has typified everything we love about the Wallabies- a no nonsense bloke who never left anything on the field. Who bled for the team, and never took a backward step. Who made big hits, scored great tries, and ran and ran and ran. What a legend. And there are 14 others just like him taking the field on Saturday.
So how about this: until Saturday we forget the off-field stuff, and focus on the team. Focus on the game, and how we are going to beat these tough, skilful bastards from across the ditch. Yeah it will be bloody hard, but that has never stopped us before. We need to throw our full support behind the fifteen blokes who take the field on Saturday, whoever they are. We need to stand up and be counted as fans, and make our voices heard.
For we are Australians, and they are the Wallabies. And that is a sacred sporting bond that will never be broken. Come Saturday we need to bind together as one and BELT THESE KIWIS!!!
Who's with me????