Fit your incontinence pad because these three face-offs alone in this Wallabies v. Lions third Test are likely to push you over the edge.
Brawn v. Brain: Jamie Roberts v. Christian Leali'ifano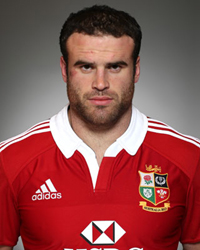 You only have to look at Jamie Roberts' jawline to realise he is the missing link – in Warren Gatland's gameplan. Gatlandball requires a centre who doesn't just bend the line, but drags it with him, enabling the forwards to rumble around the corner creating space out wide for their genetic experiments.
This go-forward has been conspicuously absent through the Test series and the Lions are sweating on it. Enough to slaughter a Lions demi-god in Brian O'Driscoll thereby inciting a level of Irish rage not seen since "the Troubles".
Starting opposite the Welshman and weighing in at slightly less than one of Roberts' legs is the Christian "Iceman" Leali'ifano.  While we didn't see a lot of his attacking potential last weekend, we did see the temperament of a big Test player, and Tests don't get bigger than this.
FACTOID – since 2009, when the Lions play with Roberts they make more metres and score more tries, but are yet to win a Test with him. (care of @nickpearcey)
---
Brawn v. Deity: Sean O'Brien v. George Smith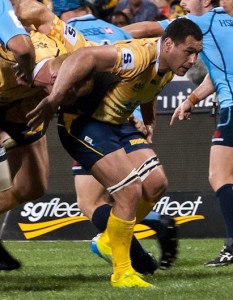 The next Lions selection spawned from the flipchart headed "GET MORE GO FORWARD" is Sean O'Brien. Unable to touch his knees due to muscle mass, SO'B isn't the fetcher that Warburton or Tipuric is, but he runs like a road-train through defences and breakdowns.
The EU could have saved a ton of cash building the Hadron Collider had they known that this Irish unstoppable force would be smashing into the Aussie unmovable object of George Smith this Saturday.
Where Hooper was blown away over the ball last week, the Lions are going to be getting up close and personal with the best glutes in the business. Has George Smith ever not made a telling contribution to a big Test match? No.
Prepare for new sub-particles.
---
Boot v. Head: Horwill v. Jones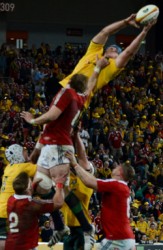 Sweating over dashing the symbolism of O'Driscoll captaining the Lions, necessity became the mother of invention for Wazza and his team, because in terms of poignancy, this selection was a doozy.
Intended or not, the consequences of the other type of "face-off" we almost had via James Horwill's boot on Alun Wyn Jones' noggin makes this clash of captains an emotional IED. At lock there will be no hiding for these two against each other – soaring in the lineout, wresting in mauls, trucking it up the guts.
Both men will be aiming to lead from the front, both men will be glowering at each other over Poite's strange French comb-over, and both men will be having to shake hands at the beginning and end of the match. (Tip: Stick a lump of coal in the first handshake and it could well press a diamond or two)
We could go on with more match ups like this across the park, but lets face it  – due to the excitement none of us have the attention span anymore.
My tip for the match? Invest in pacemakers.