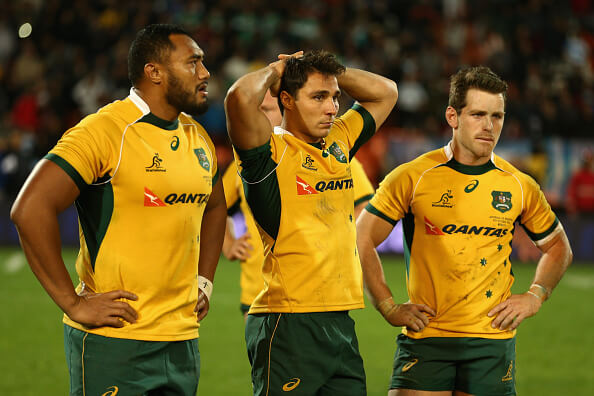 Well, that was average. We were average. Don't get me wrong, Argentina played well. They controlled possession, were patient, and were accurate. They were also lucky, but that's sport I suppose. 
Australia opened well, but fell away as the Argies tightened up. Some Wallabies went missing, and again, we made mistakes under pressure in key moments – both mistakes of execution, and errors in judgment right in front of Nigel Owens' scrupulous – and honestly, unusually questionable – gaze.
To the ratings… I'm reading a great book by Nobel Prize-winning psychologist Daniel Kahneman that outlines ways to avoid many heuristics and biases that often cloud human judgment and decision-making. Bear with me. Many of its principles boil down to the use of actual evidence, and actual engagement with that evidence in forming judgments. Though these principles seem obvious and their application is widely, if implicitly expected, overwhelming research and statistics indicate that they are not regularly applied.
With my left hand on the Book of Kahneman, I've typed these ratings one-handed and taken account of what I've learned, swearing to be as balanced, and evidence-based as possible.
You'll probably still hang me out to dry in the comments, though.
---
James Slipper
Was solid. Workload was a fair way down on previous (stellar) weeks, but that that he did, he did well. Scrum had its moments, both ways, and fared pretty well against an 8 that towelled up the Boks. 6

Saia Faingaa
Had a great game. 11 tackles and no misses, a great ball for Higgers' try and good mobility across the park. Looking great in gold for his two matches. 7
Sekope Kepu
Was down on last week's good showing. Made zero carries, but was busy in defence and around the park. Scrum was okay. 6
---
Sam Carter
Seemed soft and ineffective around the park, and the numbers back that up. Definitely under-performed. 3 
James Horwill
Kev had an absolute cracker. Looked great to the naked eye, and with good numbers too. He was second on the tackle count, made the most runs of any forward, and ran a solid lineout (and called a number of majors to himself, and took them). So good to see for Wallabies fans. 8 
Scott Fardy
A solid game. Worked hard, and pulled out a big play or two. Lucky not to get pinged for collapsing a promising Argentine maul, but didn't have too many options. 7 
---
Michael Hooper
You guys have him at 13th on the ranker, and that blows my mind. Easily the man of the stats, topping the tackle count, no misses, a heap of runs, and run metres, with defenders beaten, steals and big plays. I'd love to see his GPS numbers, because he popped up in places he had no rights to be, and made crucial tackles. A great game. Only lacked a jetpack to change direction in mid air. 8 and GAGR MOTM

Scott Higginbotham
Higgers did a heap, and was effective in what he did. Really took his starting opportunity. Worked hard around the ruck, but still got some of his wider touches. A few good hits in defence too. 7
Nick Phipps
Phipps made some big plays in defence, and his service was as it has been the past few games – occasionally erratic, but fast. His yellow was a bit of a brain fart given how the game was being refereed, but there's certainly argument that he had rights to play the ball – with his foot or otherwise. 6
---
Bernard Foley
Mediocre. Turned his shoulders to the defence and shuffled, both with the ball and in his passing game. The lasers were piss-poor sportsmanship, but he should've gotten his shot, too. Defence was okay. 4 
Joe Tomane
Needs to work harder to find the ball. He looked alright for his few involvements, but in a game where our momentum really stuttered, his running game would've been a welcome injection. 5
Matt Toomua
Left the game early with some poor numbers. His attack was pretty impotent, and though he made good reads in defence, he failed to complete the tackle a number of times. It's his second 4 in a row.
---
Tevita Kuridrani
He was good, but it wasn't in the league of last week. It was by definition a solid performance (see ratings guide, below) for a Wallaby 13. Trucked it up, made okay (not outstanding) metres. Would likely have done better with better service. 6 

Adam Ashley-Cooper
Injected himself well and had a few good involvements. Nothing to write home about, but he must remain one of the first picked, no matter the number on is back. 6
Israel Folau
Hot and cold. He made some great metres, but take that with a grain of salt for any fullback. Kept hitting the outside shoulder and made some half-breaks; he certainly kept multiple defenders interested (but we didn't capitalise on that). Needs to cut the grubbers, unless he actually gets a decent chase organised. 6
---
Josh Mann-Rea
Came on late to fulfil the fairytale, but did little. NR
Benn Robinson
Was actually effective in his involvements around the field, and his side of the scrum held well. He deserves a 6.
Ben Alexander
Under big pressure at scrum time (at least partly his own doing… poor setup position) and didn't achieve anything around the park. 4
---
Will Skelton
A lazy penalty was his only involvement of any significance. NR
Jake Schatz
Not a great showing for the debutant, but alright given the game as it was when he was on. Penalised early, but came back and had a few runs, and a clean sheet in the tackle. 5 
Matt Hodgson
Didn't take the field. NR
---
Nic White
Solid service, didn't make any telling plays. 5
Rob Horne
Came on early for Toomua, tackled well (at 100% effectiveness) – including at least one good try-saver, generally kept busy and played well. His arse may have cost us a TMO try. 7
---
The patented G&GR ratings guide:
10 – A legendary performance to go down in the history books
9 – Outstanding performance: Man of the match shoo-in
8 – Excellent all-round game
7 – Good game with a few sparkles
6 – Solid performance
5 – Average – ho hum
4 – Below par
3 – Had a bad game
2 – Tell your story walking pal
1 – A complete joke
NR – No Rating
So, how'd I go?