Tuesday's Rugby News sees Phipps takes a shot at Folau, Waratahs finally rest players, Dan Carter: The movie and Retallick back for the Chiefs.
---
PHIPPS BLAMES FOLAU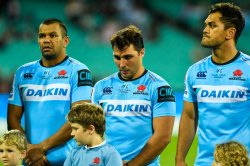 With his foot out the door, departing Waratahs scrumhalf Nick Phipps has taken the chance to have a shot at former team mate Israel Folau, calling him out as a factor the Waratahs missed the finals.

Saturday night was Phipps' last home game in New South Wales, along with Sekope Kepu and Curtis Rona, all who will depart for the London Irish.

Like all good adults though, Phipps isn't angry with Folau, he's just really disappointed by his behaviour.

"Disappointed in the way way he decided to reflect those views. He can have those views, that's fine, everyone's allowed to have their own opinions," Phipps said.

"It's not something that the majority of us share but the way that it came out and the way that it's happened twice now is disappointing.

"We wanted to be making finals at the Waratahs this year and we haven't really been given that opportunity to make it."

Phipps went on to call out Folau on going into hiding after his instagram post condemning many different types of people to hell, a move that Phipps believes left his teammates to face the music for.

"It's disappointing because the players that haven't been involved in this are still so on trial. There's no right side to be sitting on, apparently, everyone's got an opinion about it," he said.

"There are players very close to Izzy who are very Christian as well and that's tough for them to understand and it's tough for us as well.

"When you're on the road doing battle every week, it's a very tight-knit group and then when one of your own – who you love and respect, every single day train with, work hard with – [does this], it's very distracting and sad."

Phipps offers an honest assessment of the situation, stating it is a distraction and it has hurt the team and the game. The Waratahs have lost five of their eight matches since the Folau saga began, something that Phipps isn't using as an excuse but relatiscally see the impact it has had on the playing group.

"I'm extremely disappointed in the stance (Folau) has taken but it's obviously something that's very important to him and I can't speak for the rest of the group. But there's a lot of players disappointed in the way it's all gone down," he said.

"It's something that's distracted us from our goal this year to be making finals and it's disappointing that I'm watching the game that I love be picked apart for the last eight months.

"There's so many good stories out there about rugby union and we're not getting to talk about them."
WARATAHS FINALLY REST PLAYERS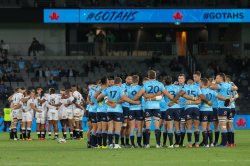 The Waratahs can still make the finals, but they need a bonus point victory against the Highlanders in Invercargill and several other teams to lose. As Lloyd Christmas would say "So you're telling me there's a chance." 
Despite the mathematical chance of making the finals, the Waratahs have finally done what every other Australian team has had to do and rest their Wallabies.
It means Michael Hooper, Rob Simmons, Sekope Kepu, Bernard Foley and Kurtley Beale will all likely miss the match in Invercargill on Friday.
This move has avoided what was likely to be a very embarrassing situation for Rugby Australia and NSW Rugby, in which RA would have to chose to enforce the rule that all the other Super Teams have followed, or let the Waratahs do what they want.
Waratahs assistant coach Steve Tandy confirmed that they would indeed be resting players, giving some of the younger guys a chance to step up.
"It's an opportunity for boys to come in and really represent what we stand for, and continue how we've gone through the season, making sure we fight for every minute we play," Randy said.
"It's massive for us (to finish with a win) and it will tell you a lot about what we are, we're going to rest a few boys but it's exciting.
"It's going to be wet and windy so it's a good test of character because we're going to go there with some young boys coming in. I'm pretty excited as a coach to see those boys bar up in Invercargill."
Ned Hanigan is expected to make his return, with NSW saying goodbye to Nick Phipps and Curtis Rona. Last weekend could be the final time a few more players pulled on the sky blue jersey, with some of the high profiled Waratahs yet to sign on for next season.
"We're losing some senior guys who have been unbelievable for the club, so there's some big shoes to fill but I've got no doubt we've got some young guys ready to step and take their place," Tandy said.
"Some boys have been waiting in the wings … and this weekend it will be a great opportunity to see these guys play, and that experience will lead them onto next year."
DAN CARTER: THE MOVIE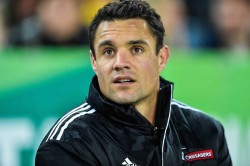 There is no denying the talent and class of Dan Carter, so much so that a movie has been made about the man, the myth, the legend.
Though there has been much disappointment that it won't be directed by the hottest director in New Zealand at the moment, Taika Waititi, due to he was busy working for Marvel.
"Excited to share with you guys about a project I've been working on over the past 12 months," Carter posted on Facebook.
"A film will be coming out which gives a deep insight into my personal life, my career and particularly my challenging road to the 2015 Rugby World Cup. It will be in cinemas in New Zealand on August 29 and I'll be sure to share the details for my international friends soon! Official title and trailer to come."
Director Luke Mellows commented on the project: "A number of the people we spoke to during filming said the same thing – the public have seen a lot of Dan, but very few feel like they know the real Dan Carter. I think Dan has overcome a lot more than people realise. Seeing the sacrifices he's made makes you further appreciate the remarkable things he has achieved over the course of his career."
Rialto, who are distributing the film in New Zealand and Australia, expect significant interest from local audiences.
"Dan Carter is one of New Zealand's few sporting stars who is recognised globally," said Rialto CEO Kelly Rogers. "With the 2019 Rugby World Cup starting later that month we think the New Zealand public, particularly rugby fans, will be excited to see the inside story of one of the greats of the game."
Carter is not the first All Black to be the feature of a film, in fact he's the third. After the 2015 World Cup, a similar styled film called Chasing Great was released about Richie McCaw. 
Stephen Donals, the man who stepped up for New Zealand in 2011 when Carter was ruled out of the World Cup also has a movie credit too his name. His story was made into a TV movie called The Kick.
What do you think Green and Gold fans, which Wallaby should have a movie made about them? There are a few good options out there but the correct answer is David Pocock.
RETALLICK IS BACK
Good news for Chiefs fans, bad news for Rebels fans. Brodie "I believe that's Mr Gilmores" Retallick is back for the last round of the Super Season.
Having declared himself fit to play the test lock has his goal set at spoiling the Rebels chance at the finals.
"It's about time, eh," said Retallick, following the team's training session on Monday.
"It's been a long eight weeks. I'm definitely excited to get back out there against the Rebels.
"It was quite tough watching, especially if we didn't get the result."
The 2014 World Rugby Player of the Year has been sidelined with a wrist injury for two months, with the big man making the most of his time off, focusing on his fitness and mental game before the World Cup.
"The eight weeks I used pretty well and got extremely fit and could kind of mentally check out, so I've tried to use it as best I could," he said.
"(It) has kind of been good in hindsight, especially around my fitness and my body and stuff like that. I don't think fitness should be an issue, thanks to the trainers here, I've just been running up and down the sideline."
The Rebels will look to put the past behind them as they look to make finals for the first time in the clubs history, and will welcome back Will Genia and four of their regular starters into the squad.