World Record Breakers
Not content with having such accolades as playing in the Top 14 Championship, the Heineken Cup, European Champions Cup, a Rugby Championship and a Rugby World Cup next to his name, Drew Mitchell decided he wanted to add the title "Guinness World Record Holder" to an already impressive list of accomplishments.
After a tough decision about which record to go for, including suggestions from followers on Twitter such as fastest 100m wearing clogs (or something similar), the record he attempted to smash was the most apples crushed with a bicep in one minute. Yep … a bicep. The current record at the time was eleven. With officials from GWR looking on with stop watch in hand Drew managed to crush an impressive twelve apples.
See the video here
Not content with one world record however, Mr Mitchell enlisted the help of team mate Matt Giteau to make another attempt, this time for the most passes of a rugby ball between a pair in one minute. The record stood at 71, until the pair (with some very questionable technique involved) completed 98 passes in one minute.
See the video here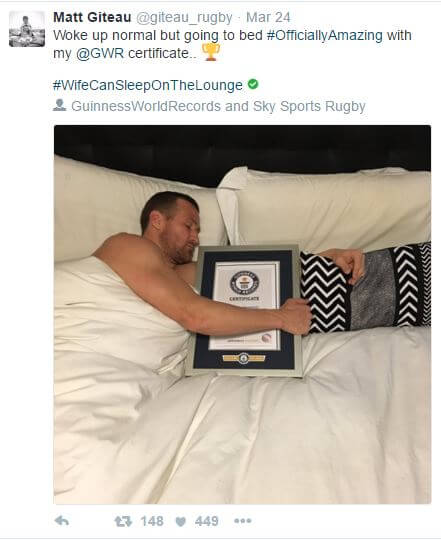 Needless to say they have both updated their Twitter profiles to include "Guinness World Record Holder".
---
USA Rugby
On April 17th, just a few short weeks away, the PRO (Professional Rugby Organisation) Rugby season is set to kick off in the USA. This is the first professional rugby competition in North America and is sanctioned by both USA Rugby and World Rugby. The comp is made up of five teams: Denver, Ohio, Sacramento, San Diego and San Francisco, with hopes to expand next year to include teams from Canada.
This week it was announced that Timana Tahu (Denver), Jamie Mackintosh (Ohio) and Mils Muliaina (San Francisco) have signed to play in the league. Not only will this add to the interest from rugby nations like Australia and New Zealand, but will surely add experience to a fledgling competition.
There are a number of USA international players in each squad and interestingly there are, apart from Tahu, four other Australians listed – Jake Turnbull, Luke White (Props – Denver), Chad Joseph (Loose Forward – Ohio) and Harry Bennett (Fullback – Sacramento). and Tom Coolican, a USA international who played for the Sydney Stars in the NRC has signed for San Francisco.
Although each team may field up to 5 foreign players with player salaries ranging from $25,000 to $40,000 there is little concern that this league will become the next cashed up French league luring away our top talent … at least not yet!
---
Report Card
Force: D-
The only thing that prevented them from getting an outright F was the fact that they scored a try. But that's it. Little to no attack and turnstile defence has most fans asking where to from here? There are calls for Foley to quit, but will that be enough to stop them from leaking points? Nine tries in a game against them is a very ominous sign, especially as they are coming up against another quality side in the Highlanders next week. There could be more pain in store for Force fans.
Rebels: D-
There are a few who had predicted this and while the Rebels produced good results against the three teams on the bottom of the ladder, they struggled when faced with a side like the Highlanders. There was little to no structure in their attack, with Debreczeni looking lost at times and producing some poor kicking. Despite having 58% possession, the Rebels were totally outplayed and rarely in the match.
Brumbies: B-
I wanted to give them a C, but they did manage a win in South Africa which has to count for something. There was little evidence of their attack which we know can be so potent, and they relied heavily on the forwards in both attack and defence. The Brumbies struggled to escape their own half at times, it's lucky they were playing against a lower side. It will be a real test for them next week against the Chiefs.
Reds: C-
There are continued signs of improvement for the Reds, but they need to add more to their repertoire than a dominant scrum. Clearly they need to practice going beyond three phases at training, as after that they seem lost. At times it seemed like defence was optional, with Folau scoring two of the easiest tries I think I have seen. Ball handling skill let them down, the number of dropped balls and inaccurate passes made it all too easy for the opposition. I think the fact that they had 66% possession says it all …
Waratahs: C
They only just scraped in higher than the Reds, because they made that look a lot harder than it should have been. Basically the Waratahs were able to sit back and wait for the Reds to fall over. Discipline is still proving to be a major issue; the number of penalties given away in the 22 is a concern. Many refs would have lost patience a lot earlier. And it goes without saying that their scrum is still poor.
One thing that did become clear, based on this round and the way all the Australian teams performed they are simply a step below most of the New Zealand teams. Hopefully this is something that will change, fingers crossed this was just a poor week!
---
June International Fixtures
This week World Rugby released the fixtures for the June International matches. Seen as the beginning of the road to Japan 2019, some of the matches will see tier one sides face off against tier two sides. World Rugby Head of Competitions and Performance Mark Egan has stated that "World Rugby continues to be committed to supporting tier two nations with high quality fixtures…".
Japan will host Scotland for two matches, Italy will travel to the USA and Canada and Georgia will play Fiji, Tonga and Samoa in a test series in the Pacific Islands.
During the June window, Samoa, Fiji and Tonga will also take part in a new look Pacific Nations Cup with the top two teams over the 2016 and 2017 competitions qualifying for Japan 2019.
Find the full list of fixtures here
---
About those referees …
Another week of Super Rugby, another week of questionable calls and TMO use.
On at least 2 occasions tries were disallowed after the referee saw replays on the big screen. The Brumbies try after 30 seconds was disallowed for a forward pass, after Glen Jackson and the TMO reviewed it just prior to the conversion attempt. Likewise, a try to the Crusaders was disallowed after a replay on the screen showed his foot in touch. While both of these may have been the correct call, they were made after initially awarding the tries.
Also during the Sharks, Crusaders match was a questionable yellow card against David Havili for a shoulder charge. Replays from an angle not shown during the decision making process clearly showed that Havili's arm were in fact used to push the Sharks player.
Former referee Jonathan Kaplan made some interesting observations during the round, with one in particular during the Chiefs, Force match, posting on both Facebook and Twitter:
"This is the premier provincial rugby tournament called Super Rugby .. These type of events are happening way too often ! Standard of officiating has become so poor over the past few years .. Btw ( not that i was watching . i was doing something far more productive and enjoyable running my 8th 2 Oceans ) .. This apparently led to a try . am I being too critical?"
Video of the incident Kaplan was tweeting about
I won't even get into the Reds, Waratahs match, I believe enough has been said in the match forum!
But on a positive note for referees, it was great that the Munster, Zebre clash saw first female to officiate in the Guinness Pro12. Helen O'Reilly ran the line during the match and is hoping that if she continues to impress she will be handed control of a match. How long before we see SANZAAR following the example with the likes of Amy Perrett or one of the other five female ARU National Match Officials?