Reviews and ratings can be sometimes hit, sometimes miss, but what's uncanny is how spot on the player rankings are here on G&GR, as voted by you. So forget the John Eales medal, here are how the Wallabies performed in the Rugby Championship and the Bledisloe Cup based on your player rankings. Thanks to the guys at Ranker.com for supplying the data.
How we calculated the results
In each match the ranks are calculated by subtracting down votes from up votes. Obviously the total number of votes for each match (we regularly get more than 10,000 votes per test match) will vary, so what we've done is to take the difference between up and down votes and then divide it by the total votes for the team per match to give us a ranking based on share.
Rankings on average
If you take those share rankings, and average them over the test matches played, here is what you get. Note – we've only counted those players with three or more starting tests.

No surprises for the leaders in Kuridrani and Slipper – what phenomenal seasons they've had so far and both so consistent as you'll shortly see.
A little more interesting are the averages for Saia Fainga'a and Rob Horne. Good performances combined with short spells work wonders for averages!
Performance over time – forwards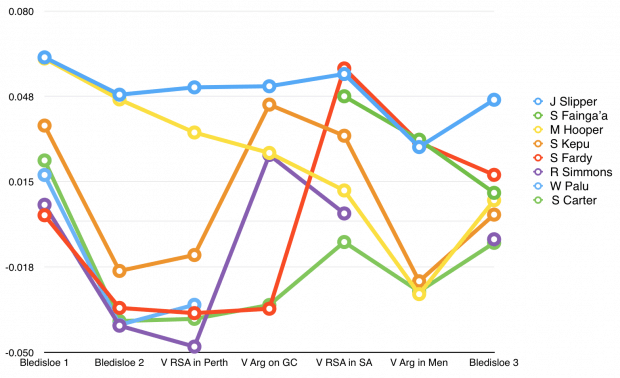 Outside of James Slipper's dominance, there are a couple of interesting stories. Michael Hooper's slide showed quite a linear path, and that had little to do with the controversy around the final test. For Scott Fardy, the season has been a tale of two halves, with him having three cracking matches to pull back three disappointing performances before that; which explains his neutral average overall.
Performance over time – backs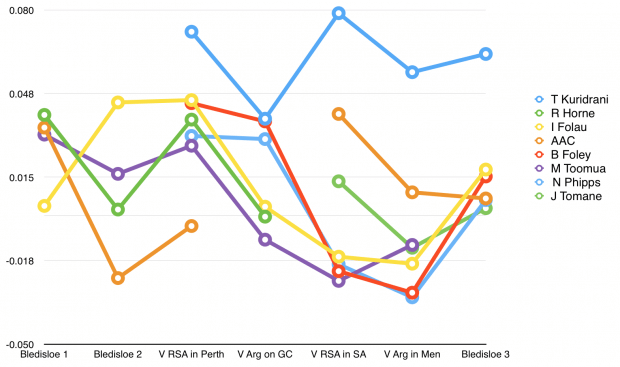 Most of us ran out of superlatives for Tevita Kuridrani this season, and the graph above shows why. Simply outstanding.
One very interesting trend that comes through in a few of the backs – Foley and Phipps strongly, but also Toomua and Folau, is their dip in performance for away tour (which TK showed no sign of). For Matt Toomua it was a season of two halves so far, with the back end doing him no favours.
Your performance as rankers
What's also interesting to look at is
a) how arsed you lot can be to vote at all (total votes, both up and down)
and
b) how the team performance relates to the difference between the up votes and down votes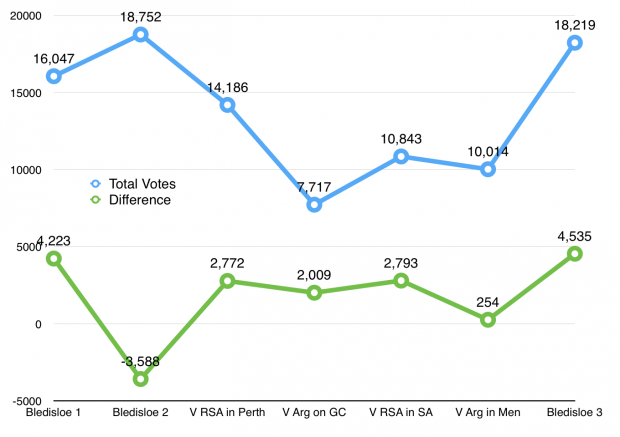 The key variable in what gets people voting is the opposition. The top three were all against New Zealand, the next two against RSA and the bottom two against Argentina. I expect this follows viewer numbers as well.
In terms of team performance, the shambles at Eden park took one hell of a spanking, followed by the munting in Mendoza. The two close matches against New Zealand  – despite the lack of a result – rated the highest in terms of positive player performances.
What caught your eye in the data?