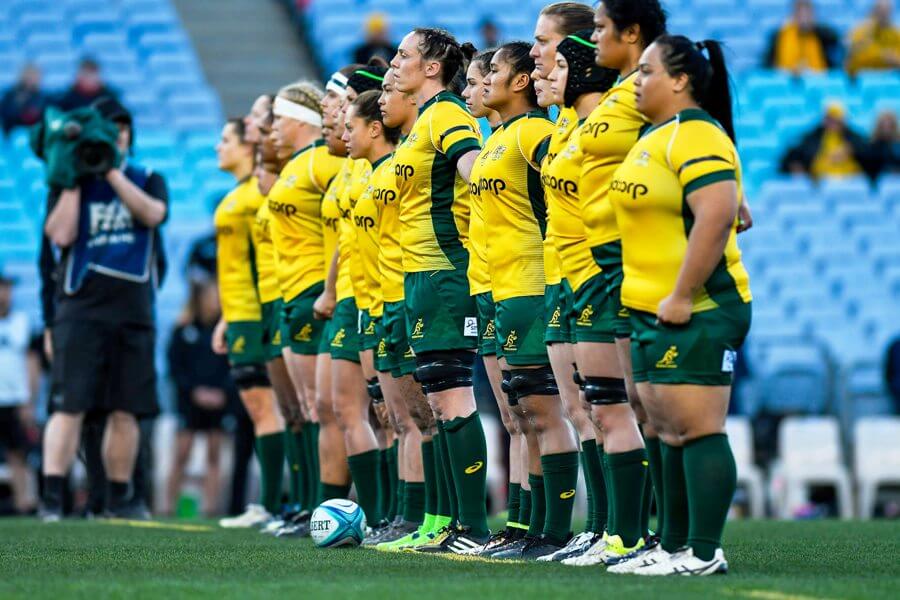 Thursdays Rugby News sees Robertson optimistic, Wallaroos ready for Japan, Vale James Small and Matt Gibbon staying in Melbourne.
---
THE OPTIMISTIC KIWI
If Australia had a coach with a winning record the same as Scott Robertson, he wouldn't need to be offered the job as Wallabies head coach. He would just turn up Chuck Norris style, stare at the now previous coach until he left and wait for a small truckload of money. 

But in New Zealand they do things a little differently it would seem. Something called an interview process

The three time premiership winning coach is putting his hand up to replace Steve Hansen, when he hangs up his whistle post the World Cup.

"I'm a pretty optimistic person. If you have a crack I'd like to think you have a chance," he told TVNZ.

"I've got to prepare as best I can to put myself forward, I've done what I can do.

"Hopefully I'll have a great interview, all going well, and if they want someone, they know who they're getting with me."

Robertsons impact at the Crusaders has been undeniable, with the franchise having not won a title in eight season, now going back to back to back.

Under his leadership, the Crusaders have only lost 5 matches in 56. 

The interview process will start about a month after the World Cup, where New Zealand will look for their own 'three-peat', but Robertson remains confident in his chances.

No offical short list has been named but the only other name in contention discussed in the open spaces is that of All Blacks assistant coach Ian Foster, who has been instrumental in the dominance of New Zealand rugby.

No other New Zealand based coaches appear to be putting their hands up for the job and international Kiwi's Joe Schmidt and Warren Gatland appear to have ruled themselves out.
A STRONG TEST FOR THE WALLAROOS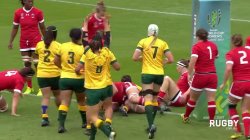 Wallaroos halfback Cobie-Jane Morgan believes that their two test series against Japan will be great preparation for the team as they build up to their test match against the Black Ferns.
The Wallaroos ran an opposed training session against Japan, with three 20 minute periods the first chance for the women to have a hit out together before the test match.
"Basically it was just to sort out our combinations and coming together after a pretty strong season of Super W, for the coaches' and the players' perspective to get the right combinations coming into the Test match," Morgan said. 
The Wallaroos will face the Black Ferns in a double header with their male counterparts in Perth and Aukland in the next month, but right now they are focusing on getting everything right for Japan.
"From experience, (extra Test matches during ahead of the Bledisloe Tests) is something that we've never really had, so going into the Test matches  against New Zealand, it's been really good having that hitout against Japan," Morgan said.
"But (Japan) is our focus at the moment."
Morgan expect the Japanese will be ready to punish any mistakes the Aussie Women make, something that was highlighted in their opposed training session.
"They're pretty strong around the breakdown, I guess we knew that with their body frames, they're very strong and they're quick and they like to recycle the ball fast," Morgan said.
Queenslander and Wallaroo Millie Boyle is backing the Aussies size to be a driving factor up the middle of the field.
"It was good to get a little hitout against them," said Boyle, who headed into camp with the Wallaroos at the weekend fresh from a rugby league appearance with NSW in the women's State of Origin.
"They're quite a professional side and they're fit and they spread the ball quite fast, so it'll be good to play them on Saturday. 
"It was nice to get the girls that haven't played before in that Test-style rugby a little taste of it."
VALE JAMES SMALL
South African Rugby is mourning the loss of another player from their 1995 World Cup winning team, after it was announced that James Small had passed away.
Small built a reputation for  himself has the man who kept Jonah Lomu at bay during the World Cup final in Johannesburg, in what would be one of the most significant sporting moments for the country.
The winger played 47 times for South Africa between 1992-97, scoring 20 tries. He later went on to coaching domestic teams.
Mark Alexander, president of SA rugby, said Small would "always have a special place in the hearts and minds of the South African public".
"We were devastated to hear of his passing," he added. "He always played with the type of passion and courage that encapsulate what Springbok rugby stands for, and he lived his life in the same way.
"At 50 years old, James Small died too young."
Small is the third member of the World Cup squad to pass away, after flanker Ruben Kruger and scrumhalf Joost van der Westhuizen.
GIBBON STICKING AROUND
The Melbourne Rebels made this announcement earlier in the week but this is the sort of story that we as rugby fans love.
12 months ago, 23 year old Matt Gibbon was a, electrician playing Shute Shield for Southern Districts when he was offered the chance to come to Melbourne and train with the Rebels. 
At the start of the season Rebels Head Coach Dave Wessels spoke highly of Gibbon's work rate, his drive and his commitment, that earned him a contract with the Super Rugby franchise.
12 months later Gibbon has played 16 Super Rugby matches, including several starts, has had the chance to train with the wider Wallabies squad and now signed a two year contract with the Rebels.
With the Rebels entering what would appear to be a rebuilding phase, young talent like Gibbon is crucial, with the young prop holding his own against some of the more experienced players in the competition.
"I'm thrilled to able to call Melbourne home for at least another two years," Gibbon said.
"This year has been a pretty big whirlwind for me, but I've loved every moment I've had at the Club and I'm so keen to keep taking the opportunities I am given.'
"To be part of the training squad with the Wallabies for the last couple of weeks was probably the last place I thought I would be at the start of the year. It was an awesome experience and it's only motivated me more to know that if I can keep developing my game that there might be more dreams to be made.'
"I'm pretty humbled by the recognition that I have had and I'm really keen to repay the faith that the Club has shown in me this year. I can't wait to launch into another year of repping the Rebels jersey."
Dave Wessels, says Gibbon's two-year contract renewal is a well-deserved reward for performance on the park.
"Matt's a good story of how persistence and hard work pays off," Wessels said.
"He came through our talent identification network and we were immediately impressed by his competitiveness and work ethic during the 2019 pre-season.'
"Matt has had a good start in his first year. We look forward to seeing his growth continue over the next two."