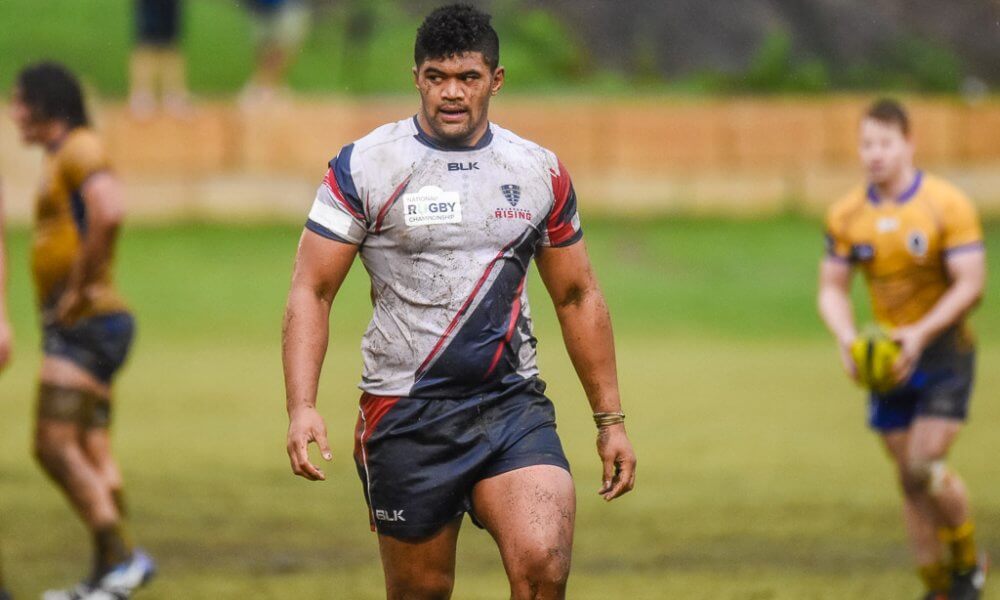 Thursdays Rugby News sees Cooper cleared to play, Reds see improvement, Egon Seconds Dropped, and meet the Uelese brothers.
---
COOPER CLEARED, TO'OMUA ON THE BENCH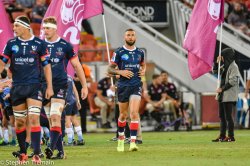 Quade Cooper has successfully recovered from his interaction with Samu Kerevi's knee and has been named to start after passing his concussion protocols.

This will mean star recruit Matt To'omua is in line to debut off the bench, probably a good thing given he has been in country less than seven days. 

"As we build to the back end of the season, being able to relieve some pressure off Quade having to play every single minute is very helpful," Coach Dave Wessels said.

"Matt's got the opportunity to come off the bench and make an impression and we'll take it from there."

To'omua was granted early release from Leicester to come as emergency cover in case Cooper wasn't cleared. He was expected back next week with the plan for him to play in the Waratah's game.

If he debuts it would be his first Super Rugby match since 2016 after he played 88 games for the Brumbies.

Wessels has named an unchanged starting back line but was forced to make some big changes in his forward pack with Luke Jones and Isi Naisarani ruled out due to injury. Richard Hardwick and Rob Leota come into the starting line up with Sam Jeffries is returning from injury onto a 5-3 split bench.

Jones suffered from a hairline fracture in his eye socket, that initially went undiagnosed until he blew his nose. 

"He didn't realise he did it until he blew his nose and it swelled up a bit," said Wessels, saying his backrower could miss two weeks.

Naisarani suffered an injured toe and could also be out for two weeks, but Wessels sees that as a blessing in disguise.

"He probably needs a bit of a break anyway, although he's been playing really well for us," Wessels said. "We're lucky that we've got some depth in the back five in the scrum."

"Ross Haylett-Petty was excellent last week, he played with a lot of intensity and seemed to be really enjoying his game and we all know what a soldier Matt Philip has been for us this year.

"Both of those guys are covering us at lock pretty well and it's great to have Sam Jeffries back from injury.

"We're lucky to have Dickie Hardwick back, who's a Wallaby. He's been a bit unlucky with injury this year but I thought he was excellent against the Waratahs when we played and then unfortunately bumped his ankle in training. But he was really good off the bench last week.

"And in Robbie (Leota) and Gus (Cottrell), we get some great go-forward from Robbie and a huge work rate, as always, from Gus."

Ins: Matt To'omua, Sam Jeffries

Outs: Luke Jones, Isi Naisarani

1. Tetera Faulkner 2. Anaru Rangi 3. Jermaine Ainsley 4. Ross Haylett-Petty 5. Matt Philip 6. Angus Cottrell (vc) 7. Richard Hardwick 8. Rob Leota 9. Will Genia 10. Quade Cooper 11. Marika Koroibete 12. Billy Meakes 13. Reece Hodge 14. Jack Maddocks 15. Dane Haylett-Petty (c)

Reserves:

16. Hugh Roach 17. Matt Gibbon 18. Sam Talakai 19. Sam Jeffries 20. Pone Fa'amausili 21. Michael Ruru 22. Campbell Magnay 23. Matt To'omua
HAVE A RED HOT CRACK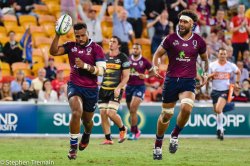 The Queensland Reds haven't beaten the NSW Waratahs in 10 matches, but that won't be in the minds of the Reds as they look to keep their season and finals hopes alive on Saturday.
Regardless of a win this weekend, or even playing finals for the first time since 2013, Reds coach Brad Thorn has said that they aren't the metric for improvement in his side.
They have won 5 out of 13 matches, already equalling their wins for 2018, 
"I know there's improvement and obviously you want to beat those New Zealand teams and you want to beat the Waratahs but there's no question there's been growth," he said.
"There's been improvement, there's been a lot of young guys developing in their game, so that's a positive but the main focus for me, I think for the club, is winning.
"You play to win and you play to go further than just the season.
"You want to go into the finals and most of the Super Rugby comp is in with a chance so there's 15-odd teams thinking they want to be in the finals as well. It's actually quite a juicy competition.
"It's quite an interesting one – wouldn't know who's going to be where in five weeks' time.
"For us, that's something that is obviously, we're keen on going further but coming back to this week it's all about the Waratahs and as we've said, they've been a tough opponent for us."
One of the players Thorn has been impressed with from an improvement standpoint has been Taniela Tupou, believing the Togan Thor is in doing everything he can to earn a spot on the plane to Japan.
"I'm a Reds coach, so obviously I've got bias but you've got a 133kg tighthead scrummaging prop," he said.
"If he's harnessing all that he has and discipline and has that focus and that form, it's a good prospect for a national coach to have because at World Cups, set pieces are important.
"We just want him enjoying his footy, working hard and putting in a good performance on Saturday."
Back Hamish Stewart is set to miss this weekend with a shoulder injury but Thorn said he didn't expect him to be out for long.
The Reds might not be too worried with names like Duncan Pai'aaua, Jock Campbell and Aidan Toua who could step up in Isaac Lucas and Stewart's absence.
SECONDS DROPPED
Under fire South African Referee Egon Seconds has been stood down a head of this weeks Super Rugby draw.
SANZAAR has dropped Seconds, even not considering him for an assistant position.
Seconds came under criticism for his 'hands on' approach and questionable calls in the Waratahs and Lions match in Johannesburg that say the Waratahs on the wrong end of an 11-2 penalty count. Seconds was even involved with making contact with Michael Hooper as he attempted to jackel the ball.
This isn't the first time Seconds has been criticised, after the former South African Rugby player officiated the Rebels and Lions match which saw the men from Melbourne on the receiving end of an astonishing 20-1 penalty count. 
Interestingly both matches were matches were the Lions hosting Australian franchises. 31 penalties against Australian teams, 3 against the Lions.
Waratahs coach Daryl Gibson showed as much composure as he could when fronting the media on Tuesday.
"I'm disappointed for the team on Saturday that a lot of our effort is going unrewarded at the moment and a lot of things are beyond our control given some refereeing decisions that went against us on the weekend," Gibson said.
Gibson also confirmed the club would follow their regular operation of communicating with SANZAAR and Lyndon Bray
"We regularly talk to SANZAAR and have got regular correspondence with [referees boss] Lyndon [Bray] and we'll put our usual submissions in that we do every weekend."
Back in March, Rebels coach Dave Wessels said something similar regarding communication with SANZAAR.
"I think we wanted to confirm that there weren't any systematic issues in our game with the referees and they've given us some feedback that there aren't," Wessels said.
"That would be the major concern – if it was happening in a certain area of our game where we were doing something systematically wrong then we'd want to address that but fortunately the feedback has been that that's not the case."
"I don't think in the history of Super Rugby a team's ever got only one penalty against them and I know for a fact that's the worst differential that's been in the last 10 years," he said.
"The reality is the next worst is 15-5.
"So 20-1 penalty count, we would have had to be very unlucky to get something like that and discipline certainly hasn't been an issue for us all season so for it suddenly to come up in that way was disappointing.
No comment has been made by SANZAAR regarding the dropping of Seconds.
ANOTHER FRONT ROW BROTHER COMBINATION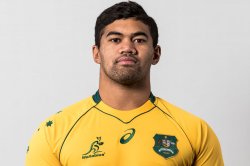 You have seen the impact of the Smith Twins in Queensland, now get ready as the Uelese Brothers prepare to pack down together for the Melbourne Rising.
Melbourne Rebel and Wallaby hooker Jordan Uelese made his long awaited return to Rugby last weekend playing for Gordon. This Friday he'll be back in Melbourne colours when he packs down for the Rising in their match against the Japan Wolfpack.
This time though he'll have a familiar face in the front row, that of his younger brother, Junior Uelese who will start at Tight Head Prop for the Rising.
Oveleni "Junior" Uelese was came up in  Melbourne before went to boarding school at Scots College in Wellington, New Zealand.
Junior Uelese played for the New Zealand Schools Barbarians team but came back to Melbourne after he finished school and and has been training with the Rebels as a development player.
"He has just turned 18 years old. When you are a Pacific Islander player and you are called Junior you know he is the complete opposite," Jordan Uelese said.
"He is a big 130kg-plus prop and I have never played with him in my life. It will be exciting to back down with him. He is a tight-head prop and I am a hooker, so it will be pretty special for me and my family.
"It will be his first taste, I guess of pro footy.
"He is from Australia but he moved back to go to boarding school, Scots College in Wellington. A big rugby school in Wellington, so he was fortunate I guess to hone his skills there. But he wants to come back home and play for the Rebels and higher honours, so that's where his heart lies.
"I am happy for him to come back and be in the set-up.
"When he finished up with the New Zealand schoolboys he came straight back here and wanted to work with us. He has been around the set-up, Dave has wanted him to learn from the older heads so that's been great for him, to be exposed to the higher level. He is grateful for the opportunity."
Jordan sees Fridays match against the Wolfpack as a great opportunity for Victorian club players to take on some international competition.
"It will be great for those guys to get the exposure," Uelese said.
"They get to step up and play on a big stage here at the stockade in front of a big crowd against what is a world class side."
It's been a long road to return from injury for Jordan, who has been cautiously managed by both the Rebels and the Wallabies, so that he can be in line for a finals push with the Rebels and a chance at the World Cup with the Wallabies.
After a sore yet successful return to Rugby through club rugby, Jordan will be looking to use Friday to get his Rebels jersey back.
"The body is a bit sore. I am a bit banged up. I played 60 minutes up in the Shute Shield for Gordon," Uelese said.
"It took the first 10-20 minutes of the game to get a feel for the game and catch my breath but it was great to get out there again. I have been in rehab for 11 months now so it was good to get to get back out there.
"The knee is fine, I definitely came out of the game unscathed. Just normal body soreness given I hadn't played a long time.
"The competition we have here in the hooker spot is great. Anaru (Rangi) and 'Roachy' (Hugh Roach) have been playing really well and I am not going to just walk back into the team. I have to prove myself again."
Rising v Japan A Wolfpack
Kick Off: 5:05pm
Tickets Available for both Rising and Rebels Games here