Thursdays Rugby News sees Karmichael Hunt's Road to Redemption, Fijians looking for Sydney gold, Gibson close to re-signing and another rugby lifeline from the Rebels
---
[one_half last="no"] 
HUNT TO START IN TRIAL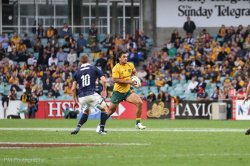 Karmichael Hunt's road to redemption begins Friday night when he will start for the Waratahs in their trial match against the Highlanders.
The exiled Red did not play for Queensland last season after some off-field antics came to light, but after an impressive NRC campaign he was offered another chance down south in Sydney.
After only a week in Waratah colours, Hunt has shown no signs of slowing down after a year out of professional rugby, impressing his new coach Daryl Gibson earning the starting 12 jersey.
"I have been very impressed with the professionalism and the condition he has come in," Gibson said.
"By his own admission, he had a year away from the rigours of training professionally and the physical contacts that you take. I have been impressed with him.
"He has come in and been very professional with the way he goes about his stuff. The squad have welcomed him with open arms."
According to Gibson, Hunt was sought after not only as a back up to Kurtley Beale but to add a new level of defensive strength to the Tahs backline.
"He is adding a real edge to us, around the intensity and particularly what he is bringing in defence. As I said from the start, our biggest growth area is in defence and making sure we are tough and harder to break down."
"One of the things we wanted to bring to our side is a real defensive edge, and physicality, into that position. Again with the recruitment of Adam Ashley-Cooper, who is a renowned defensive genius, and with Karmichael, it really gives us some stiffness there in the midfield. It also gives us a lot of options in depth, which allows us through the season to better manage our squad."
Hunt will get his time to shine at 12 on Friday, where due to the new international plan around the Wallabies, Gibson has had to rest most of his stars a head of the trial, including Bernard Foley, Kurtley Beale and Israel Folau. 
Will Miller will captain the side, with Mitch Short and Mack Mason at the 9 and 10 combination. Jake Gordon will start on the bench, as the only member of the 12 man bench to have played Super Rugby.
Waratahs Squad against Highlanders
Harry Johnson-Holmes, Andrew Tuala, Shambeckler Vui, Jed Holloway, Ryan McCauley, Lachlan Swinton, Will Miller (capt), Hugh Sinclair, Mitch Short, Mack Mason, Cameron Clark, Karmichael Hunt, Lalakai Foketi, Curtis Rona, Alex Newsome.
Replacements: JP Sauni, Rory O'Connor, Chris Talakai, Le Roux Roets, BJ Edwards, Pat Tafa, Jake Gordon, Ben Donaldson, Will Harrison, Richard Woolf, Will Harris, Cody Walker.
[/one_half]
[one_half last="yes"]
FIJI HOPING TO BREAK SYDNEY DROUGHT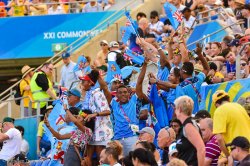 Despite being the dominate force in Men's Seven, the Fijians have never won the title at the Sydney Seven's in the three years since the tournament moved to Sydney. Something they hope to rectify this weekend.
Following an incredible performance at the Hamilton Sevens last week, that saw them beat USA 30-0, the Fijians are confident they can turn it around at Spotless Stadium this weekend, with the help from they expat supporters.
Coach of Fiji, Gareth Baber spoke about how much inspiration his side takes from the intense support they receive all over the world from Fijians.
"We don't have a home tournament so the success that Fiji has always had has been off the back of going to places there really shouldn't be Fijians," Baber said.
"But they are, they're all around the world.
"It's ingrained in Fijian DNA, so when we travel the world and see the sea of blue that we do see. It is a phenomenal connection for us as Fijians to realise exactly what that means to us.
"It gives us that lift, really when we are in positions like we were at the weekend, and we have been previously. Sometimes when it is not going so well, it is a little bit of an anchor for the players … I can say to the players at halftime: 'look around you, this is what you have to live up to, this is the responsibility when we pull on the white jersey'."
Normally held at Allianz Stadium, this year the Sydney Sevens will be held in Sydneys west at Spotless Stadium, home of the Greater Western Sydney Giants. With this change it is believed that the Fijian locals will be out in force to support their countrymen. Sydney has the largest population of Fijians, outside of Fiji.
Baber is hoping a big turnout from the Fijian community can help carry his team the same way the crowd helped in Hamilton.
"We know there is going to be a Fijian crowd here for us again, which is superb. It is one we want to put to bed, in terms of the last couple of years and make sure we carry on with the quality that we showed in Hamilton."
[/one_half]
[one_half last="no"]
GIBSON CLOSE TO CONTRACT EXTENSION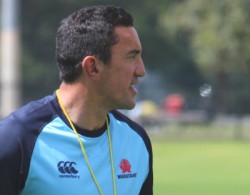 Daryl Gibson is close to inking a new deal with the Waratahs, that would see him continue to coach New South Wales until the end of 2020. Gibson signed a one year contract extension at the end of last season.
A clause in his contract has allowed him to nominate the time frame, and after Gibson claimed that he would be ready to move on at the end of the 2019 season, it appears he is ready to go again with the tahs.
"I am really close to staying on here," Gibson said.
"I am really enjoying my time. I want to bring that next generation through and post-World Cup, bring that next generation through. I see that as important for this club.
"I am obviously in a really good place here with the squad at present and conscious that I want to bring that next generation through, and set that up for someone else."
Simon Cron and Chris Whitaker were both considered to be Gibson's successors when the Kiwi born coach moved on at the end of the 2019 season.
Though Gibson clearly feels he is the man to lead the Waratahs after the post World Cup exodus occurs at the end of the season, when many players will be offered contracts with Northern Hemisphere teams.
The Waratahs look like they could be picked apart by the Northern teams, with Nick Phipps and Curtis Rona already linked to English clubs and no shortage of rumours regarding Kurtley Beale and Bernard Foley.
Captain Michael Hooper and Israel Folau both signed long term contract deals at the end of last year, putting some ease in the mind of Gibson and Waratahs fans.
Gibson understands that high turnover post World Cups is normal, stating it is understandable for players to go north to chase the money, but it is even more important to be bringing up a new generation of talent in Australia.
"I see the financial pressures in the game, for players now the opportunities to go overseas and be rewarded for that are going to be out there for them, and that's part of what it's always been in rugby," he said.
"With the northern hemisphere, the exchange rate, the extra injection of money up there, I'm sure those pressures are going to come up more,
"It tends to be in World Cup years that, turnover.
"I don't see it as any different.
"It makes our jobs, in terms of making sure the next generation are coming through the Australian system, (more important).
"I've been really impressed with the talent that's coming through our ranks.
 [/one_half]
[one_half last="yes"]
 A REBEL LIFELINE
Quade Cooper isn't the only Australian rugby player to be offered a lifeline by the Melbourne Rebels this season, with the club offering a contract to former ACT Brumbies hooker Robbie Abel.
Abel left the Brumbies last season, playing provincial rugby in New Zealand for Aukland in their successful Mitre 10 Cup campaign, before being called into the Maori All Black side that travelled to America, with former Rebel and Canberra boy Tyrel Lomax.
Returning to Australia, let alone a move down south was not something initially on Abel's radar, but he's ecstatic to have have a new home and another chance at Super Rugby.
"A month ago, I was getting back from the Maori All Blacks tour. After I left the Brumbies, I thought that was it in terms of playing Australian rugby," Abel said.
"From there I thought I'd either stay in New Zealand or go overseas.
"Staying in Australia was something I didn't see or coming to Melbourne was something I didn't see either."
Unlike previous season in Melbourne, this will be one season where the competition for the two match day spots will be fierce, with rising Wallaby Jordan Uelese looking to fight his was back from injury, the staple of last seasons front row in hard man Anaru Rangi (needs a gold jersey soon), and new recruits Hugh Roach with 41 caps for NSW and now Robbie Abel with 36 caps from the Brumbies and 3 from Maori All Blacks.
Despite the competition for the position, Abel isn't coming into the club with a you versus me mentality, instead he want to learn and help others grown at the same time.
"There's a lot of quality and everyone's very different to what they bring," he said.
"I'm of the opinion that we are working together to make each other better and we compete to be at our best.
"I'm a massive fan of helping the other hookers and learning off them and then we compete."
The full interview with Abel is up on the Rebels website where he talks more about his connection to Melbourne and his experience of being a Maori All Black and learning about his heritage and culture.
[/one_half]