Thursdays Rugby News sees a slow news day with Folau putting pen to paper, new RFU schedule, a new peoples campaign and other rugby news.
---
[one_half last="no"]
FOUR MORE FOR FOLAU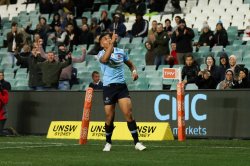 Israel Folau has decided to continue his rugby career in Australia, after signing a four-year deal with the Wallabies and the NSW Waratahs, keeping him in Australia until 2022, just one year shy of the next Rugby World Cup in France.
After a year of controversy, the rumours began to swell regarding Folau's future, with reports of overseas offers, a potential return to Rugby League, and even a return to Queensland to play for the Reds.
"At the time I guess I had a look at a few options but once I was comfortable with what I wanted to do I obviously let my management know and let them deal with it straight away," Folau said.
"It's about letting them do their job and then focusing on my rugby.
"That was the priority."
It is believed that the main point of contention in the agreement was the length of the deal. With four years locked in Folau is happy to just continue focusing on his rugby.
"That's the luxury of a long term deal, that you can really just focus in on the years you have signed on for," he said.
"A whole lot of things come into the equation with family and all that sort of stuff.
"It wasn't always about the footy side of things for me.
"It had to fit in with my wife and everything else with my family and parents."
The deal has not been officially unveiled but RUGBY.com.au are reporting it as a when, not if scenario, and officials from the Waratahs are claiming it's all good on their end.
"We've done our paperwork and signed everything from our end but it would be disrespectful of us to (give more details)," Waratahs CEO Andrew Hore said on Wednesday.
"It's Rugby Australia's announcement to make and we would leave that to make at a time that they deem is appropriate.
Folau stirred up some controversy early this year with a series of homophobic social media post but Hore doesn't believe that Folau is any greater risk on social media than any other NSW player.
"The key thing for us is that our players understand that they have obligations and…you get players that make mistakes – whether he believes it was a mistake or not is another point – but there is always going to be issues in and around players in public," he said.
Folau is the third of the long term deals to come out in recent months. Michael Hooper signed a five-year extension with Rugby Australia, and Brumbies prop Alan Alaalatoa is close to locking down his own four-year contract.
[/one_half]
[one_half last="yes"]
ENGLISH RUGBY ALL YEAR ROUND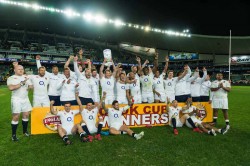 Englands domestic and international rugby will now run for 11 months of the year, as a new schedule is run out for the 2019-20 and 2021-22 season.
Historically, the Premiership rugby season would start in September and run through until May, with International tours being held in June. The new schedule sees the competition run into June with the international window being moved to July.
"Twickenham will host the Premiership finals on June 20, 26 and 18 for the years 2020-22 with the campaigns starting on October 20, September 12 and September 18 respectively." Via RUGBY.com.au
The move pushes rugby into the summer months, and leave August as the only month without rugby in England. When there is a World Cup, or the British and Irish Lions are on tour, the tests will be held in August, creating a twelve-month rugby calendar.
With increased workloads comes the need for restrictions on game time, in particular for international player. This creates an opportunity for more in-season breaks for players.
England international players will only play 30 full games per season, down from the previous 32, and be restricted to a limit of 35 match involvements of 20 minutes or more.
"We've always held a view that the more rugby is played in better conditions and in better weather — after the Six Nations – the better," Premiership Rugby chief executive Mark McCafferty
"It was then a question of how do we marry that up with the player welfare angle.
"It's always been the case that the Premiership's stronger attendances and stronger audiences are towards the business end of the season, but that's also because you've got the firmer grounds and better weather."
RPA chief executive Damian Hopley said: "It is fundamental that players had their say in the shaping of this new season structure".
The new structure will drastically impact the British and Irish Lions tour, cutting it down from six weeks to five, and 10 matches to 8. This makes the coaching job an impossible task, removing the training week for the full squad and two matches means that not every player will get a shot in the 23 during one of the three warm up matches.
The Lions manager, John Spencer, is 'very concerned' around the player welfare and the future of one of Rugby's iconic tours.
"Who is going to want to take on the task of coaching the Lions on what is going to be a virtually impossible challenge? Are players at the end of a long season going to be prepared to risk reputational damage given the lack of time to prepare?" Spencer said.
[/one_half]
[one_half last="no"]
RUGBY HEADLINES
The Queensland Reds unveiled their playing squad for 2019, and whilst there are still four TBA's (including a loose forward, Liam Gill perhaps?) the squad looks to be locked down.
One interesting addition on the squad is exiled player Karmichael Hunt has still been named. According to Fox Sport though, don't hold your breath.
Brad Thorn cleaned house in 2019, with Nick Frisby and Andrew Ready heading overseas, James Slipper to the Brumbies and Quade Cooper to the Rebels, Hunt is the last of the exiles to remain in Queensland.
Though he was listed, he was not mentioned in any part of the Reds press release, indicating he is on the list because of his contract.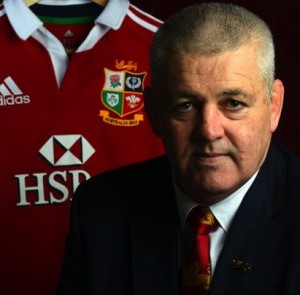 In other rugby news, Welsh coach Warren Gatland has returned home to New Zealand following the passing of his father.
Welsh Rugby Union confirmed this with a post saying:
"Some sad news. Players, management and the whole of the WRU would like to extend their condolences to head coach Warren Gatland and his family following the passing of his father overnight. Warren has returned to New Zealand and we are sending him our thoughts and best wishes."
Wales are currently in camp a head of their matches against Australia, Tonga and South Africa and Scotland.
Their first match is against Scotland at the Principality Stadium on November 3.
[/one_half]
[one_half last="yes"]
CAN YOU SMELL WHAT THE ROCKS COOKING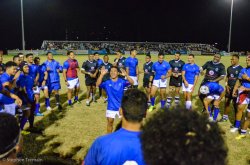 One passionate rugby fan has started a social media campaign to have Dwayne 'The Rock' Johnson champion a Pacific Island Super Rugby franchise.
New Zealander Simon Anderson have been spearheading the initiative to have rugby fans tweet a video to Johnson, who is of Samoan heritage, to help build the case for an island team.
"Super Rugby needs to expand and do so without diluting the quality of the competition," Anderson says.
"Pacific Island rugby needs to be given a platform from which it can compete. In Dwayne Johnson there is the perfect win-win. Were he to be granted a licence for a Pacific franchise, he would contribute to a very bright future for SANZAAR.
"At present, there appears to be no real strategy for how Super Rugby will expand and compete with the commercially superior European competitions. South Africa already has one foot out the door with two of its teams playing in Europe's Pro 14 competition,
"If South Africa did eventually exit completely and the European money started to drag more Southern Hemisphere players away, the future for Super Rugby, and all rugby in New Zealand, Australia and the Pacific looks grim."
Anderson has worked in professional rugby and has a focus on market intelligence and global contracting trends.
"This is a people's campaign," Anderson says. "To succeed in getting Johnson to take a look at the proposal video and consider talking to SANZAAR urgently, it will take thousands of us to tag him across Facebook, Instagram and Twitter."
Check out his video on Facebook.
[/one_half]