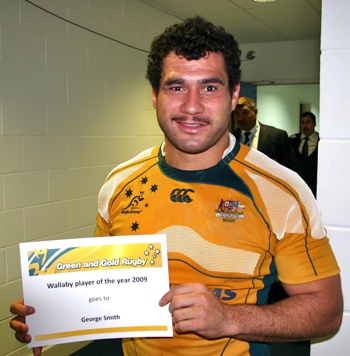 Thursday's Rugby News has George Smith for the Wallabies, Ben McCalman and Nic Stirzaker in and around being injured, Cam Clark lovin' life and a new face in the u20s.
---
Smith 4 WBs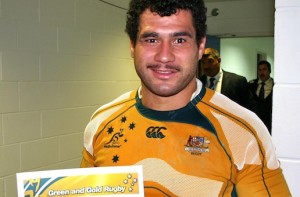 Phil Waugh has told News Ltd that he reckons that George Smith should add to his 111 caps for the Wallabies.
"I think Australia's probably one of the only countries in the world that talks about a player being old at 31 or 32," Waugh said of Smith, 73.
"And then, even at 36 in other places in the world, he may not even be mentioned as being old, whereas there's an expectation in Australia that you've got to be 20 to be playing for the Wallabies.
"I look at George and think the amount of experience he's had around the world in different teams and different successful outfits, I think people can just learn so much from him.
"He may not necessarily be out on the field but I think having him in any squad, and the experience that he brings to any squad, and the lessons he can teach other players within the squad, is invaluable."
Waugh, who played alongside Smith in the 2003 World Cup final against England, reckons that Smith can play somewhere else if Michael Hooper, as expected, takes the Wallaby #7.
"Obviously he's played at blindside and No 8 before, but I think his ability at No 8's really, really come on.
"There's not a huge number of people at No 8 throwing their hands up at the moment.
"If I was looking for him anywhere other than seven, I think No 8 would be his position."
McCalman Hopeful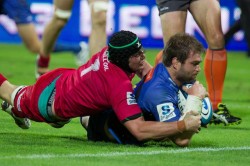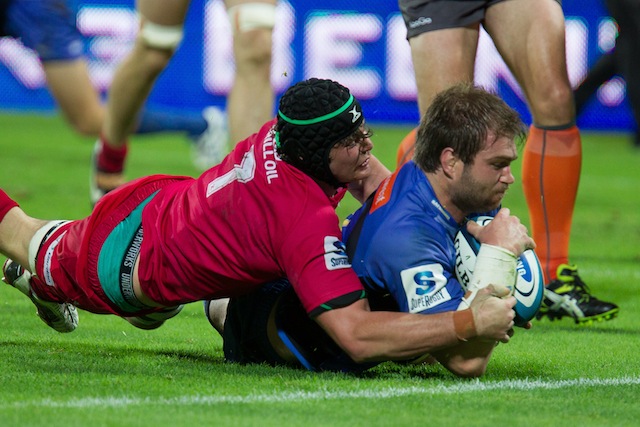 Ben McCalman is sorta hoping that he's on the mend, but doctors don't know what's wrong with him.
McCalman keeps on fracturing his scapula, and despite earning oodles of money, all the specialists he's seen can't quite put their finger on what's wrong.
"It's a very small fracture, but it causes pain in that shoulder," McCalman told rugby.com.au. "The people I speak to – like doctors and surgeons – are unfamiliar with this injury.
"It's extremely rare to have a recurring fracture. They expect it to heal in four to six weeks. But mine hasn't seemed to do that.
"It's been a bit of trial and error in the last six to nine months. Hopefully now we're more across it and we get it right this time."
In other injury news, Nic Stirzaker has been ruled out after injuring (does anyone else think it's more "injuries" than injuries at the Rebels at the moment?) his ankle, reports rugby.com.au.
He's expected to be out for three weeks, while his back up Mick Snowdon is out for six weeks with syndemosis.
So out of the woodwork comes Ben Meehan, who's to start against the Lions on Saturday. Rebels coach Tony McGahan is going to take the unusual step of having a back-up scrummie on the bench, recalling u20 representative Harrison Goddard.
Clark Loving Life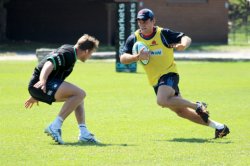 7s convert and commentator's son Cam Clark is loving life at the Tahs, he's told the SMH.
"The more minutes I'm getting the more comfortable I'm getting," Clark said, getting more excited as he went on, just like his old man. "Learning the trade on the wing has been exciting and I'm definitely starting to feel like I'm getting more involved and picking my spots to inject myself a bit better. The more I can build combinations with guys like Israel [Folau] playing inside me, the better I'll be for sure.
"Once I started training with the guys I thought it was definitely a lot to take in and I'm definitely nowhere near that. There's still a lot I'm picking out every training, a lot of room for improvement for me.
"I said to Daryl at the start of the year, 'I'm happy wherever I can fit into this back line'. I'm happy to fit in wherever and where he sees me best."
Clark was also asked about that time when his dad called his first Super rugby try.
"I won't give him a rating, I think he obviously knew a lot about what I'd done," Clark said. "He said he wouldn't have done that if I only had to catch the ball and put it down … he had a bit of time because it was a long distance. He had a bit of time to rattle off a few things. It was pretty exciting I guess."
Itchy, Scratchy and Puchert Show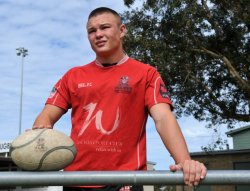 Do you remember yesterday when I gave a shout out to David Puchert yesterday? Well guess what – he's only done and got his own feature article!
Puchert, who's the only member of the u20s squad to be a silver spooned city-slicking rah rah, was picked up Mario Ledesma after the Wallabies scrum coach noticed him while on a regional coaching tour.
Specifically, Ledesma noticed the Port Macquarie Pirate during a visit to the Mid-North Coast representative team, the Axemen. On top of that, Puchert wasn't even selected for the team.
"He came along with two cauliflower ears, and he is only 19," Ledesma told the Daily Telegraph of Puchert. "So when I saw that, obviously he ticked a couple of boxes."
"There are always good surprises around. But he was fit and strong and just working with him to correct him and stuff, he was a piece of wood," Ledesma continued, possibly using some Spanish idiom there.
"He was scrummaging against a 150kg big boy and he was doing all right. When I started to talk with the coaches and stuff they said he's aggressive and his work ethic is great and he's ambitious.
"You know how country kids are brought up. It's a little bit harder life. So scrum is not a problem."
Puchert made his debut for the u20s, off the bench against Fiji last night.
"There are so many kids we are missing at the moment, all those country kids," Ledesma added.
"And in terms of my area, scrums and forwards, those are the kids you want to see come through. They know hard work.
"Listen, obviously David is raw. I am not saying he is going to be Scotty Sio or Kepu or whatever. But the kid is ready to have a crack and we can help him to get there. He has the heart, that's for sure."
If you wanna read more about Puchert, check out this little ditty in the Port Macquarie News.