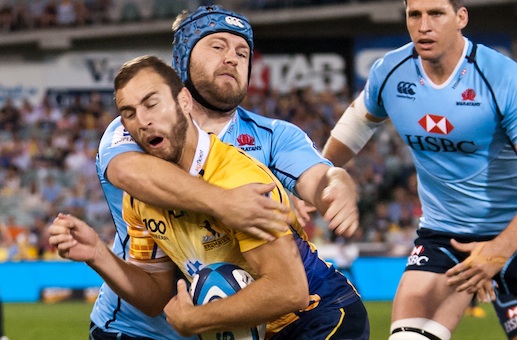 Welcome to the Tuesday Top 5, where I sift through the rotting remains of another Super Rugby week.
---
5. Tiresome Tah Hate
Maybe it is because of the mood I am in, but I am really starting to get sick of the unwarranted hate of the Waratahs and a few of their players. Last weekend they lost away to the Hurricanes, and whilst they made plenty of mistakes their performance had merit. And yet, in swooped the vultures to get stuck right into the Tahs players. Take Benn Robinson for instance- who most reasonable commentators (including our own Scott Allen) agree is the favourite for the Wallaby loosehead spot (or at the very least a strong contender), and has been in good form for the last four or five weeks. He didn't play badly, and he made the G&GR team of the week (although he didn't have much competition). But here were some of the comments about him and his performance:
"How any of the Tahs forwards were Wallabies is a mystery. Benn Robinson is flat out fat & unfit"
"I'd have Sio, Slipper, Holmes and Anae in my team ahead of Robinson any day of the week and twice on Sundays."
"(Robinson) offers little, other than his role in the scrum in my opinion."
These comments won 15 'thumbs up' ratings between them. So clearly they aren't isolated opinions.
I'm sure this will be put down to me defending my 'beloved' Waratahs, so I ask the question: are these comments as unreasonable as I think they are, or am I being a bit of a sook? That's an honest question. I have never thought of myself as someone whose opinions are constantly clouded by provincial allegiances; I cheer for Aussie teams of all stripes (except when the non-Tahs are playing the Tahs). I can acknowledge the superiority of players from other franchises. But the constant desire of some commenters to stick the boot into TPN, Palu, Horne, Robinson, Timani, etc. is getting to me this week, for some reason.
And I'm sure people will comment on 'undeserved' Wallaby selection, which is one of the most tired arguments around. I can cop that about a few blokes (although I will defend Wycliff Palu until the cows come home). But surely not Benn Robinson.