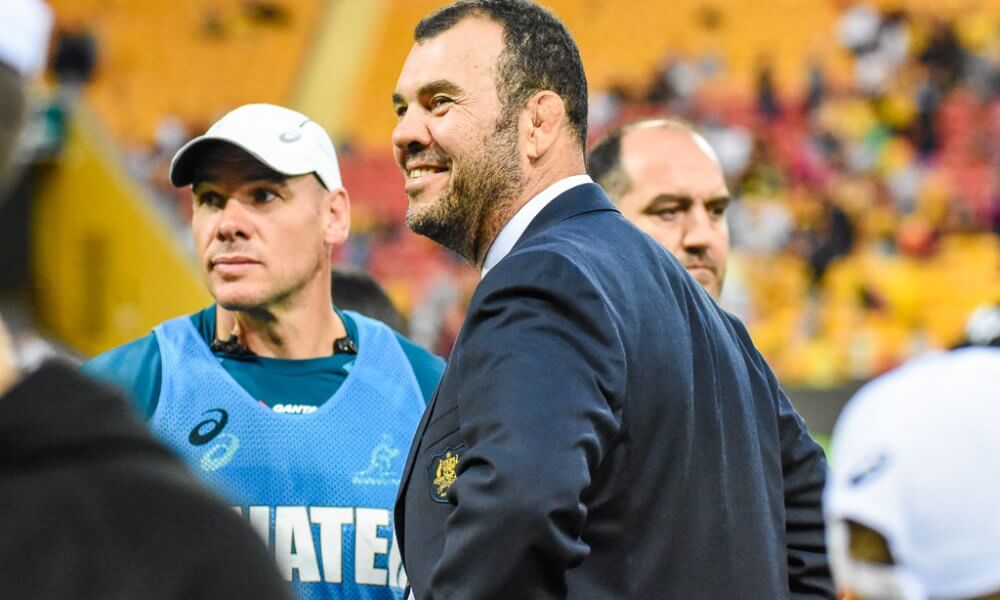 This week in the Top 5 We hand out some grades for the June tests, look at the Good, Bad and Ugly from the weekend, go on a quick Kontiki tour to check up on some results, take some time to read up on what the Wallabies have been saying about stuff and check out Wallabies ticket prices.
Report Card
So at the end of the 3 test matches, I thought I'd grade the Wallabies (as a whole, not individual players – no way am I getting into that can of worms) on their performances.
Wallabies v Fiji C+ A good result with some good tries scored gave the impression that this was a good win. But there was still a lot to be concerned about. Genia was charged down quite easily, there were handling errors and defensive lapses. It was a good first hit out and some of the new players showed they have what it takes (Hardwick, I'm looking at you!)
Wallabies v Scotland E They were pretty terrible. Repeated charge downs, extremely poor handling, pointless kicking … the list goes on. There one or 2 flashes of brilliance, but that was it. Cheika did not use his bench well, leaving poorly performing players out on the field for too long (or just not taking them off at all). Struggling to think of any positives about this one (Well … I do have Scottish heritage so in that sense … yay!)
Wallabies v Italy D It was better than last week, but to be honest not by much. The handling errors were still there in abundance, screwing up at least 2 tries in the process. There was a lack of composure and basic thinking skills evident – what the hell was Folau thinking with the quick throw in? People talk about the importance of Rugby IQ, well there was very little of that on display. On the positive note, I don't think Genia was charged down this week. They really did get lucky with this one, something we shouldn't be saying when we are playing a team ranked 15th.
While we are talking about rankings, the Fijians did us a favour on the weekend by beating Scotland. Had the Scots won by a margin of more than 15 points, they would have jumped to 4th on the World Rankings, pushing the Wallabies to 5th.
The Good, The Bad and The Ugly
Good – We got a win. Not a pretty win, but a win nonetheless.
Bad – It seems we learnt little from our defeat to Scotland. Many of the same issues were still present and we only just scraped by.
Ugly – I didn't witness it, but saw on Twitter mentions of Hooper getting stuck into DHP for as they walked off at half time, I assume it was for his fumble from the kick that lead to an Italian try. I get that Hooper is passionate, but given how many players made errors, (allegedly) having a go at one player is unnecessary. Did he do the same to Horne for the knock on or Foley for the pass that led to it? Or Genia for his poor pass that led to a knock on from Cooper? Or Folau for his brain snap quick throw in which led to an Italian try? Arnold for his pass that was intercepted, the entire scrum etc etc.
Other International Matches
Lets duck off now on a quick road trip to see how the other Internationals played this past weekend went.
Fiji 27 – Scotland 22
Scotland went into the match as favourites, particularly given their defeat of the Wallabies the week before. However, it seemed that some of the Wallabies problems rubbed off on them and they were let down with handling errors and poor discipline. They also struggled to contain lock Leone Nakarawa who produced a number of exceptional offloads. The Fijians took advantage, with Volavola slotting 5 penalties to help secure the win.
Highlights
Samoa 17 –  Wales 19
The young Welsh team looked as though they would end their tour with a defeat, trailing Samoa with just minutes left on the clock. But a last minute try to Steffan Evans got them the win in soggy conditions. Samoa got off to a flyer, leading 10 – 0 after ten minutes, but Wales clawed their way back in to get within striking distance as the clock ticked away.
Highlights
Argentina 45 – Georgia 29
Argentina ended their International matches with a solid win over Georgia. They were aided by a hat trick of tries to winger Ramiro Moyano in the second half. Georgia scored some late tries, including a penalty try, but it was too little too late and the Pumas ran away with the match.
Highlights
South Africa 35 – France 12
The Springboks ended their series against France with a resounding 4 tries to 0 win. The Boks looked nothing like the side we saw last year and have given rise to the hopes of South African rugby fans that they can again get to the top. The win marked the first time the Springboks have beaten France at Ellis Park and the first time they have completed a clean sweep against France.
Highlights
Japan 13 –  Ireland 35
Ireland has ended their tour unbeaten, with a 5 tries to 2 win over Japan. It wasn't an easy win, the Brave Blossoms challenged hard at times and their defence in the second half made it hard for Ireland to break through, but Ireland's 4 tries in the first half proved too much for Japan to come back from.
Highlights
Lip Service
Exhibit A
For 2 years the Wallabies players, coaching staff and the media have been making sure everyone knows that the Wallabies "won't underestimate" the opposition (whoever they happen to be that given week). Just a quick Google search for the terms 'Wallabies Underestimate' provides pages of examples, with just a few below.
http://www.japantimes.co.jp – Australia scrumhalf Nick Phipps won't be underestimating the United States in a Rugby World Cup warmup match Saturday at Soldier Field.
http://www.smh.com.au August 20 2015 – Rugby World Cup 2015: Israel Folau warns Wallabies not to underestimate Fiji
http://www.rugby.com.au October 23 2015 – It's set to be the biggest game of Scott Fardy's career and there's no way Matt Giteau and the Wallabies will be underestimating the tough Argentina challenge!
http://www.dailytelegraph.com.au November 10, 2016 – Stephen Larkham says Wallabies won't underestimate Scotland's attack at freezing Murrayfield
https://thewest.com.au  June 62017 – "Fiji are a quality side and we're not going into the weekend looking to underestimate them,"
http://www.dailytelegraph.com.au June 16, 2017 – Stephen Larkham says Wallabies not underestimating Scotland in toughest June Test
But it appears all of that really was just lip service, when you read things like this (from http://www.rugby.com.au 24 June 2017) …
Wallabies captain Stephen Moore said there was an element of complacency among his team when it came to the break, a mentality that needs to be stamped out.
"What I did feel was at half-time, I think the players thought we should be further ahead," he said.
"We've got to respect the opponent. Italy are a good side and we just need to worry about executing our game plan over and over for 80 minutes."
Exhibit B
I'm sure we all remember this one (from http://www.espn.com.au 22 Aug, 2016)
Wallabies' poor defence easily solved, Nathan Grey says
"A lot of defence is mental application, and that real will and desire to want to get in there and be effective. So in terms of training, we're going to be really focusing on that and having a real clear picture on how we want to defend."
Given that the Wallabies have averaged close to 20 missed tackles per game since the "easy fix" it looks like they did focus on the mental stuff and forgot to actually practice tackling.
Exhibit C
12 months ago we were licking our wounds after a 3-0 series loss to England. There were all sorts of things said afterwards, small errors, marginal calls etc to explain the losses, but the one that stuck with me was this (from  http://www.dailytelegraph.com.au June 26, 2016) …
Michael Cheika says the Wallabies are too unfit for his style of play
Fast forward 12 months and we get this after the Scotland match …
"We spoke about it at the coaches meeting and we spoke about it in general that we need to lift the standard of our fitness level across the board – from the start of Super Rugby right through to us as well,"
And then this (from Steven Moore) after the Italy match …
"It shouldn't be hard for Super Rugby to produce players that are ready for Test match footy. I don't know what the issue is there, but we need to make sure the next two months or whatever it is … we can't waste a day.
Also Cheika wasn't shy about saying that the reason Latu wasn't selected was because he wasn't fit enough.
So, 12 months after making the assessment that the players weren't fit enough to play Cheika's style of game, what has he, and his coaching staff, done about it? Grey and Larkham, both involved with the Wallabies are also coaching in Super Rugby so why aren't they addressing the fitness issue with their sides? Has Cheika been in touch with all the coaches before now to discuss his fitness concerns? If not then we have to ask why, given he was aware of the issues 12 months ago.
I'll let you make up your own mind about this one
"Everyone's got to start sometime. No one's getting a cap for free – this is a special thing to get to play for Australia." Michael Cheika, May 2016.
The Mystery of the Disappearing Crowds …
So as some of you may know, the pre-sale for the Rugby Championship matches starts today. Full of excitement at the thought of finally getting to see another test match in Canberra I logged on to look at seating, prices etc. I logged off again fairly quickly, filled with disappointment and frustration. Having not been to a test match in years, I hadn't really looked too much into ticketing. So here's what I discovered.
If I want seats near where we sit at Brumbies games it will cost $101 per seat.
If I do NOT want to pay full adult price for my young child to attend I would need to get tickets in the area at the end of the field – usually GA because they are not the most desirable seats.
If I want to go to the game with my family (2 adults and a child) and have half decent seats it will cost more than double what I paid for 4 adults and a child to get tickets to the Brumbies Quarter Final.
Tickets to the test in Canberra are by far cheaper than those in other cities (which makes me feel slightly bad complaining about the cost).
Here's a comparison of how much it will cost for those planning to go and see the Wallabies play.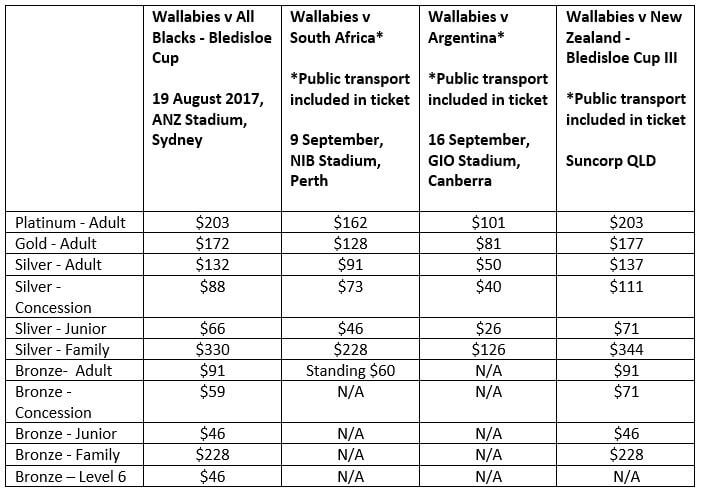 Looking at the seating map for each stadium, the thing that stands out is that the Silver sections are those at the ends of the field and are the only category (apart from Bronze where applicable) which cater for concession, junior and family tickets. If you want to take kids and would like to sit somewhere along the length of the field you need to buy adult tickets for them.
Is it any wonder that crowds are shrinking? I questioned a couple of weeks ago why the crowd at the Melbourne test was so small, I am beginning to get a much clearer picture of why. For many real fans of the game, this is just out of their price range.
One very interesting thing I noted was that the price varies depending on the opposition. This becomes much more apparent when you look at the prices of tickets to last year's Rugby Championship matches.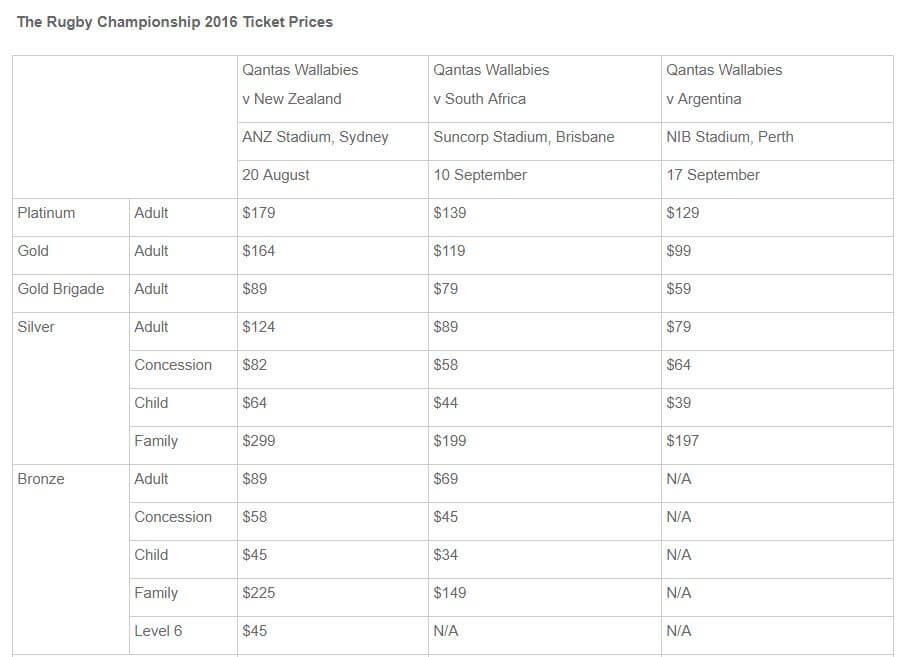 The huge increase in prices at Suncorp can really only be attributed to the fact that last year it was a Springboks test match and this year is an All Blacks match. The ARU is using the All Blacks as a marketing tool to up prices, which is not really surprising as they are a big draw card.
Across the board prices have risen this year, by more than 10%. $179 for a platinum ticket to last year's Bledisloe at ANZ, $203 this year. Prices in 2015 appear to be very similar to 2016, it looks as though it is just this year there has been a jump.
So, as to the mystery of the disappearing crowds … it's bad enough that the product at the moment appears to be substandard, but we are being asked to pay a premium price to watch it. Is rugby (The Wallabies)becoming out of reach of the common rugby fan? It certainly looks that way.
Right, so we're now off for a few weeks to work on our fitness, do a bit of soul searching and ready ourselves for the very achievable challenge of conquering the rest of the Super Rugby season. The Top 5 will make its return at the re-commencement of Super Rugby (when the Aussie teams get back to it).