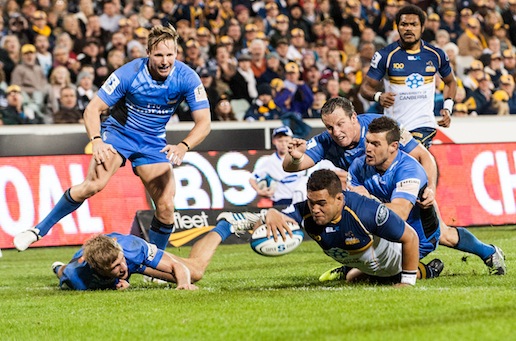 3. Rebellion Thwarted
I love watching the Rebels when they are on song. They play fast, expansive rugby with plenty of skill and mobility. Forget JOC and Higgers, for mine their talisman is Hugh Pyle. When he is rampaging in those wider channels the Rebels are generally doing well, going forward and scoring tries. And he was certainly rampaging in Christchurch on Sunday, but sadly the Rebels were let down by decision making at the crucial period.
A series of bewildering substitutions started it all. Just when the Rebels were on top, Damien Hill extracted Saffy, Neville and Weeks – the crucial core of a then dominant pack. Then the little errors crept in. Woodward put a penalty kick (for touch) dead, a few weeks after he put a kick-off out on the full against the Kings. Both were at crucial junctures, and one has to wonder why JOC isn't stepping up in these moments. A few silly penalties later and it was game over.
There is real potential in the Rebels, and you have to wonder what a Ewen McKenzie or Jake White could do with them.  They have a couple of top Wallabies, a few provincial stalwarts and plenty of exciting up-and-comers. I don't think success is too far away, but you struggle to see how they can advance with Hill at the helm.