I had the privilege of watching the Waratahs play the Stormers at Newlands last night and thought I'd share the experience by comparing it to a ground I've been to almost to 50 times – the Sydney Football Stadium.

Cape Town as a city has many things in common with Sydney – both cities boast natural beauty unrivalled in their countries with magnificent harbours and wine regions a 2 hour drive. Both are home to a large gay community, and both have a rugby team stuffed with talent that consistently fails to deliver on its' potential.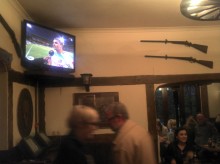 We started the evening at a popular Newlands pub called the Forresters Arms, or "Forries" to the locals. The pub was superb – quality South African and Namibian beers on tap, served in pint glasses as opposed to the plastic cups they pull out on game day in Sydney. Table service was good with Louie bringing drinks and tasty pizzas from their wood fire oven to our table. They showed the Sharks match on every telly, with the volume turned up loud. I chatted to plenty of locals who were all very friendly. The ladies were rather pleasing to the eye also.
Verdict: Early penalty goal to Peter Grant.
Score: Cape Town 3, Sydney 0.
Walking from the pub to the match was odd, with no footpaths on a thin street amongst illegally parked cars and heavy traffic, but hey, this is Africa. When we got closer to the ground there were street vendors running gas braais. We had the most delicious spicy boervors roll with mustard and onions for about AUD$2, leaves the lukewarm overpriced SFS hotdog with a 15 minute queue for dead.
Verdict: Drop goal to Peter Grant to increase Cape Town's lead.
Score: Cape Town 6, Sydney 0.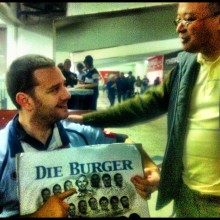 Entering the ground involved a frisk search, presumably for vuvezelas, guitars, or drums which the sign advised us were outlawed. Entering the ground was a bit of a dog show, a big queue to get through a single gate with no clear signage or direction on where to go. The numbering on the tickets was also confusing with the seats being in a bay but the signs ony referring to seat numbers. Have to give this one to Sydney as there is no ambiguity over finding your seats and the security staff are quite helpful also.
Verdict: Brendan McKibbin converts a penalty from the side.
Score: Cape Town 6, Sydney 3.
We grabbed a beer after gaining entry, there was no bar line and a choice of full strength beers poured from a can into a large handled plastic cup, awesome! There was a catch unfortunately, we discovered after buying 2 beers each that you have to finish them in the bar, with no view of the ground, and all the TVs were turned off FFS. Fair to say the crowd is a lot more sober than the Sydney crowd then.
Verdict: Try to Rob Horne under the posts. Converted by Kibbo and Sydney takes the lead 20 minutes in.
Score: Cape Town 6, Sydney 7.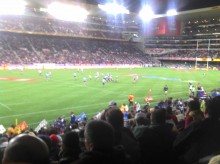 The stadium is intimidating – while the grandstands are not markedly steeper than the SFS, the second tier starts about 10 rows back which puts a lot of the crowd in shouting distance of the players. The seats however are uncomfortably small – I'm an averaged sized guy and was confined for space.
Verdict: Penalty to Sydney, converted by Brendan McKibbon.
Score: Cape Town 6, Sydney 10.
The big screen is poor compared to those in Australian stadiums. It's not that big, there is only one, and it is located right up on the roof of the stadium. There are super bright stadium lights right next to it which make it extra difficult to see.
Verdict: Penalty to Sydney,  converted by Brendan McKibbon
Score: Cape Town 6, Sydney 13
Sitting in the general population grandstand,  the local crowd were quite jovial in what was a pretty poor spectacle with the Tahs and the Stormers competing to out-shit-kick each other. I'd previously read about the atmosphere around Cape Coloureds at sporting events,  they really bring an infectous mix of humour and song to the game and were a real highlight of the evening. While some showed their frustration with "kak kicks", they were a long way from booing their own team.
Verdict: Penalty to Cape Town
Score: Cape Town 9, Sydney 13.
There was one point when a young guy jumped the fence to get a photo with the cheerleaders, and I noticed quite a contrast from the approach Australian security would take.
In Sydney the typical response would be for four men to crash tackle the intruder, drag him off in a straight-jacket hold and throw him into the back of a paddy wagon. The police would then take him to the local station and hold him overnight before issuing a $5500 fine. His photo would then be placed in the SFS security office so entry can be refused in future weeks.
In Cape Town the guard politely gestured to the pitch invader to come off the field, which he obliged with after getting several photos in the dancing line. He then returned to his seat a hero, with some great photos and a nice story to tell.
Verdict: Try to Kitsoff in the corner,  Peter Grant misses the conversion.
Score: Cape Town 14, Sydney 13.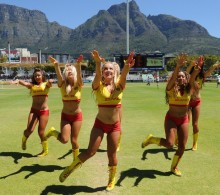 Speaking of cheerleaders, why do we not have these? They did a great job on a cold night, gave DHL some nice "exposure", and got a cheer from each section of the crowd as they made their way around the stadium.
Verdict: Berrick Barnes kicks away midfield possession with a shithouse midfield bomb to Gio Aplon who tears apart the unstructured Tahs defensive line and scores under the posts.
Score: Cape Town 21, Sydney 13.
When Dean Mumm went down and the golf cart came on there was deep concern from everyone in the ground. When he regained his feet and walked off he got a huge cheer, which is the same response I'd expect from a Sydney crowd.
Verdict: Reset scrum on half way
Score: Cape Town 21, Sydney 13.
Leaving the ground was awesome as we followed a group of Cape Coloureds down the tunnel signing their victory song.  While I couldn't understand a word of it, they had such great rythym and vibe going on it was impossible not to smile.
Verdict: Peter Grant sets up a lineout in the corner.
Score: Cape Town 21, Sydney 13.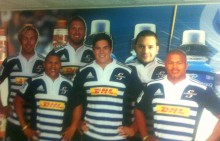 As we got out of the stadium, OH&S guys in Australia would have had a fit. There were 15,000 people on a poorly lit uneven path with potholes! Surprisingly everyone managed to tread carefully and escape unscathed, without the need for high visibility vests.
Verdict: The Stormers win the lineout through Eztebeth and set up a rolling maul.  The Tahs manage to stop the maul then Liedenberg breaks away,  only to be held up over the line by Jono Jenkins.
Score: Cape Town 21, Sydney 13.
We hailed a cab directly out the front of the ground within two minutes who whisked us out of Newlands and off to a house warming in a penthouse. This compares favourably with the 45 minutes it took me to get out of Fox Studios' carpark after the recent Crusaders match!
Verdict: From the 5m scrum the Stormers shift the ball to Peter Grant who puts a pinpoint cross field kick to Gio Aplon in the corner. Conversion is unsuccessful,  and that's full time.
Score: Cape Town 28,  Sydney 13.
Overall,  visiting Newlands was a memorable experience,  far moreso than the actual rugby played.  I'll give Cape Town the victory in this tightly fought contest and if they can fix the beer situation at the match then I'd be keen to return.
Please share in the comments the stadiums you've travelled to,  any you'd love to experience,  and where you'd rate the best place to watch rugby.