Usually I write something witty and, yes, brilliant here, but this week there's just too much to get through… Yo VIP. Let's kick it
---
The O'Connor Self Acceptance Project
This week, James stopped, collaborated and listened. He was back with a brand new invention. Something grabbed a hold of him tightly and he flowed like a harpoon daily and nightly.
Ok, so I may have needed a flimsy segue into discussing his hair, but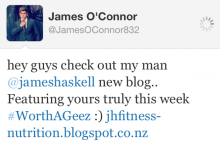 a) he did collaborate with someone: James Haskell, see?
and
b) this post relies on superficiality and pith for its success. Without it, what do I have?
So here's the facebook poll for the week (if you don't currently stalk us on Facebook, "like" our page here): which of these good-looking gents people does Mr O'Connor most resemble with his new coiffure?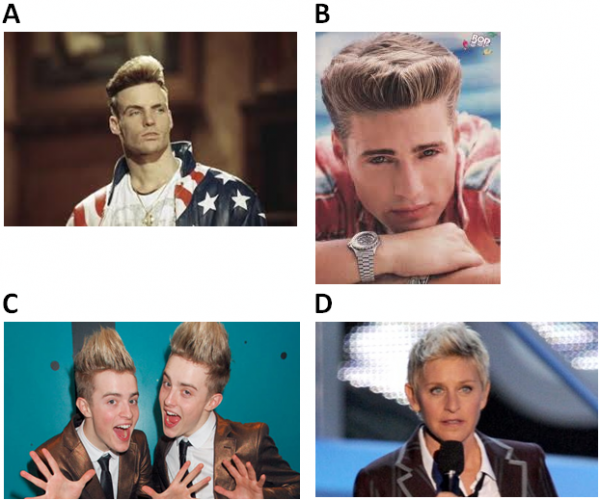 ---
Quade's Qualities
Quade's so concerned about our health and ongoing education, making us better citizens, and my, hasn't he been hard at work this week!
This week, that caring, unique, naturally talented icon of intellect took us on a mental journey back to high school: paying out your mates for having girlfriends, and farting to create humour.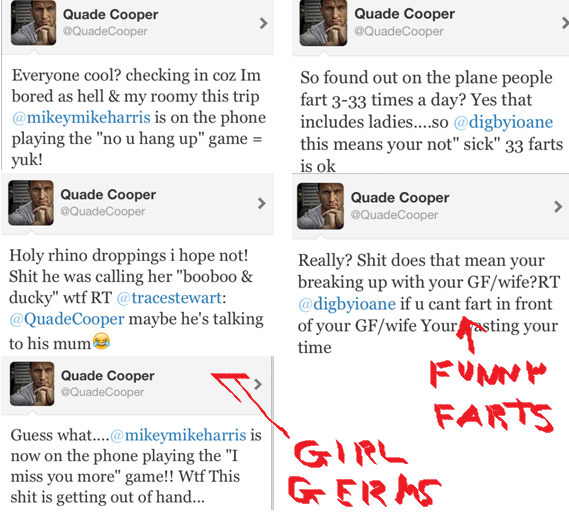 On Saturday night we learned that Quade was staying in Melbourne with his fellow "bungy brothers": a merry and festive group of lads

who I assume took their name from someone saying "bungy smugglers" instead of "budgie smugglers" which was then adopted for the whole group as it could act as both an inside-joke and also an allusion to the relative size (and shape?) of their penises. Although I've never played professional rugby and therefore have no idea what I am talking about.  Regardless, the "bungy brothers" were having a quiet night in, looking after their injuries as evidenced by the photographic tweet.
As I understand it, icing injuries is a very ummm… intoxicating experience. I'd hate to draw the wrong conclusions so I have simply posted the original source materials.*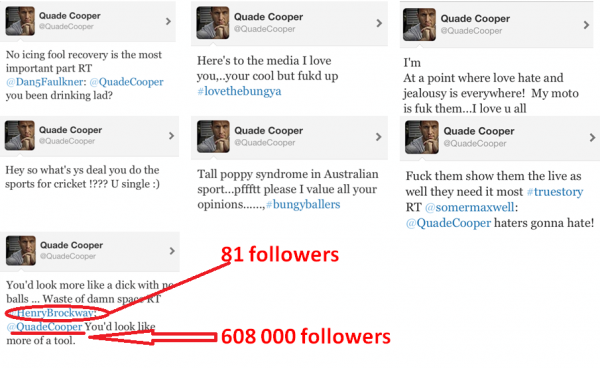 Gotta love a fair fight…But kudos for the bloke for being able to overwrite so many spelling errors – that's harder than you think it is on iPhones!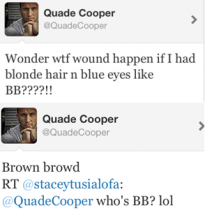 Possibly the weirdest couple of tweets involved what Criminal Minds call an "unsub" – an unspecified subject – who goes by the shifty alias of "BB". "BB" is an enigma, however we were left with some clues: BB has blonde hair and blue eyes. Quade has code-named him "Brown Browd". Social Pagers: we are issuing a BOLO (a "be on the look-out" for those of you who don't watch Criminal Minds or NCIS) for this Brown Browd with blond hair, blue eyes (and possibly brown eyebrows? Or am I reading too much into this?)
*I actually have to confess – I have read a LOT of Quade's tweets in the process of researching this post each week, and I have major doubts that he was responsible for all of these tweets. They aren't written in anything like his style. BUT they were still posted using his account.
---
Doing Digby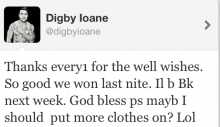 The Social Pages as we know them are under threat. Digby Ioane has blamed the chest infection that kept him out of the Rebels game on wearing too few clothes. Digby, on behalf of all the Social Pages, get well soon!!
---
Top Bloke on Twitter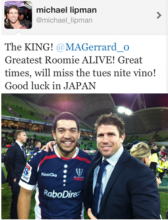 This week's Twop bloke award goes to Mark Gerrard who finished playing on Friday night, then set off on a drive to Sydney so he could be there to watch his kids play sport on Saturday morning, and spend the day with them before he flew out to South Africa.
I am somewhat concerned about how many deceased or "non-alive" roommates Lipdogg has had, however.
---
Waratweets
Great news Tahs fans: Adam Ashley-Cooper and Drew Mitchell have once again come through! This week, it's all about the Tour de France. Sure, wearing lycra for no apparent reason reinforces what we think backs do at home all the time, but we are really grateful to see Waratah's players expressing a personality on twitter!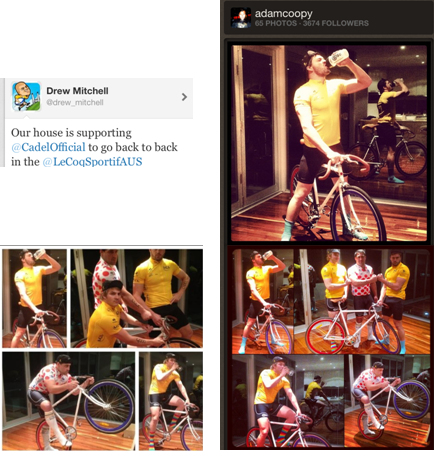 ---
For the lovers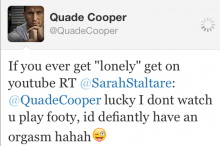 Quade recommends YouTube for those looking to have defiant orgasms.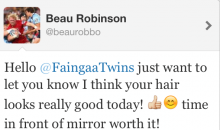 Beau has been getting close to the hair of twins – the Faingaa ones, not the Barbie ones.
---
Homework
This week we're talking tributes for Lipdogg's farewell: which celebrity would you like to see us include in Lipdogg's farewell tribute? Ideas to get you started:
A) Rolf Harris
B) Frank Walker from National Tiles
C) the curly-haired guy from Air Supply
D) His Rebels teammates (specify)