The Return of the Quade
After being prolific on these pages up to Week 7, we've left QC alone to ruminate, ponder, work on his English, and get back to playing. Anyone who saw his performance on the Rugby Club last week would feel the same way I do: He's back. What makes me say that? I took the time to transcribe some of his deepest and most thoughtful quotes, exactly as he said them.
"It's an emotional high, and I think I've just gotta make sure I y'know , contain my emotions and at the same time y'know, express them"
"I've spent y'know so long on the sidelines, y'know doin' all the hard work & y'know knowin' deep down that you've done all the hard work"
"I thought it hurt, but then it didn't. You feel it pop, and I yelped like a girl"
"I always wanted to drive a car like that or something like that"
Eloquence like that brings a tear to the eye, doesn't it? It's almost like poetry. Anyway, his time away from the Social Pages has given him time to reflect on his roots and where he's come from, and where he thinks he's going.
He's a sensuous creature – clearly a "pashunate" man. It couldn't have been easy pashing on in a playground in front of tens of thousands of people and television cameras. At least in the playground he only had to worry about two dropped balls….

But by far my favourite Quade moment, and certainly the moment that gave me the greatest insight into who he is, is when I learned that he started school on his 5th birthday. In April. 2 or 3 months after the other kids his age.

Waratweets
The Waratweet this week has also been awarded the Lipman Tweet of the Week. I don't need to explain why, do I?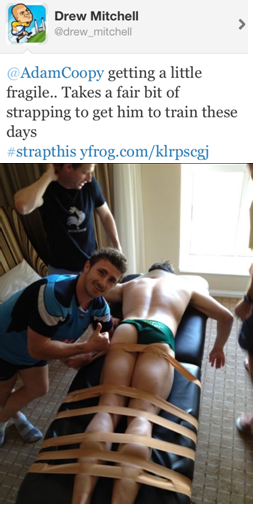 Thank you to Adam Ashley-Cooper and Drew Mitchell for doing what they can to make the Tahs more interesting  over the past few weeks.
Pretty Boys
A straw poll of my female friends says I'm in the minority here, but black eyes, scars and bruises really do it for me. So this week has been like Christmas! First up Ian Prior of the Brumbies got opened up – thanks for the second-day photos too!
And somewhat less impressive, but possibly more damaging to their modelling careers long-term, Mike Harris continued his habit of getting his face in the way of a player, and our very own Lipdogg also got his nose redistributed across his face.
Reds Roundup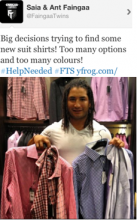 #FTS (Saia Faingaa) had a week of fashion dilemmas and disasters. (For those of you DYING to know which shirt he bought, he tweeted later he couldn't decide so he bought them all)

This does raise a question though: do these things not happen to  Ant, or does he just not tweet about it?
Pulitzer nominations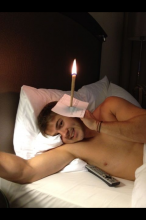 In honour of the Olympic Torch's passage from Plymouth to Exeter, Drew Mitchell lit his own torch in tribute.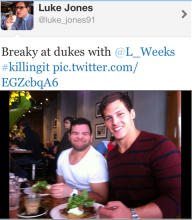 Melbourne's cutest couple (Lukrie?) went out for breakfast. I'm a little concerned that Laurie's more invested in the relationship than Luke – he certainly seems happier to be photographed. Just protect your heart Laurie – we don't want to see you get hurt!
Interview Bingo
We've had stuff all luck the past few weeks: if I'd have stuck with 16 Obviously's then we'd have been sweet and Mark Gerrard would've had a certificate to go along with his 101 Super Rugby caps. But Pagers, I didn't want to take the easy way out – I'm committed to you! So I'm done with players for a week or two: this week's Bingo player is KAFE! I'm specifically talking about the Chalkboard segment because I can't bear to listen to him for much longer than that to see how he goes. (hey – I watch for the Plays of the Week – I'm sure I'm not the lone ranger there!). Anyway, good luck Kafe.