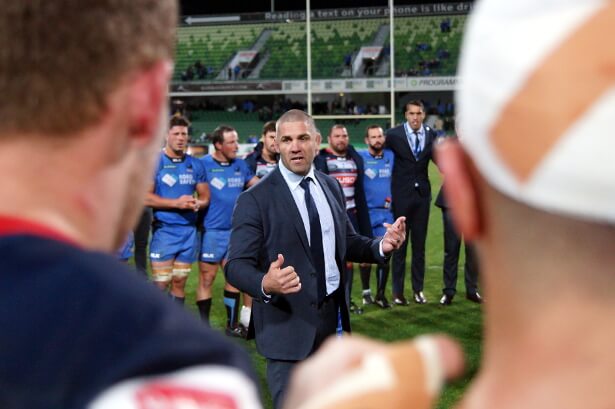 After months of rumours and hearsay, the Western Force have made a bold claim on their future with the release of a 2018 fixture list and an initial training squad.  It's not quite the Indo-Pacific Rugby Championship just yet, but the self-titled "World Series Rugby" (WSR) is most definitely the launching pad.
Andrew Forrest was joined by Wallaby legend, Michael Lynagh, at the announcement in Perth the Force with Lynagh said to be a key man in opening up rugby doors within World Rugby, broadcasting and corporates.  Former Force captain Matt Hodgson remains involved too as the Head of Elite Performance while Tim Sampson, formerly of the Canberra Vikings, will coach the side.
There remains plenty of unanswered questions around both WSR and the IPRC, but at a time when rugby in Australia is struggling to re-build a significant supporter base, the announcement provides a glimmer of creativity.
For those bemoaning the old school ways of the code across Australia, here is an organisation that has the chance to give things a crack someone removed from the federated system of governance of previous years.  If Forrest is able to do for rugby, through WSR, what Kerry Packer did for cricket through World Series Cricket, then we are in for a fascinating period.
The press-release today could have been copied and pasted from similar ones Packer and John Cornell put out in the mid-70s. Simply replace WSR with WSC in the below and the intent is obvious.
"WSR will introduce fans to an exciting new game of rugby in 2018, trialling new initiatives designed to make the game super spectator and player friendly"
and
"WSR will be accessible for new fans and existing loyal fans alike. It will be affordable, fast and highly entertaining both on and off the field each game day."
No Packer's vision wasn't accomplished instantaneously as there were doubters aplenty, most notably in the 'establishment'. But it changed the game, undoubtedly for the good. Not just in Australia, but globally.
Will it happen for rugby? Well sport in Australia, and across the world, is in a much different place than in the mid-70s, so the challenges will be more significant.  I can't say one way or the other, but I love quality rugby and I see enough positives in these announcements to keep me at least intrigued and ready for what comes next.
World Series 2018 fixtures:
4th May v. Fiji
13th May v. Tonga
9th June v. Rebels
22nd June v. Crusaders
13th July v. Samoa
10th Aug v. Hong Kong
17th Aug v. TBC
Comment:
The Force's first game of the season, v Fiji, will run as Super Rugby hits week 12 and, coincidentally, the same night two future opponents (the Rebels and Crusaders) face off in Melbourne.
These games against the Rebels and Crusaders will take place during the test window, so both sides will be without their internationals.  Incidentally in a possibly slap in the face to Rugby Australia, the Rebels game takes place the same day of the Wallaby test v Ireland at Suncorp Stadium.  The Crusaders match will be played the day before the All Blacks take on France in Dunedin.
The inclusion of Hong Kong, and the Pacific countries may be a pointer towards possible participants of IPRC in the future.
The Force team will also play in the National Rugby Championship (NRC) from September to November.
The Squad:
AJ Alatimu
Chris Alcock
Marcel Brache
Masivesi Dakuwaqa
Rod Davies
Andrew Deegan
Tevin Ferris
Jaque Fourie
Josh Furno
Peter Grant
Chris Heiberg
Rodney Iona
Feleti Kaitu'u
Brad Lacey
Kieran Longbottom
Ryan Louwrens
Cameron Orr
Harrison Orr
Leon Power
Ian Prior
Harry Scoble
Tom Sheminant
Brynard Stander
Elliot Turner
Clay Uyen
Fergus Lee Warner
Comment:
With new names to be announced in coming weeks, there are some fascinating players already listed.  Obviously there remains a strong WA link with Chris Alcock and Kieran Longbottom's return to the club particularly satisfying.
Local talent, not picked up when the Force were cut from Super Rugby, such as Stander, Scoble and Louwrens get their chance to stay in the game in Australia.
The team also provides a home for returning talent with 2011 Queensland Reds Super Rugby champion, Rocket Rod Davies an exciting proposition. Andrew Deegan and the Orr brothers are a few others to take up the opportunity.
International content remains high through 2017 Force players Brache and Grant, while former Bok centre Fourie and Fijian Olympic Gold Medallist, and former Canberra Raider, Dakuwaqa are left field selections that add plenty of interest to the squad.
A possible Match Day squad could look something like:
15 Brad Lacey, 14 Rod Davies, 13 Marcel Brache, 12 Jaque Fourie, 11 Masivesi Dakuwaqa, 10 Peter Grant, 9 Ryan Louwrens, 8 Tevin Ferris, 7 Chris Alcock, 6 Brynard Stander, 5 Leon Power, 4 Josh Furno, 3 Kieran Longbottom, 2 Harry Scoble, 1 Cameron Orr
16 Feleti Kaitu'u, 17 Chris Heiberg, 18 A.N. Other, 19 Fergus Lee Warner, 20 Harrison Orr, 21 Ian Prior, 22 Andrew Deegan, 23 Clay Uyen