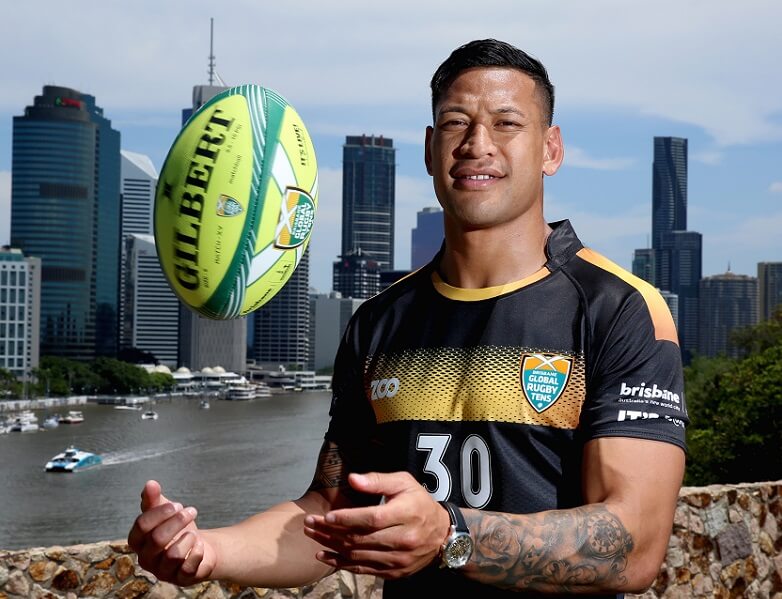 Hot off the success of the sold out Sydney Sevens last weekend, another shortened version of the game between international teams played over multiple days kicks off this weekend in Queensland – the Brisbane Global Rugby Tens!
Tens hey? So what's that?
It's all in the title really. Ten aside rugby played over ten minute halves. It's by no means as prominent as 7s rugby is, but it has a reasonable presence around the globe. In Australia at least, it seems to have been the domain of the corporate world as a staff engagement activity, but it seems to most popular in Asia.
There is a World Club 10s, which has been given a bit of prominence in Australia lately when the Force won the competition in Mauritius last year.
The rules are pretty standard. It's still rugby, just focussed on the tight five with another five faster guys further out.
Personally I've only caught snippets of Tens Rugby (when the Force won last year), but from what I can make out it's 7s rugby with a bit more structure around the forward play (and set piece).
Who's putting this on – the QRU or ARU?
Actually it's a third party promotor, Ducco Events who have made this happen. Now the ARU have endorsed it while the QRU have been pretty active in supporting it (from a promotional and operational perspective), and they stand to benefit from some of the revenue opportunities potentially too.
Ducco are the crew that created the Auckland NRL 9s (which may be the Brisbane NRL 9s next year, if rumours are correct) and they've partnered with the local tourism bodies in Tourism and Events QLD and Brisbane Marketing to create this event.
It's not a bad result for rugby here. Another high profile event with money coming from outside of the traditional avenues (ie the ARU haven't had to pay for it), so let's hope it pays off.
Ok, so who's playing?
The basics are that the five Aussie Super Rugby have teams, as do the five kiwi sides. The remaining four sides are pretty random. We have glamour French club side Toulon and the Robbie Deans coached Wild Knights from Japan. The Blue Bulls are sending a team (the Currie Cup side not the Super Rugby side) while Samoa have sent a team I can only assume is a locals only or development team.
Here's a clip that the Reds did to show how it all works:
It won't just be the men's with a two-match 'series' between QLD and NSW wowen to take place over the weekend. The matches were a somewhat late addition to the program and perhaps seems a little tokenistic and an attempt to leverage off the profile of our Women's 7s team.
Still, there is some wonderful talent on show headed by one of our Rio Gold Medallists in Amy Turner, as well as Wallaroos Mollie Gay, Emily Chancellor and Kirby Sefo.
REDS: – Cheyenne Campbell [c], Ivy Kaleta, Vuanimasei Rasolea, Kiri Lingman, Kirby Sefo, Loretta Lealiifano, Amy Turner, Nareta Marsters, Charlotte Kennington, Samantha Treherne, Liz Patu, Toakase Filimochala, Vetekina Aho Fangaloka, Lori Cramer, Rachel Crothers
NSW: Emily Chancellor [c], Nita Maynard, Bo Vette, Victoria Latu, Katrina Baker, Mel Howard, Grace Hamilton, Mollie Gray, Kate Gilbert, Millie Boyle, Sarah Havenson, Emily Robinson, Simaima Taufa, Raecene McGregor, Layne Morgan
Who do I watch out for?
Let's start with the Aussie teams first as they seem to be the ones who have 'embraced' the concept most fully. Well most of them. The home team have a very handy squad that is missing the one big name that seemingly would have been perfect for this format – Quade Cooper. Whether concerns over how his body would recover from his boxing match last weekend, or whether it was always the intention to rest QC (and his likely halves partner, Nick Frisby) is unclear. However other than those two, and the guys who've just finished their Japanese season (George Smith, Hendrick Tui and Scott Higginbotham, who has other reasons to miss the weekend) it's a top squad. Taniela Tupou is one to watch and, like Quade, seems made for this format, which seems odd considering he's a 130kg prop. Expect him to be lingering out-wide whenever he can to take advantage of any extra space he can find. Broncos signing Lachlan Maranta will also be looking forward to the extra spaces, yet similar structure, to work his way back into rugby mode at a ground he's very familiar with.
The Brumbies have suffered a set back with the potentially season ending injury to Puma scrumhalf Tomas "Chubbily" Cubelli. Jordan Jackson-Hope strikes me as the type of player that could cause a few headaches across the pitch for the Brumbies, while Tom Staniforth's running and off-load game should also suit the conditions pretty perfectly.  The Waratahs have picked Israel Folau who is basically the face of the tournament, but I'd expect he'll be spend most of his time signing autographs or in corporate suites. Coach Dave Gibson has gone with a lot of youth in his squad while resting most of his Wallabies. Expect Reece Robinson to continue his rugby development in this format and his speed, and developing instinct for the game, should serve him well. Jake Gordon's continued rise in recognition could receive a mighty boost this weekend if his running game proves as effective as it was in the NRC last year.
The Rebels have been struck a huge blow for this tournament, but moreso for Super Rugby, with their star recruit Marika Koroibete out with a knee injury. Unfortunately it means the former Storm star will make his Rebels debut in the high intensity of Super Rugby rather than the more forgiving environment of this Tens tournament. Keep an eye out, instead, for one of the stars of last year's Australian Under 20s team in fullback Jack Maddocks. A top level cricketer in his own right, Maddocks was a constant danger for the Junior Wallabies in last year's Junior World Cup and is a key off-season signing for the Rebels.  Vision for space is surely a critical need in this game, and then the ability to find that space to back it up. The mercurial Jack Debreczeni seems a good fit for 10s, if only is consistency throughout the game can stay switched on and focussed. He's a wonderful talent who isn't where Australian rugby quite needs him just yet.
Finally, the Force have a very strong squad headed up by their own league recruit Curtis Rona who has the speed and strength to break through rugged NRL defense, so should enjoy the open space available here. This will be the first chance many people get to see Tatafu Polota-Nau wearing a Force jersey. While his body is a little older, and injuries a factor, his vigorous defense, smart ball work and strong running game could serve him well in this game. To chuck a couple of other names to the mix there's the strong running backrowers (sometime converted to locks) Isireli Naisarani and Onehunga Kaufusi. Both had excellent 2016 NRC competitions and can make a further name for themselves at Suncorp Stadium.
Then of course there are the wild cards. The older players who have come back to help drive ticket sales with the nostalgia crowd. Think of them as the "Stranger Things" of the rugby world. Chris Latham is back for the Reds, apparently keen as mustard and looking sharp at training. Lote Tuqiri played for the Classic Wallabies last week at the 7s in preparation for his run with the Tahs. The Brumbies have doubled down on Bernie Larkham alongside Andrew Walker with Walks still playing rugby (league) a couple of years ago.  The Rebels have called up Morgan Turinui, who has allegedly trimmed the grey hairs from his head so as not to stand out too much. And the Force have picked Matt Hodgson…..sorry, that was unfair. Hodgo's a legend!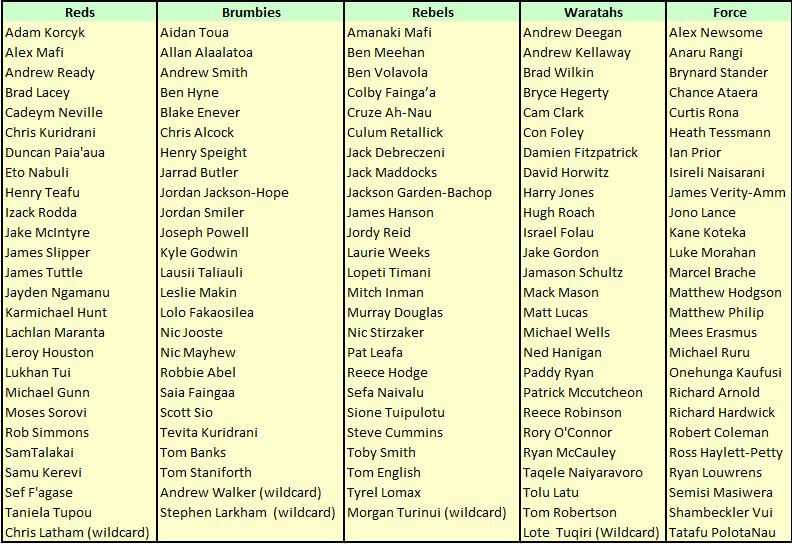 Looking at the New Zealand teams and while the likes of Izzy Dagg, Jerome Kaino and Damian McKenzie were used to launch the event, the NZRFU recently ruled them out of competing. In fact they pulled a whole bunch of All Blacks out as if they were listening devices behind a couch. As a result the New Zealand teams look pretty depleted. Now there's no doubting the kiwis have a ready-made production line of rugby talent who would no doubt thrive on expansive rugby, it's just a shame the the big names aren't here to stamp their class.
There's still plenty of test players around place though through the likes of Rene Ranger, Liam Messam and the returning Nehe Milner-Skudder all of whom (assuming they get decent game time) should feature strongly in the tournament highlight reels. From an Aussie perspective, the Crusaders hold special attention through former Sydney club players Mike Alaalatoa and Peter Samu and former Wallaby winger (and QLD Red Premiership winner) Digby Ioane. Ioane is a fascinating signing for the Cru and his return to big match footy could have no more suitable setting than at Suncorp Stadium.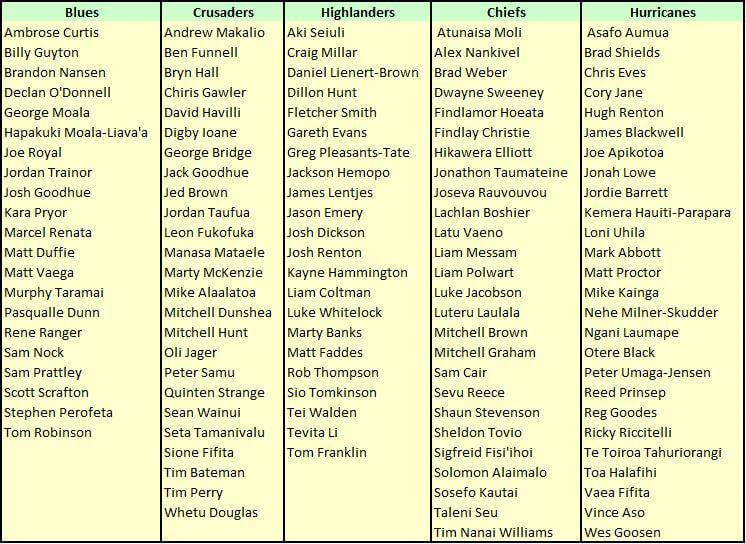 Moving on to the rest of the attending teams and of most intrigue are the Panasonic Wild Knights, from Japan, and Toulon. The Wild Knights will bring former Reds Berrick Barnes and Dan Heenan back to Briso alongside some talented QLD Rugby juniors, Jake Cornelson and Ben Gunter. From the local players former Force squad member, winger Akihito Yamada is a try scoring machine and should continue that form this weekend.
Toulon have left behind Gits and Gilly, but have still packed Drew Mitchell and James O'Connor. Mitchell will be using the tournament to prove he still has 'it' to some potential Super Rugby scouts while O'Connor will hope to create some happier Suncorp memories than those during his lone season at the Reds. Speaking of Reds, former winger Rocket Rod Davies will be stoked he's no longer around with the Samoan wrecking ball Alesana Tuilagi also in the Toulon team.
The Bulls and Samoan teams are largely uninspiring. Former Waratah Jacques Potgeiter will look to reacquaint himself with some former team mates for the Bulls. And while I celebrated the impact Taniela Tupou may have on the event, Census Johnston for Samoa (of similar size) seems to be an odd tens pick.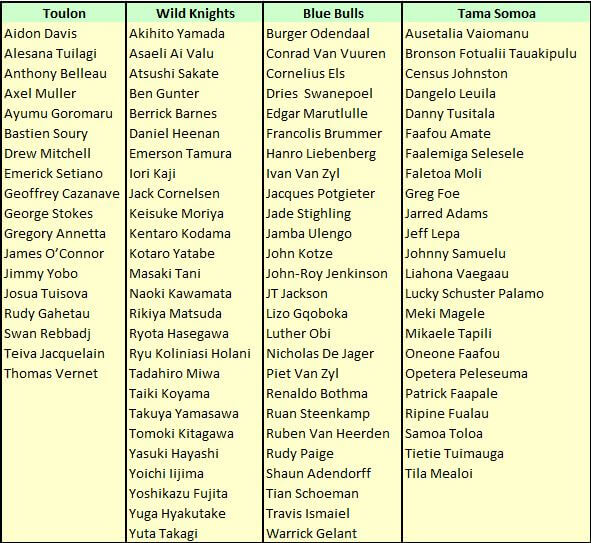 Will it be good?
It's got a few obstacles to overcome that's for sure. Put aside the big names that aren't playing, it seems that most coaches are pretty unfamiliar with this version of the game. A number have already come out and suggested they haven't even looked at the rules, and I don't think they're kidding. With Super Rugby about two weeks away, you can understand their focus is elsewhere.
Another factor is going to be this damn heatwave. Latest forecast is that it will be 38 degrees on Sunday. Surely that impacts both the quality of the play AND the potential crowd. It might help beer and ice cream sales though I guess.
Finally, we need to consider the ticket deal. It was mentioned on the podcast how unusual the ticket policy was of only two-day passes. I know it ruled me out of purchasing tickets, and I have met and spoken to many others who are in the same boat. The talk is that 30,000 to 35,000 tickets have been sold but that could still mean only 10,000 or so turn up Saturday (with school sport on), opting to just come Sunday. Or perhaps many who come Saturday decided to stay home under the air conditioning the next day. You'd like to think there will be walk up single tickets available, at least on Sunday.
So putting all that aside, will it good?  As the first hit out of the year for many teams (or the last as the case may be), expect some scrappy footy. But there is enough exceptional talent across the teams for there to be some quality rugby played.   There is the unknown as to exactly how much time the likes of Folau, Ranger and Naivalu play, but there's still enough wonderful rugby players there to grab the eye. In fact it's probably the greatest collection of rugby talent in one venue perhaps ever in Australia. So yeah, that's pretty damn good.
So who's going to win?
Well we really don't know who is out to win. The mindset of the coaches is the great unknown. But if you are forcing me to tip, then I will go with the Force. For a few reasons. Firstly, they have form winning the World Club Tens last year, so they know how the play the game. Secondly, I think their new coach Dave Wessels is preparing his team cleverly. They've  named a strong squad, particularly with the late inclusion of Jono Lance, and they've blown the cobwebs off with a strong trial win over the Rebels. And I think they are really eager to make a statement early, show they can win games of rugby and give some hope to their loyal supporters. The cross-pool draw is odd, and I'm not sure of the implications, but I'm backing the lads from the west to take out this title. For what it's worth.