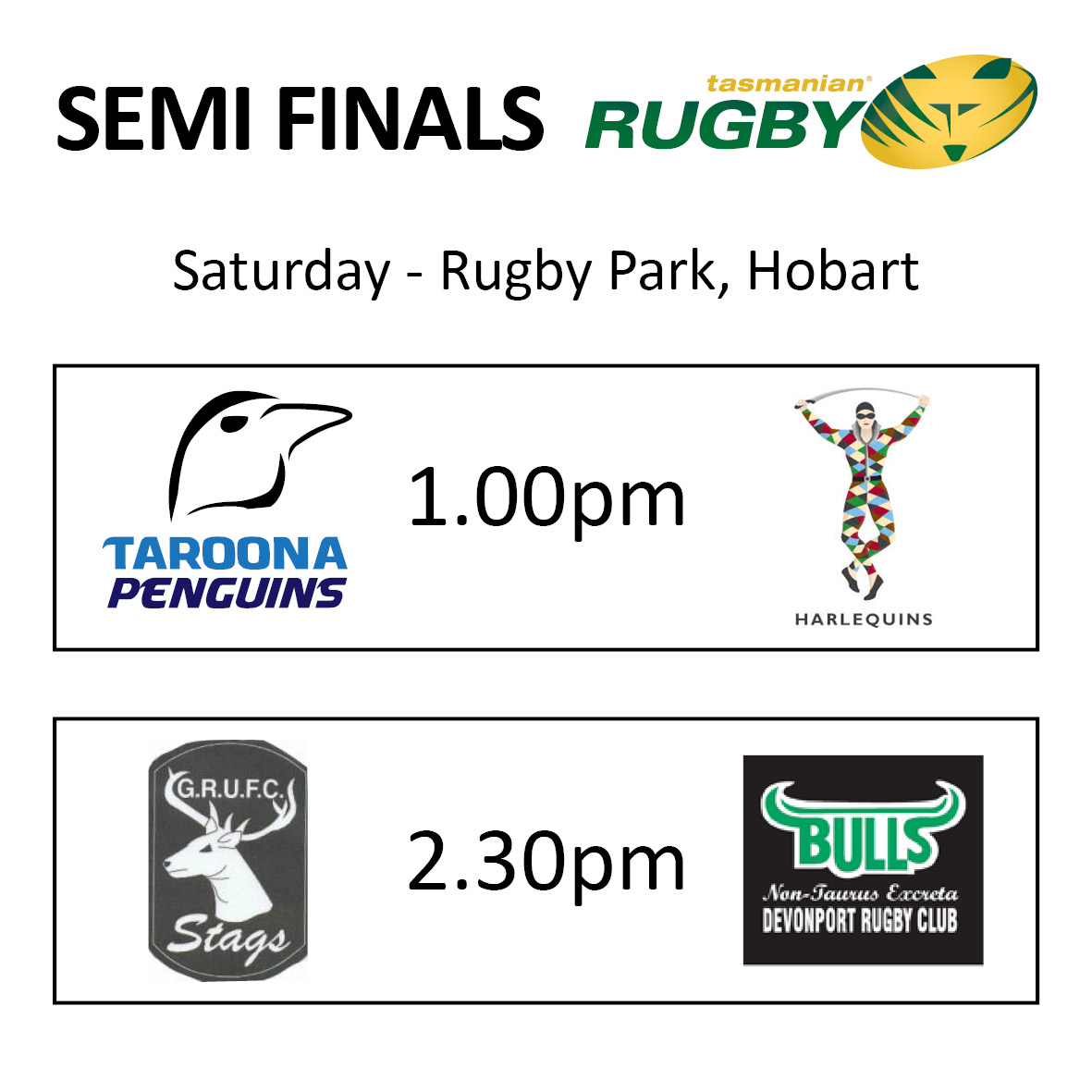 SET-PLAY TEST OF FAVOURITISM FOR STAGS AGAINST BULLS
Glenorchy Stags and Devonport Bulls might both be wary of assuming favouritism for Saturday's Tasmanian Rugby elimination semi-final at Rugby Park in Hobart, with the key maybe lying in each team's performance in the set-plays.
The Stags have Chris Harwood back in their front-row seeking break-even against Devonport's tough young tight-head Luke Bryan.  With neither lineout seemingly a huge threat on the other's throw a steady scrum platform could give Glenorchy's in-form backs handy field position.
The Bulls lineout seeks consistency against taller timber to ensure they can capitalise in the attacking zone but they will be heartened by the return of centre Mark Meo, amongst others, as inexperience out wide has accompanied poor form against top-ranked teams.  Bulls skipper Shaun Puke has to negate the influence of his Stags counterpart Sean Reardon and mobile flanker Josh Dorahy at the phase contest.  The Bulls will angle runners back into the defence whereas Glenorchy will direct some early phase ball wide through Aiden Stalker and Dan Aualiitia.
These clubs know their opponents strategies and will fiercely contest the breakdown, where attributes and abilities are even and penalties could prove the difference.  Counter-attacking opportunities are more likely from grounded ball than kick-returns where the guile of Aualiitia and Wally Dare may give the Stags an advantage.
In the major semi-final Taroona Penguins are confident in the manner of their win over opponents Hobart Harlequins a fortnight ago.  Quins can reflect on the pressure they were able to exert prior to losing their way in the latter stages.  The verbal interaction and physical reaction that revisited previous history has cost Harlequins, so will need to be met in preparation and on the day.
Taroona's patterned playing style with the ball in hand is backed by disciplined defence, particularly deep in their own territory.  They will respect Quins' ability to score from long range, particularly via, or involving Sid Fielea.  The suspension of skipper Sunia Ma'afu will increase the pressure close to the ruck for Pat Schramm and Fale Atileo.
The Penguins have a clear advantage at scrum and lineout.  Against opposition that can run down a lead with inferior possession this was almost squandered in the previous clash, but the focus of Rhys Watts, Christo Le Grange and Mikey Whyte has contributed to the Penguins healthy percentage as much as defensive intensity and measured build-up.  Le Grange's goal-kicking is a proven plus in vital matches for Taroona, but Quins Dave Woulleman compares favourably, including close shaves in last years elimination season.  Most outside the clubs involved see Taroona as clear winners, but Quins have nothing to lose.
Rugby followers in the north have the chance to see Tasmania's Under 16 squad in action in two games against Southern Inland Rugby Union (NSW/ACT) at Royal Park in Launceston on Friday and Sunday.
Saturday – Rugby Park, Hobart
1.00pm – Taroona Penguins (1) v Hobart Harlequins (2)
2.30pm – Glenorchy Stags (3) v Devonport Bulls (4)
Friday and Sunday – Royal Park, Launceston
Friday – 6.15 – Tasmania U16 v Southern Inland Rugby Union (NSW/ACT)
Sunday 10.30 – Tasmania U16 v Southern Inland Rugby Union (NSW/ACT)