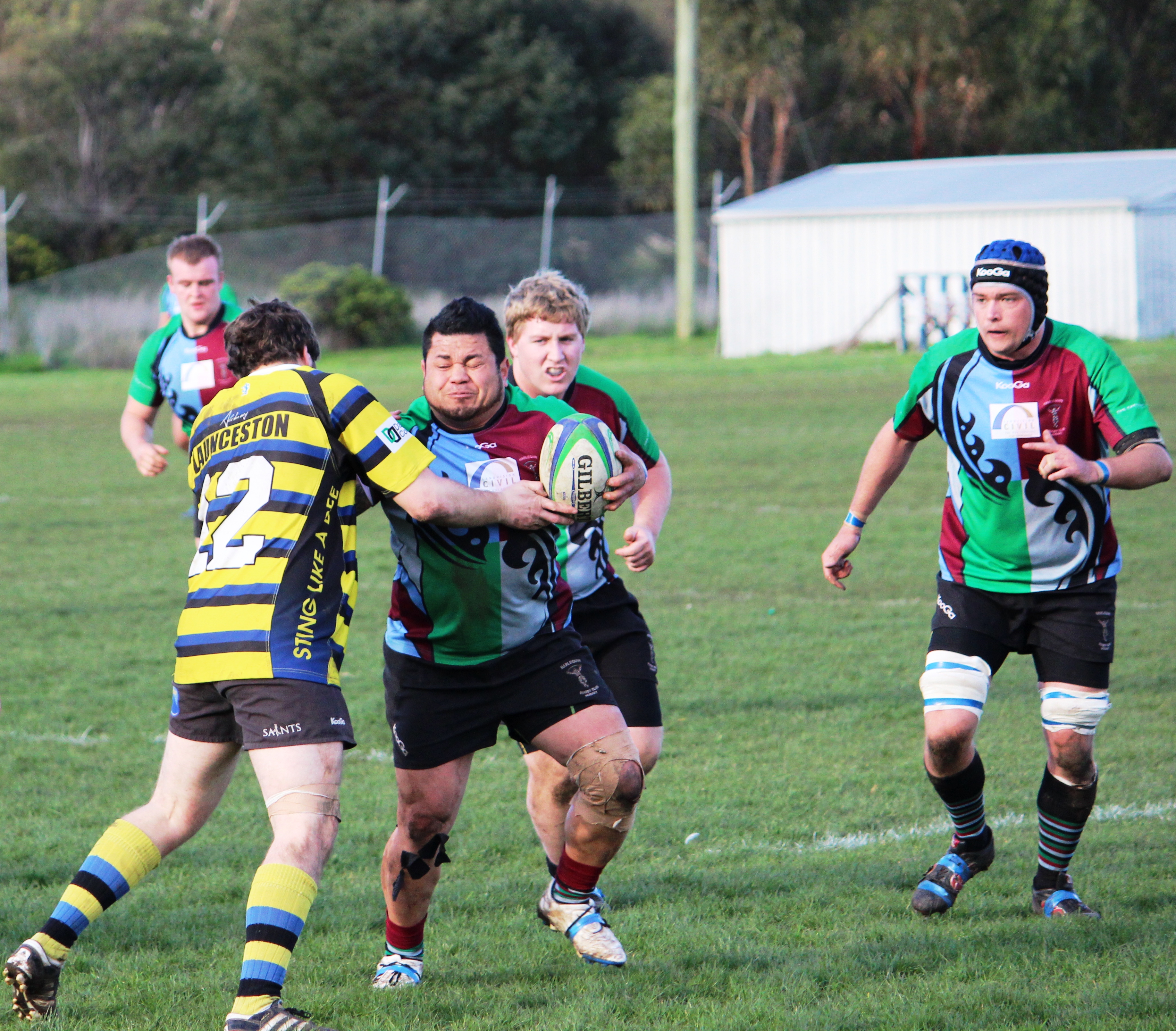 TOP TEAMS STORM TO VICTORY
Leading Tasmanian Rugby teams Hobart Harlequins and Taroona Penguins retained their stranglehold over the ladder with convincing wins on Saturday.
At Rugby Park in Hobart, Harlequins endured 30 minutes of mistake-riddled rugby before Paulo Pua posted a double for a 12-3 lead against 14-man Launceston Bees. Launceston stuck to task with fierce breakdown defence for the remainder of the half before conceding points by the clock after the break, with Quins eventually winning 71-3.
Quins' scrum-half Fale Atileo tormented the Bees defence, varying slick service with bustling runs. The chip kick was preferred by skipper Sunia Ma'afu to skirt the last line of a flagging Launceston defence, with 11 tries being shared amongst the Harlequins players. Fly-half Dave Woulleman landed telling conversions to extend the margin and directed the attack as the leaders recovered their form. Launceston were best served by Perry Chancellor and Gus Cosgrove but missed key players Harley Lyons and Colin Montgomery amongst others as well as experiencing disruption from flu virus and inability to train through poor weather.
Taroona Penguins accounted for University Red Men 60-15, creating space for willing runners to score 10 tries and display their depth, overcoming unplanned changes from illness. Alistair Bourke scored a hat-trick for Taroona. University matched the enthusiasm to post two long range tries to Augustin D'eplante.
'Everything went pretty much to our preferred game plan, but our back-row dominated', said Penguins coach David Whyte, acknowledging the further development of Nick Johnson as shading Rhys Watts and Dave Climie. D'eplante was outstanding for the Red Men, with Duncan Watson and Matt Te Hau also impressive.
In the contest of the round at Warrane, Eastern Suburbs Roosters scored on the bell, defying a courageous performance from Hobart Lions to win 29-28 despite minimal possession and poor discipline. Hobart dominated through the scrum and surging midfield runs to lead 25-10 with 15 minutes left, but the Roosters exploited space by counter attacking with Cyron Prouse and Judd Sherratt scoring to back an early solo try by Jake Hyland. None served Hobart better than Dave Craig, but Ikwhan Sallih, Jon Clack and their front-row applied enough pressure to win most games. 'Belief got us home – we've played much better and lost' was Roosters coach Brett Bourke's summary.
Glenorchy Stags produced a solid performance scoring four tries in each half to defeat Burnie Emus 50-0 in Burnie. Glen Mullaney, Sean Reardon and Josh Dorahy led the way for the Stags who successfully shifted the ball throughout. Rhys Weber, Michael Grace and Dayne Apiti held Burnie together.
Devonport Bulls paid tribute to the willing forwards of AMC Vikings but posted a 29-0 winning margin at Don. Sam O'Keefe, Shaun Puke and Bertie Loubser provided the Bulls with momentum but met plenty of resistance from Vikings Manu Fauausu, Alf Goode and Tom Scarfe.
Round 16 scores:
Harlequins 71 def Launceston 3
Taroona 60 def University 15
Eastern Suburbs 29 def Hobart Lions 28
Glenorchy 50 def Burnie 0
Devonport 29 def AMC Vikings 0