Quins cool under Roosters pressure
Hobart Harlequins outlasted a tenacious Eastern Suburbs Roosters to post a 27-6 win in atrocious conditions at Rugby Park in Hobart on Saturday to retain their Tasmanian Rugby competition lead.
Both teams played well up the slope, with Easts adapting to the conditions and taking an early lead before leaking two fairly soft tries as Quins overcame their lethargy. As the match unfolded Quins rode the charges of skipper Sunai Ma'afu and Ivan Meaclem and received some good direction from Dave Woulleman to apply telling territorial pressure.
The Roosters best performers were found in their willing pack, with Phil Barry, Richard Miller and Sam Featherstone impressing coach Brett Bourke. "I hate losing, but you couldn't deny the effort from all of our guys. We were in it for 70 minutes' said Bourke. 'Quins had confidence, and they deserve to have it,' he added.
Hobart Lions almost lowered Taroona Penguins' colours on Rugby Park field one, unlucky to be denied 7-3 after a scoreless first half. Hobart launched numerous raids from the outset but could not execute the telling pass to a runner in space and the expenditure of energy was not rewarded on the scoreboard.
The Penguins scramble was aided by a dominant scrum, but in most other respects their pack were outmatched by the Lions, despite a tireless and thoughtful contribution by skipper Rhys Watts, ably assisted by Andrew Wicks and the always threatening Charlie Holmes. Lions skipper Adam Johnston read the conditions perfectly and Tristan Lawrence and Jon Clack stood above some other wholehearted contributors as the underdogs responded to the call to arms.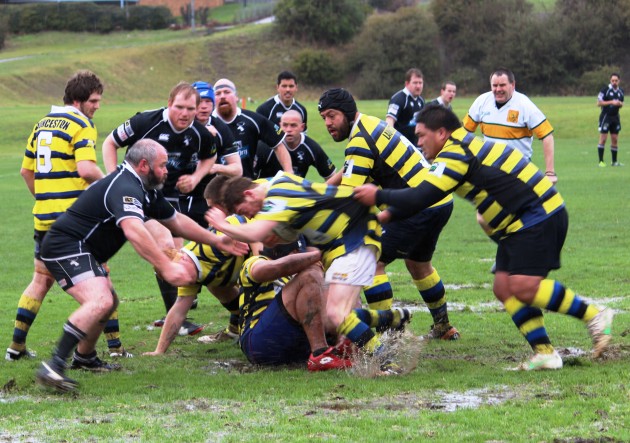 Glenorchy Stags rose from an ordinary first half that left them trailing 14-5 to prevail against Launceston Bees at Eady Street, only settling the 20-14 margin with a late try to centre Doug Smith. Chris Harwoood and Sean Reardon were visible in a willing Stags pack and the introduction of replacements at half time enabled Glenorchy to trade territory and possession while Launceston forwards Michael Hafaifonua, Jonno Tunks and Angus Cosgrove were most effective.
University Red Men took the points with a 36-15 home win over inter-campus rivals AMC Vikings. Mike Kadjiolka maintained great form, posting four tries for the victors, with skipper Saul Lopa adding a double in an error-ridden match. Back-rower Jack Beattie also mastered the conditions in a wholehearted forward recycling display.
Devonport Bulls unleashed the power of their Fijian backline to telling effect blasting Burnie Emus away 67-20 in an 11-try effort at Burnie. The hosts only trailed 22-20 at half-time but paid the price for ineffective tackling, particularly after the break. Devonport were beaten to the breakdown until some half time changes settled possession and distribution. Shaun Puke, Ali Nesham and Mark Meo were the most impressive for the Bulls, whilst Michael Grace, Dayne Apiti and Brett Bentley never yielded for the Emus.
Round 11 scores:
Harlequins 27 def Eastern Suburbs 6
Taroona 7 def Hobart Lions 3
Glenorchy 20 def Launceston 14
University 36 def AMC Vikings 15
Devonport 67 def Burnie 20
Ladder after round 11:
| | |
| --- | --- |
| Harlequins | 50 |
| Devonport | 43 |
| Taroona | 43 |
| Launceston | 32 |
| Glenorchy | 31 |
| Eastern Suburbs | 20 |
| University | 18 |
| Burnie | 16 |
| Hobart Lions | 15 |
| AMC Vikings | 13 |