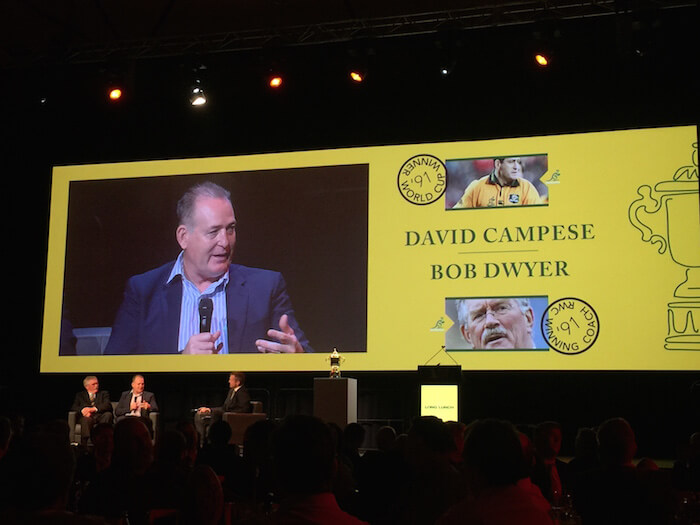 The 2015 Reds Long Lunch was held today at the Brisbane Exhibition centre. After a less than great year, it was heartening to see a very strong crowd at the function [surely it was the G&GR promotion – Ed.].
Nick McArdle was MC again and first up was David Campese with Bob Dwyer to represent the 1991 (& 1995) RWC campaigns. A theme we heard from again and again from the rest of the guests was the culture that surrounded the most successful sides and the leadership roles that various members in each of the most successful sides had.
Our regular G&GR contributor Bob, clarified his often quoted statement about having to have five world 15 players in your side to win the RWC. To paraphrase, he said he didn't mean that they necessarily needed to be World XV before the tournament, but by the end of it if the side was to be RWC Champions then there would be at least five genuinely world XV contenders in the side.
It was also great to hear from Campo, who remains one of my all time favourite players. His passion for the game, and Australian Rugby hasn't faded, regardless of the grief that Australian Rugby has in my view thrown at some of it stars at times.
The audience had a great laugh hearing that Campo's most enduring memory of the '91 RWC did occur on the field but had little to do with the game itself. It had more to do with the distraction of a certain Princess' legs than the anthems……
Up next were Bob Skinstad and Ben Tune. Contrasting characters indeed and whilst I always liked Skinstad's approach to the game I must say that hearing him speak of walking away from the professional end and playing lower level club rugby for the love of the game was edifying. A theme that Campo also expressed as to why he played the game and why he thought the Wallabies would do well this year.
Ben Tune spoke about his ambassadorship with Beyond Blue, which he discussed in depth on the Rugby Club, a cause close to my own heart. There were a few stories about naked team mates and their antics, just the usual Rugby tours sort of thing.
Up next from the land of Mordor, sorry New Zealand, was Sir Graham Henry, weilder of the one ring and bestower of the cloak of darkness. He wasn't all bad. Ok he was good, for an All Black. The theme of Graham's talk was again around culture and leadership, and he discussed how the successful RWC sides were well led and all players bought into the culture of the side. He couldn't quite bring himself to say that the Wallabies were a real threat to the ABs this year, despite Nick McArdle edging him that way a few times.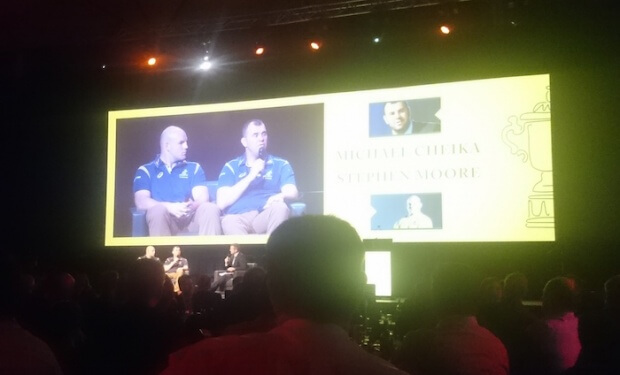 Finally to bring lunch to a close Michael Chieka and Stephen Moore were up. Stephen sporting a couple of tag marks on his melon, I hope showing how willing training has been this week (and not because he bashed his scone getting out of the car). The topic of culture was again front and centre and as the print media has run this week Chieks spoke about the Wallabies defining how they wanted to play and what they wanted to be.
A telling moment for me showing how passionate Chieka is about his Rugby came with him speaking about his envy of the players receiving their jerseys and how it was something that he was never able to achieve as a player. That sort of passion and fierce desire to represent the Wallabies cannot help but be transmitted to the players and I truly hope we will see that in their play in all the tests this year. Win lose or draw, I would be happy to see that sort of output and be proud to wear the Green and Gold of a Wallaby supporter if they play in such a fashion.
A quiet chat with Bob Dwyer after the function revealed that Michael Chieka was always that passionate about the game, an undeniable fact for those who ever saw him play, or played against him. What I didn't know was Michael captained the Oz Under 21 side in his day and a few exceptional players like Tim Gavin, emerged to block his pathway to higher honours.
A big big thank you to the QRU team for the organisation that went into this event, and especially the guests who stayed back to talk, autograph and pose for photos with the fans and rugby lovers.
What a great start to the yearly Rugby tour, even if I can't play anymore (not that I ever could really), the tours and mates continue, and there is the Culture that today's lunch guests spoke about I think. I must give a special thanks you to Ben Tune for taking a few moments to speak to me about his role with Beyond Blue. It is a cause close to my heart and something that we as a Rugby community can do a lot to educate and remove the stigma of mental illness and especially depressive illness.