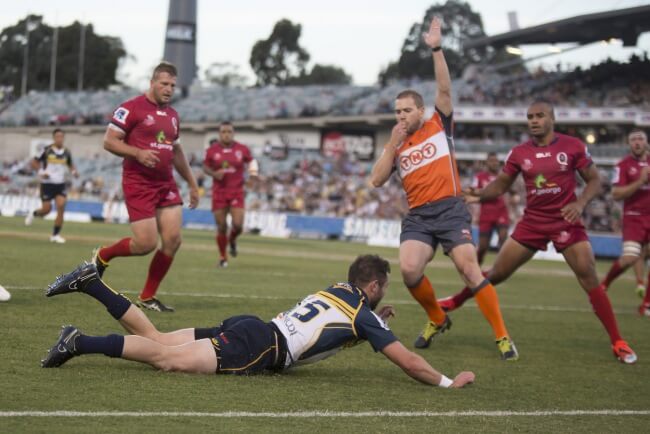 After one round of Super Rugby, the proverbial cat has well and truly been thrown amongst the pigeons with five of the seven games producing upsets. Unlike the 2014 competition, away teams experienced unprecedented success and all of a sudden, the picture of how 2015 will pan out doesn't seem so clear.
Which brings us to Green & Gold Rugby's Super Rugby Power Rankings. Here is how we see things after round 1.
1. Chiefs – started the season as favourites to take out the cup. Excellent performance away from home against the Blues even with several key All Blacks rested. Damian McKenzie had a debut to remember at 10. The 19 year old was everywhere and looked like an All Black in waiting rather than a teenage debutant.
2. Brumbies – flogged the hapless Reds. The forwards were powerful and the backline executed well to put 47 points on the Reds. Week two away against the Chiefs will give a better indication of how strong they are in 2015.
3. Western Force – beat the 2014 champions in Sydney. Even with their talisman, Matt Hodgson missing, they put in a gritty and disciplined performance with rock solid defence. Took their chances and produced a massive upset.
4. Stormers – beat the Bulls away from home. Showed far more enterprise than the Stormers of recent years and combined their strong defence with some actual attacking rugby.
5. Rebels – recorded their first win on foreign soil with a monumental upset against the Crusaders. Fought hard all game and were too good for the Canterbury men.
6. Cheetahs – despite having half their stars poached by the Bulls, they produced the upset against the Sharks. Joe Pietersen ran the show from 10 in a welcome return to South African rugby.
7. Hurricanes – will be absolutely stoked to win in the Republic but the Lions aren't overly strong and they weren't entirely convincing. The scoreline flattered them a little in the end.
8. Highlanders – had the bye so hard to rate them below any first round losers!
9. Blues – played reasonably well against a very good Chiefs outfit. The return of Patrick Tuipulotu will improve things in the pack. Still looked to have many of the same issues from 2014.
10. Waratahs – they will be bitterly disappointed with their round one performance but the defending champions have a strong team and currently no injury dramas. They'll surely improve.
11. Bulls – despite plenty of strong off season recruits they were upset at home. Lacked much attacking spark and were largely reliant on penalty goals. Strong team on paper however.
12. Sharks – what happened? There was meant to be a return to attacking rugby with a dynamic team but we just didn't see it. They missed Bismarck du Plessis in the pack and will surely improve.
13. Crusaders – traditional slow starters but things are in disarray right now. Lacking options at halfback and Dan Carter limped off injured. The return of Keiran Read will improve things but early signs are worrying.
14. Lions – it's going to be another long year for the Lions. Their usually reliable goal kicker, Marnitz Boshoff failed them and they lost at home to the Hurricanes.
15. Reds – horrendous start for the men from Queensland. They're missing lots of key players with injury, some of which aren't due back for a couple of months and they got absolutely belted by the Brumbies. Will need to turn things around quickly or the calls for Richard Graham's sacking will become deafening.