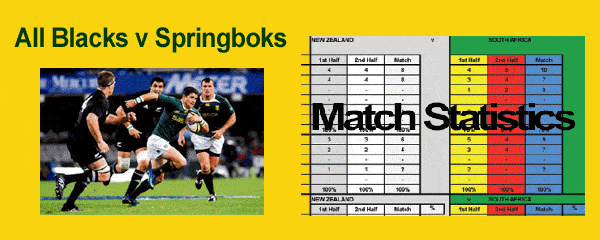 Did you get a feeling of deja vu watching game 2 of the Tri Nations between the All Blacks and Springboks?  The All Blacks picked up where they left off in game 1 and the Springboks again looked to have no answer.
The only area of the game won by the Springboks was at the lineout where the second half performance by the All Blacks was very poor resulting in a very low 56% win rate for the match.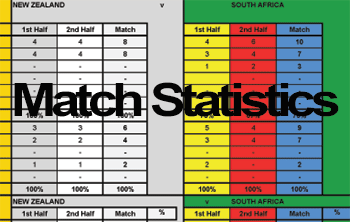 Possession was again fairly even with 53 possessions to the All Blacks against 50 for the Springboks.  Whilst it wasn't apparent to me when I first watched the game, the All Blacks actually kicked more that the Springboks – 49% of the time they had the ball to 42% from the Springboks.  Those figures were vastly different between the first and second halves.  In the first half the All Blacks kicked 41% of the time compared to 58% in the second half.  The Springboks kicked 63% of the time in the first half and 23% in the second half.
The All Blacks dominated at the breakdown winning 95% of their own ball whilst the Springboks could only win 87% of their own ball.
Click on the Team Statistics icon to download the full set of statistics.