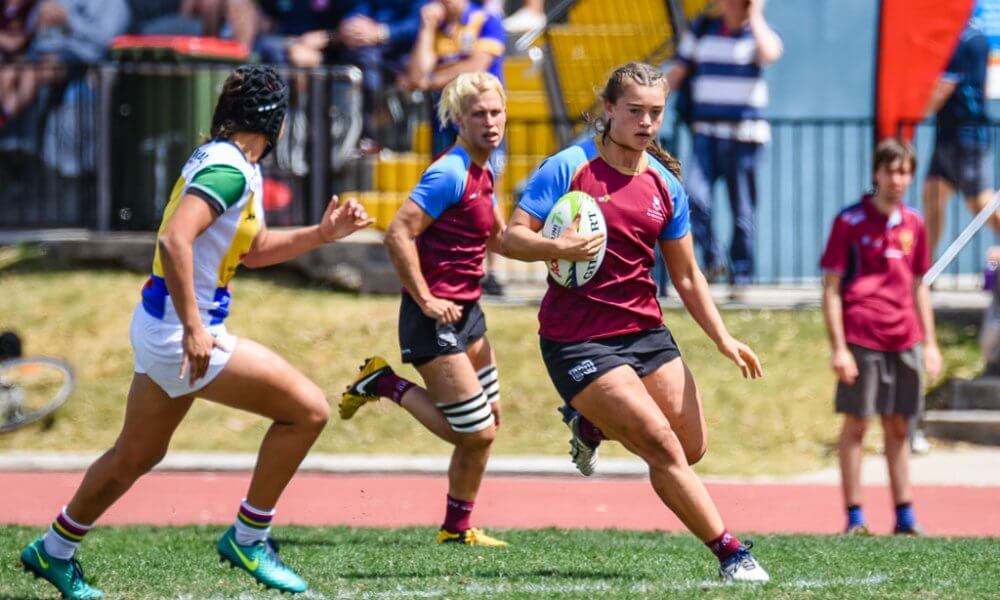 It was not that long ago that the Green and Gold Rugby podcast was getting a little clumsy and boring. I know, I know -it's tough to believe, but it was. Then, at one of our regular high end corporate think tanks, Hugh Cavill came up with the brilliant concept of focusing in on a set number of key issues in the game of rugby at the time. He labelled it "five burning questions". The concept was an instant hit and the podcast has never been better drawing international acclaim.
Since Hugh invented this concept we have witnessed a proliferation of these type of cheap click bait articles basing themselves on the same concept of "5 issues", "5 lessons", "5 players to watch" etc etc. It's an insult to this fine e-publication and, quite frankly, and embarrassment to those other web sites or media outlets who stole our idea.
So today we introduce a new concept – the SIX reasons to watch the Aon Uni 7s.
We acknowledge change is difficult for some people, and such a controversial decision could put off a lot of our readers, but we thought that the timing was right. And what better way to introduce it than in talking up one of the most innovative, and perhaps important, rugby tournaments run in Australia in the last couple of decades – the AON Uni 7s.
A Feast of Rugby
The final round of the AON Uni 7s takes place at the picturesque Bond University Rugby Club on the Gold Coast. The actions kicks off on Friday afternoon, with preliminary games going through until the early evening.  The Semi Finals take place on Saturday morning with the Finals starting around midday. Now if that wasn't enough rugby for you then let's add in the National U16s boys final and the National Junior Gold Cup U15s final for a taste of some of the best young talent in the country. And then let's top it off with the NRC match between the high-flying Queensland Country and the Melbourne Rising.  It's a ridiculous amount of rugby which is probably just the right amount. For those that can't get to Bond just remember that the 7s will be live steamed at rugby.com.au and the NRC live streamed via foxsports.com.au.
---
Can anyone stop UQ?
The University of Queensland has all but wrapped up the inaugural series championship having won each of the first three rounds, undefeated. I mean there is a slight chance of them blowing it, but I've got as much chance of beating Ellia Green in a 100m sprint as UQ has of losing this title. BUT, that isn't going to stop UQ from being absolute targets come Friday and Saturday. The home team in particular, who have been runners up twice to UQ, will be gunning to take out the Red Heavies when they inevitably face off some time on finals day. But it won't just be Bond Uni out to make the record books. Macquarie University is potentially the next most likely but Canberra and even Adelaide are fair shouts as well.
---
International Flavour
One of the aspects to this tournament I didn't expect was the strong foreign tinge to the teams. When watching the first tournament back in Tasmania it became apparent that this tournament would be a great development program for players from other countries too. And before you complain that we should be looking after our own talent first, make no mistake – that is the priority. However to help sell the gospel of Australian Women's 7s across the globe can't be a bad thing either. Besides we're not talking Jen Kish from Canada or Portia Woodman from New Zealand. We're talking Dutch international Bodil van Wijnbergen, Stacey flood from Ireland and Kiki Morgan from the USA.  All from countries still establishing themselves on the world stage. All players who have provided their own unique flair to their respective teams and help legitimise the competition as an event of significance.
---
Caslick v Cherry
Sporting rivalries got back to when Kane first clean bowled Abel in the Garden of Eden.  Along the way there are those rivalries that capture the heart of the adoring sports fan and leave a imprint in their hippocampus. Allan Border taking on Richard Hadlee was a big one for me.  Wally Lewis against Brett Kenny was another. Legends taking on legends.  Well I reckon I've developed another such connection this last month.  The battles between Charlotte Caslick (playing for Bond Uni) and Emilee Cherry (U of Q) have been up there with the best I've seen in sport. Their last face off, two weeks ago in Brisbane, was breathtaking as they embarked on a rugby version of 'lunge' and 'parry' to gain their team the upper hand. So far the superb Perry has ended up on top every time, which mustn't sit well with Caslick who is as competitive as they come. Watch out when they come up against each other this weekend.
---
The Stars of Tomorrow
There's no point establishing these tournaments if it wasn't to either (1) identify new talent coming through or (2) provide development opportunities for identified stars.  While we had the big names proving their class across the competition, the chance for some serious high level game time for our next generation has been crucial. Players such as Page McGregor (Macquarie Uni), Lily Dick (Uni of QLD), Kennedy Cherrington (Uni of New England), Georgia Hannaway (Uni of QLD)  and Hannah Southwell (Uni of New England) are just a handful of the young talent that have come through the junior program and are now mixing it, and matching it, with the pros. Add to that players such as Lauren Murty, Eva Karpani, Mackenzie Sadler and Alysia Lefau-Fakaosilea who are big performers who have followed different paths and it is clear that the tournament has so much to offer.
---
Rugby's States of Oblivion
There was a particular moment in one of the earlier rounds of this tournament, I think it must have been in Round 1 in Tasmania, when I was watching yet another excellent game of rugby 7s with some names I knew, but many I didn't. The skills on show were impressive and the commitment was unquestioned. Then it hit me – I was watching Tasmania playing Adelaide. I don't think I ever saw these teams play ruby before, even in the old Australian Rugby Shield days. And it was a complete joy. Sure not every player was a local, but there was enough of a smattering in there. It's a pathway now and how many young Tasmanian or South Australian girls will have seen that same game and realised there was an opportunity for them to play with, against or even as Olympians. When you're considering your viewing plans for this weekend, don't stick to the high profile teams. Make a point of watching one of Uni of Tasmania or the University of Adelaide and perhaps have the same realisation as I did.
---
A full list of fixtures can be found by clicking HERE.
A reminder that you can watch  all matches live streamed on Rugby.com.au.