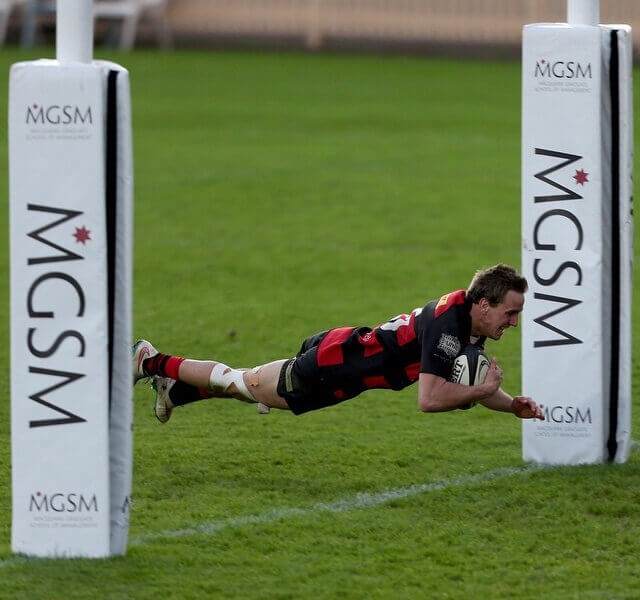 Frenetic pace and missed opportunities were the order of the day at Forshaw Rugby Park, when the third placed Warringah took on fourth placed Southern Districts in a highly charged encounter. Warringah overwhelmed Southern Districts in the second half, and took the win 26-12.
THE MATCH
A fast paced game from the outset, Ben Volavola was the first to register a try just five minutes in to give Southern Districts an early lead.
A game-ending injury to Josh Gillard saw Tyson Davies enter the game to replace him in the seventh minute, and after a short delay the teams resumed the up-tempo end to end style match.
Warringah made several good attempts to cross the line, and were finally rewarded when David Feltscheer set up Rory O'Connor for an easy try to level the scores at five all. Fly-half Hamish Angus was unable to add the extras and the scores remained level after 22 minutes on the clock.
Volavola thwarted another Warringah attempt, and managed to gain significant territory from the turnover but failed to capitalise. A largely frustrating half of football came to a close when Warringah scored a try in the 40th minute and took a 12-5 lead at the break.
A yellow card to Souths player Godinet in the 52nd minute saw Warringah take advantage and break through for their second try of the match – scored by Holmes and again set up by David Feltscheer, ably converted by Hamish Angus, taking their lead to 14 points.
Souths put on a brilliant display on their way to what looked like a certain try, but Warringah scrambled to prevent it crossing, and emotions were running high at Forshaw Park.
A spectacular 60m run from fly-half Hamish Angus to score Warringah's third try of the match was punishment for a Souths turnover.
Afa Pakalani scored a solid try to mitigate the scoreline pain for Souths, and Ben Volavola converted to narrow the gap to 14 points with eight minutes left to play in the match. A big run from Gibbons maintained their territory but again Warringah managed to defend.
Southern Districts v. Warringah
Forshaw Rugby Park 3.00pm
7TWO TV Match
Referee: Will Houston
Assistant Referees: Ben Wawn, Richard Manchee
Warringah 26 beat Southern Districts 12
Sydney University v. West Harbour        
University Oval  3.00pm
Referee: Ed Martin
Sydney University 41 (J Wainwright 2, M Whitely 2, G Jeloudev 2 tries; A Roberts 3 goals, 1 penalty goal) beat West Harbour 31 (C Masson 2, J Brooks 2 tries: D Harvey 4 goals, 1 penalty goal)
Manly v. Eastern Suburbs
Manly Oval 3.00pm
Referee:  Ian Smith
Manly 53 (H Bergelin 2, J Vaai, McNally, J Fakai, A Northam, D Pili-Gaitau, R Hodge tries; R Hodge 5 goals, 1 penalty goal) beat Eastern Suburbs 24 (J Grant 2, J Toole,C Guerra tries: A King 2 goals)
Parramatta v. Randwick               
Merrylands RSL Rugby Park 3.00pm
Referee: Richard Goswell
Randwick 43 (J. Pennington 2, T. Asa, S. Figg, D. Horwitz, B. Roods, L. Latunipulu tries; D. Horwitz 4 conversions) defeated Parramatta 28 ( P. Lalaga 2, A. Cox, A. Namoa tries; N. Langsford 4 conversions)
Northern Suburbs v. Gordon
North Sydney Oval 3.00pm
Referee:  Anthony Moyes
Northern Suburbs 31 (B Matwijow, H Sinclair, J Kay, J Porch tries; J Kay 1 goal: M Walton 2 goals, 1 penalty goal) beat Gordon 12 (J Dempsey, L Simkin tries; L Simkin 1 goal)
Eastwood v. Penrith
T.G. Millner Field 3.00pm
Referee: Jamie McGregor
Eastwood 129 beat Penrith 0
Lead image credit: Clay Cross