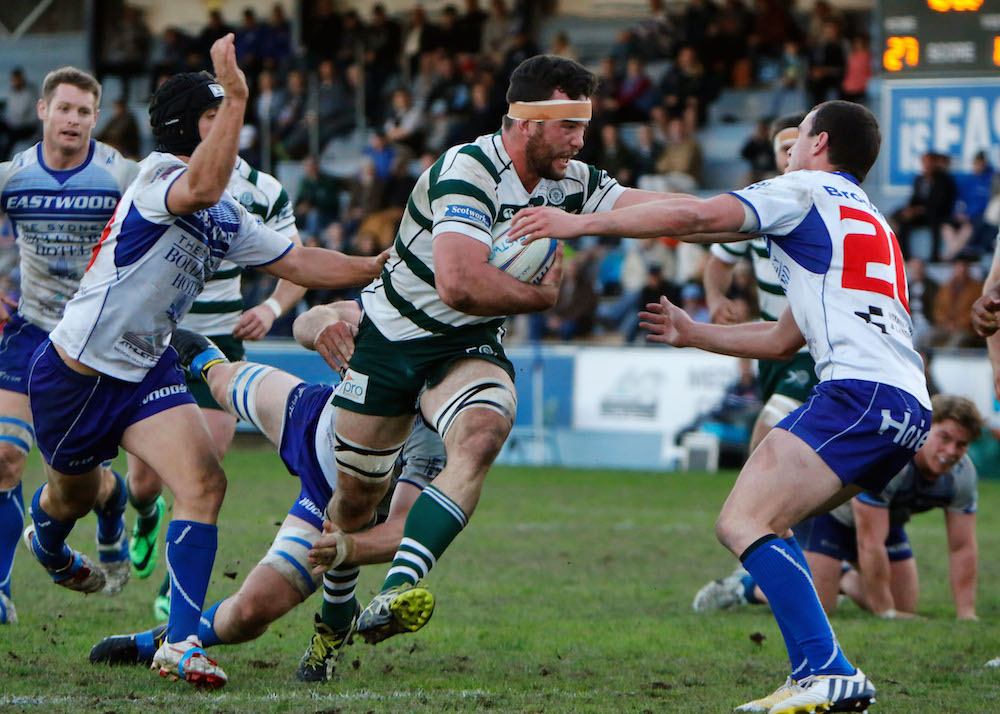 Eastwood has overcome the disappointment of last week's loss to Manly with a 42-24 win over second-placed Warringah in Round 11 of the Magners Shute Shield.
Words by Ben Harrison
The Woods yesterday delighted a big home crowd, running in six tries to Warringah's three at T.G Millner to close the gap on league leader Manly. "The crowd was sensational, they really got us to lift and rise to the occasion today," said Woods' prop Jed Gillespie afterwards.
After last weekend's 20-point loss to Manly, the Woods looked sharp in attack and defence, absorbing relentless pressure on their own tryline and punishing the Rats for their mistakes. "It was great to see a definite improvement from last week, our aggression was good and really helped us maintain the pressure the Rats threw at us," Gillespie added.
Mr Consistent, Warringah captain Luke Holmes was good in a beaten side but admitted his team's slow start cost them. "Our second half was good but we were poor in the first. A 20-point lead is too much, having to play catch up footy against a team like Eastwood is too hard.
"Mistakes and missed tackles really hurt us, a few injuries didn't help us either. There is a lot to learn from this game though. When we play these top sides it is so important for us to read their structures and systems. When we play them later in the year hopefully we will be ready."
A strong contender for best on field was Eastwood flyhalf Jai Ayoub. The fleet-footed flyhalf consistently threatened the defensive line, causing plenty of headaches for the Warringah backline.
"I'm very pleased with the bonus-point win, especially over one of the top sides in Warringah," said Ayoub.
"I am happy where we are as a team, and very happy I can keep putting in consistent performances too – it's easy to look good though when you have the amount of talented guys around you that I do."
It was Warringah who got first points on the board, through a penalty goal to Hamish Angus.  From the restart, giant Eastwood winger John Grant plucked the ball out of the air and crossed the tryline untouched.  Five minutes later, some good lead up work from Ben Batger allowed his brother Nick to cross for the Woods' second and soon after, Ayoub cracked open the defensive line and laid on try number three for captain courageous, Hugh Perrett to cross. Ben Batger's penalty goal gave Eastwood a commanding 20-3 half time lead.
The second period was only minutes old when Warringah mounted a comeback, with Boyd Killingworth storming over from close range to put some confidence back among his teammates.
Another boost followed soon after, when young gun and try scoring machine Harry Jones added the fourth five-pointer and secured the bonus point.
With the Woods back on the attack and the Rats camped on their own tryline, Ayoub pounced on a loose pass to step his way to the tryline. Making his first appearance since being injured in Round 2, Rat Sam Ward hit back, storming his way over from the base of the ruck to close the difference to 10 points, until Woodies' scrumhalf Mick Snowden threw a convincing dummy to create space for him to dart over under the posts to seal it for Eastwood. Despite the loss, the Rats hold on to second but Eastwood's maximum-points effort sees them close the gap between the sides to just two points.
Next week will see Warringah host Randwick for their Back to Juniors Day at Pittwater Park, while Eastwood will travel to North Sydney Oval to take on Northern Suburbs.
Eastwood 41 (Hugh Perrett, Nick Batger, John Grant, Jai Ayoub, Mick Snowden, Pat Sio tries; Ben Batger 4 cons, pen) d Warringah 24 (Boyd Killingworth, Harry Jones, Sam Ward tries; Hamish Angus 3 con, pen) at TG Millner.
---
Penrith has claimed its first win of the season with a nine-point victory over Norths in front of a delighted home crowd at Nepean Rugby Park. The Emus were outstanding, with a hat trick from Jerome McKenzie helping them bag a bonus point along with the victory and lifting them off the bottom of the table for the first time in more than 12 months.
Penrith 35 (Jerome McKenzie 3, Peni Narube, Malakai Zelezniak tries;  Robbie Mate 2 cons, 2 pens) d Northern Suburbs 26 (Kevin McNamara, Mitch Walton, Cam Crawford, Jack Grant tries; Mitch Walton 3 cons) at Nepean Rugby Park.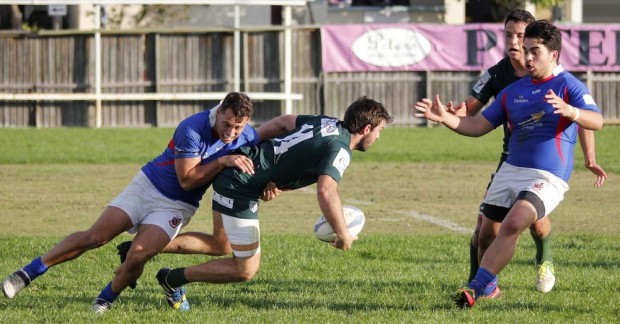 Manly again showed they're the team to beat, racking up an impressive 48-point win against a young Randwick outfit. The Marlins maintained their unbeaten record and now sit 11 points clear of second-placed Warringah, after again picking up a four-try bonus point. Harry Bergelin scored three tries to add to his competition-leading tally that now sits at an impressive 16 for the year.
Manly 60 (Harry Bergelin 3, Dave Porecki, Dylan Sigg, Mark Swanepoel, Dane Chisholm, Brian Sefania, Lui Siale, BJ Hartmann tries; Dane Chisholm 4 cons, Scott Daruda con) d Randwick 12 (Tristan Goodbody, Elih Baillie tries; Andrew Deegan con) at Coogee Oval.
---
The Students bagged their first win in three weeks with a 12-point away win over Southern Districts. In a tightly contested affair, Sydney Uni held onto their lead over a fast-finishing Rebels outfit, with the two-try Henry Clunies-Ross superb in his side's victory.
Sydney University 30 (Henry Clunies-Ross 2, Jake Gordon, Jack Macklin tries; Daniel Kelly 2 cons, 2 pens) d Southern Districts 18 (Steve Fualau, Tim Metcher tries; Rohan Saifoloi con, 2 pens) at Forshaw Rugby Park.
---
A full-of-running Two Blues outfit has notched up an impressive half century against a spirited Beasties team, running in nine tries in a bonus-point win at Merrylands RSL Rugby Park. Despite the scoreline, the game was well-contested, with Canadian international Even Olmstead superb for Parramatta, crossing for a try and menacing the visitors throughout the game, and the front row bagging an impressive four tries between them.
Parramatta 53 (Alex Samoa 2, Nick Blacklock 2, Liu Taituave, Simon Lemalu, Tui Fa'asisila, Tanqele Naiyaravoro, Larry Hermens, Tomu Mataika tries; Chris Nay 4 cons) d Eastern Suburbs 20 (Clay Brodie, Will Paterson tries; Warwick Percival 2 cons, 2 pens) at Merrylands RSL Rugby Park.
---
The Pirates have won their fourth game of the season, beating Gordon by 29 points in a late kick-off as part of the first day of the Canada Bay Festival of Rugby. Despite creating a number of opportunities, the Gordon Highlanders were unable to take advantage of them on the scoreboard and Wests deserve credit for a dedicated defensive performance that saw them hold a strong Gordon side to zero. Joel Brooks was best on field for the Pirates, crossing for a double as he helped his side secure a needed bonus-point victory.
West Harbour 29 (Joel Brooks 2, Tom Games, Usaia O'Sullivan tries; Dave Harvey 3 cons, pen) d Gordon 0 at Drummoyne Oval.
Table