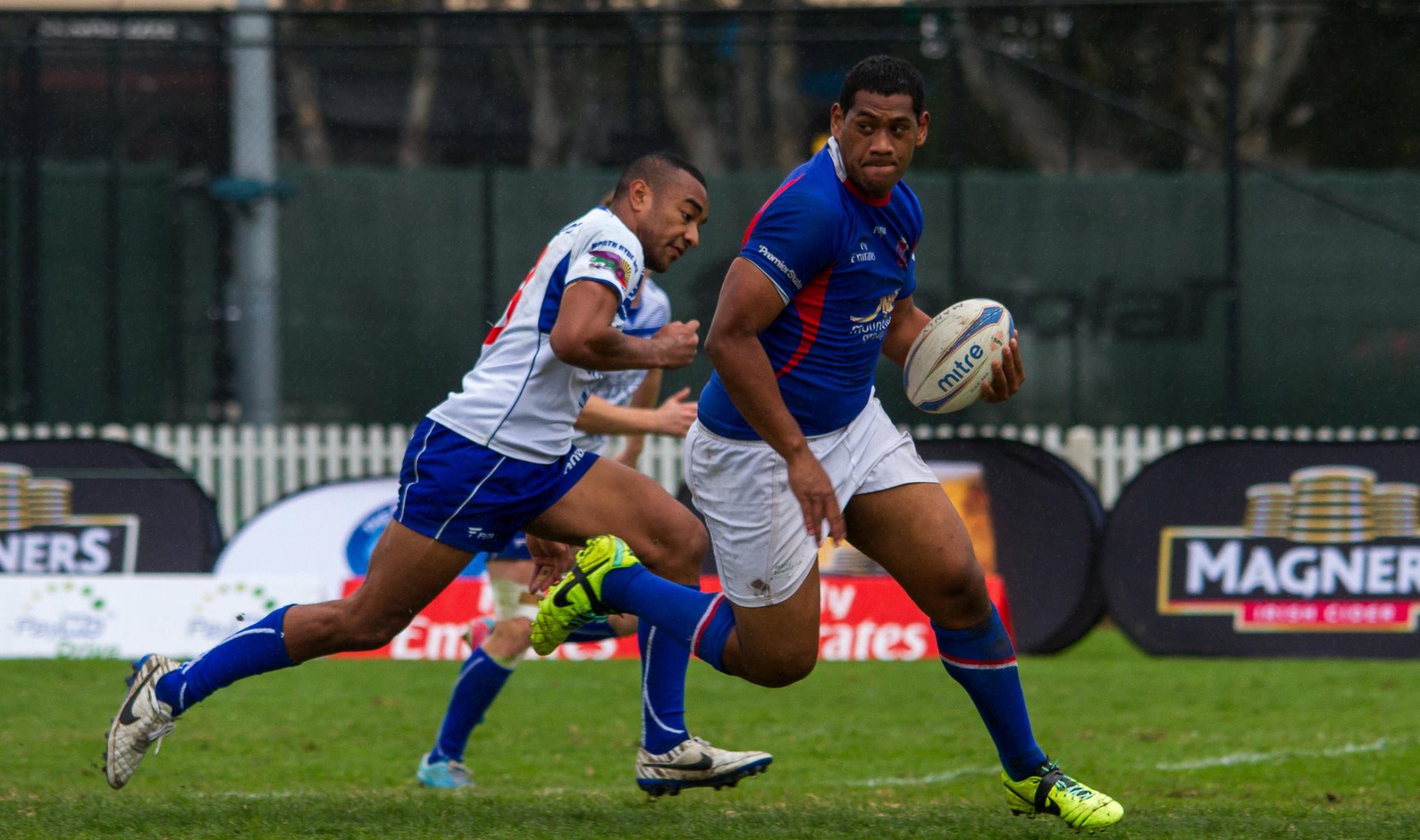 Manly try-scoring machine Harry Bergelin has bagged a double to help his side to its tenth consecutive win, a 42-22 home defeat of Eastwood in the Shute Shield round 10.
By Ben Harrison
Remarkably, the flanker now tops the Magners Shute Shield's list of top try scorers with 13 for the season – that's two more than NSW star Izzy Folau, whose simultaneous effort against the Chiefs yesterday saw him break the Waratahs' record for most tries in a Super Rugby season.
Speaking after yesterday's thrilling Round 10 match at Manly Oval, Marlins' No. 8 Dylan Sigg said, "We're very pleasing with the result. It was a good effort, few mistakes, but we managed to pull together and finish quite strong."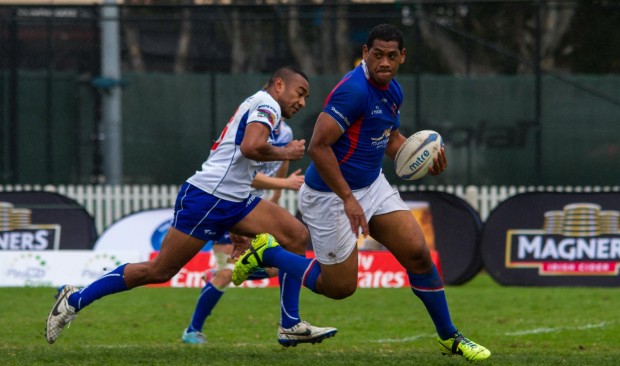 Despite the wet conditions, the Marlins ran in five tries to pick up the bonus point – their ninth in 10 outings. "The weather made it hard and there were a few handling errors but that's no excuse as one is too many dropped balls, so that will be something we need to work on," said Sigg.
After last weekend's defeat of Sydney University, Eastwood's confidence was riding high coming into today's encounter. It seemed as though the win against the Students may have taken a bit out of last year's runners up but Woods' captain Hugh Perrett was not using any excuses for their performance.
"I guess it was a big game but no excuses.  Manly were the better side so full credit to them. Last week was physical and so was today, they had a hard match last week as well."
Last year's player of the year, the flanker was again exceptional in a beaten side and noted that execution was perhaps their downfall. "Both teams played in the same conditions and they handled it better. I think we need to go back and really work hard on maintaining possession and looking after the ball."
It was Manly who opened the scoring, through the boot of Dane Chisholm from a ruck penalty. Bergelin soon followed that up with a superb try in the corner for his first of the match. But Eastwood's John Grant hit back with a five pointer of his own, the winger strolling over in the corner off a wonderful piece of lead up work by fullback Ben Batger.
Chisholm extended Manly's lead with an absolute peach of a penalty goal from out wide and after some to and fro, Manly's Lui Siale found his way in the corner to cross for his side's second try of the match.  Another try on the stroke of half-time followed after Bergelin took a quick tap from close range and forced his way over for his second of the match, bringing Manly up a half time lead of 25-5.
Eastwood started the second half in sublime fashion, scoring much-needed first points when Nick Batger crossed in the corner less than two minutes into the second stanza, before adding another after a chip and chase from Ben Batger led to a try to outside centre Michael McDougall, six minutes later.
But as quickly as the Woodies forced themselves back into contention, the Marlins struck back.  Two quick tries from prop Mitch Lewis and outside centre Mali Hingano gave the Marlins a little breathing space, before Eastwood scrumhalf and debutant Matt 'speedy' Gonzalez struck back once more, the latter running down a kick and cross for his maiden first grade try, bringing the scores back to 39-22 in the Marlins' favour with five minutes to play.
With Chisholm adding a penalty goal right on full-time, the match finished 42-22 and the winger capped off a superb performance with the boot, kicking a total of 17 points and missing only one attempt.
Six points clear at the top of the table, the Marlins will carry their huge momentum into Coogee next weekend when they take on a Randwick outfit coming off a 23-all draw with Sydney Uni, while Eastwood will play host to second-placed Warringah.
Manly 42 (Harry Bergelin 2, Mitch Lewis, Mali Hingano, Lui Siale tries; Dane Chisholm 4 cons, 3 pens) d Eastwood 22 (Matt Gonzalas, Nick Batger, Michael McDougall, John Grant tries; Ben Batger con) at Manly Oval.
---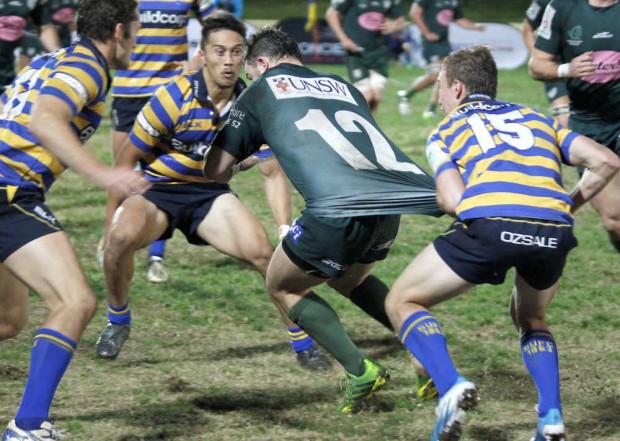 The opening match of the round saw the Students and Wicks play out a 23-all draw on their Friday night encounter at University Oval. It was a tightly contest match throughout and despite Randwick outscore Sydney Uni by three tries to two, Students' winger James Dargaville scored the try of the game, whilst lock Byron Hodge kept his side in it, kicking 13 points.
Sydney University 23 (James Dargaville, James Nonu Carling tries; Byron Hodge 2 cons, 3 pens) drew with Randwick (Nathan Roye, Tristan Goodbody, Andrew Norton tries; Liam Windon con, 2 pens) at University Oval.
---
Warringah yesterday played host to Penrith at Pittwater Rugby Park, rewarding their loyal fans with a 16-point victory to maintain their second overall position. Securing a bonus point was the end reward but it was hard to come by, with a spirited Emus outfit really giving it to the Rats. Continued good form from young winger Harry Jones saw him score again in the top grade, while stand in scrumhalf Scott Bradley – taking the place of new Melbourne Rebel Josh Holmes – crossed as well.
Warringah 34 (Scott Bradley, Brad Dixon, Sireli Tagicalibau, Harry Jones tries; Hamish Angus 4 cons, 2 pens) d Penrith 18 (Daniel Arona, Pusi'aki Fifita tries; Robbie Mate con, 2 pens) at Pittwater Rugby Park.
---
The Rebels looked strong in their away win over the Beasties at Woollahra yesterday. Captain Jed Holloway backed up after last Tuesday's match for the Australian Barbarians, produced what most would conceive as the play of the match, with a long-range intercept try, showing good pace to out run the defence. Rohan Saifoloi was in good form with the boot finishing with 19 points. With five wins in 10 attempts, Souths now sit seventh overall, trailing sixth-placed Randwick on points difference only.
Southern Districts 34 (Jed Holloway, Faleula Finau, Ben Connolly tries; Rohan Saifoloi 2 con, 4 pen, drop goal) d Eastern Suburbs 12 (Michael Fakava, Damon Anderson tries; Will Paterson con) at Woollahra Oval.
---
Searching for a fifth win to consolidate their position in the top six, the Parramatta Two Blues hosted West Harbour at Merrylands RSL Rugby Park. Buoyed by last week's confidence-boosting one-point win over Souths, the Two Blues ran in five tries in a show of their fire power out wide. Despite being outgunned, the Pirates notched up four tries of their own in what was an extremely exciting affair, with both sides deservedly picking up bonus points for their try-scoring exploits.
Parramatta 37 (Alex Samoa 2, Larry Hermens, Aisea Nomoa, Even Olmstead tries; Tom Woods 3 cons, 2 pens) d West Harbour 29 (Joel Brooks 2, Rory Sidey, Tito Mua tries; Dave Harvey 3 cons, pen) at Merrylands RSL Rugby Park.
The final match of the round takes place this afternoon and will see Northern Suburbs host Gordon at North Sydney Oval, with the match streamed LIVE ONLINE at www.clubrugbytv.com.au from 3pm​.
Currently sitting ninth overall with just two wins from nine matches, the match is must-win for Norths if they are to fulfil their finals hopes. It won't be easy though, with the Highlanders hot on their heels just one place behind them.  Should Gordon record its first bonus-point win of this year's campaign, the Highlanders would jump above Norths on the ladder.
For all your latest score updates and team lists follow us on Facebook and on Twitter. You can also get match highlights from our game of the round as well as match previews at our Shute Shield YouTube channel.
Magners Shute Shield ladder after Round 10 (NB: one game of the round remaining)

  Team

P

W

D

L

F

A

Df

BP 4t

BP <7p

BP

Pts

Manly

10

10

0

0

413

180

233

9

0

9

49

Warringah

10

9

0

1

318

236

82

7

0

7

43

Eastwood

10

7

0

3

345

267

78

6

1

7

35

Sydney University

10

6

1

3

340

204

136

5

2

7

33

Parramatta

10

5

0

5

269

300

-31

7

1

8

28

Randwick

10

5

1

4

235

197

38

2

3

5

27

Southern Districts

10

5

0

5

275

287

-12

5

2

7

27

West Harbour

10

4

0

6

310

306

4

4

1

5

21

Eastern Suburbs

10

3

0

7

202

291

-89

3

2

5

17

Northern Suburbs

9

2

0

7

171

252

-81

1

3

4

12

Gordon

9

2

0

7

147

314

-167

0

0

0

8

Penrith

10

0

0

10

260

451

-191

6

2

8

8

 P=Played   W=Wins   D=Draws   L=Losses   F=Points For   A=Points Against   Df=Points Difference   BP 4t=Four Tries   BP <7p=Close Losses   BP=Total Bonus Points   Pts=Ladder Points