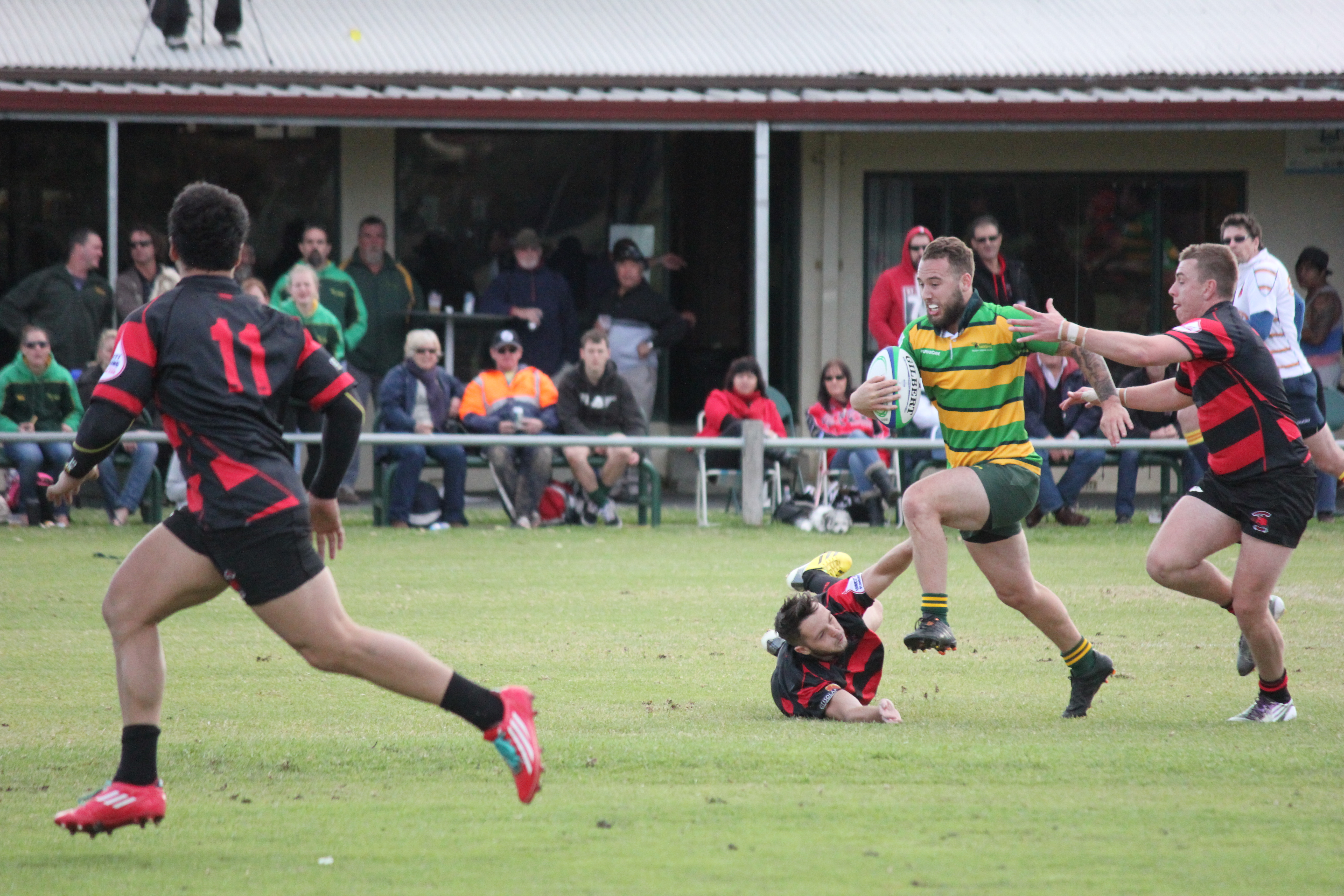 We've got all the action from round two of the Coopers Premier Grade right here, right now.
Round 2 – 03/05/2014
Match of the Week
Onkaparinga 26 def Woodville 22
In this round's match of the week it was Onkaparinga taking on Woodville down at Gleneagles in an awesome day of rugby. There was more to the day than just the game however, with a legend of SA Rugby being honoured in playing his 350th game. Black Falcons and Woodville stalwart Matty Connor is currently one of the most capped active players in South Australia; as well as being one of the most capped State players in recent times. An exemplary clubman, player and person, Matty has been much loved and well respected by teammates and opposition alike.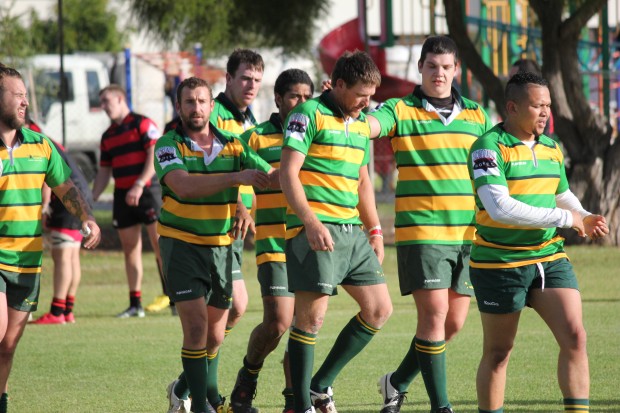 As such it stood to reason that Woodies would be out for blood in this match. Despite the hype however, it was Onkas who took the early lead. Using the strong Southerly breeze to great advantage, Onkas were able to sustain the pressure on the Woodville line. The result was 3 first half tries and an 18 – 5 advantage going into the half. A strong forward back and great continuity created a lot of opportunities for Onkas inside backs, as Woodville's ill discipline cost them around the rucks. The consolation for Woodville in the first half was a breakaway try down the wing for Matty.
The second period was a complete turnaround for both clubs. It was Woodville who was camped on the Onka's line applying continual pressure. After scoring a number of tries to close the gap to one point with 5 minutes left, the game turned scrappy. Serious mistakes first by Onkas and then by Woodville led to big momentum shifts as an overturned penalty and lost ball on the attacking 22 gave the game away for Woodies.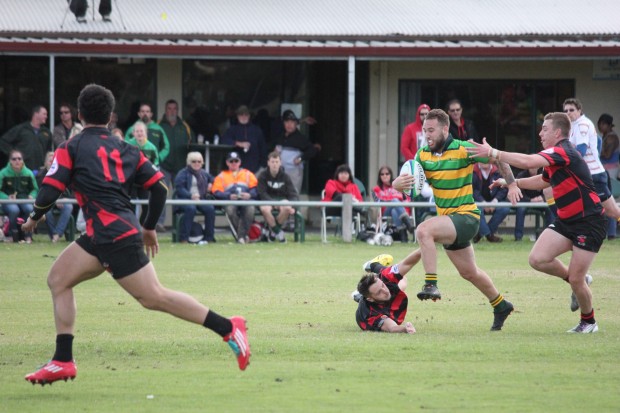 Onkaparinga's ability to stay cool under pressure in the tense final quarter was commendable, as their uncompromising brand of rugby continues to impress this season. Best players for the boys in black and red go to Scrumhalf Troy Doughty and No10 Tom Bray, who linked up well to score a try each. In the forwards it was back rowers Isaac Nathan and Andrew Scott providing strong support to standout No8 James Buckland that allowed Onkas to have a strong foundation to move forward.
For Woodies it was No10 Joe Smellie providing the forward impetus, with great support from hooker Jacob Parry, prop Tom Price and an incredible defensive display by flanker Tim Hudson, who barely missed a tackle. Strong running from second rowers John Doran and Brando Pericic was also evident all day long.
Other Matches
Brighton 118 def Barossa 3
Unfortunately for the Barossa Rams it was another comprehensive beating against a Brighton side that was never going to let one like this become close. Not much to say about this one except that it was a great effort by the Barossa team to continue to compete and exert maximum effort for the entire game against a superior side. Best players for Brighton go to Troy Wilkins, who showed great kicking skills to accumulate 33 points for the game.
Also of note, Jack Cook, Henry Bradford, Dan Naylor, Patrick Fahy, Ren Pahau and Paul Moynihan each scored a brace of tries. For the Rams it was second rowers Alan Bland and Matthew Anderson who battled bravely. Barossa will be hoping that a number of their senior players will be returning shortly.
Burnside 45 def Port Adelaide 25
Similar to the Woodville Vs Onkas match, the momentum swings in this game were large and decisive. Burnside came out with all guns blazing as they stormed to a big lead in the first half. Some committed forward running paired with some nice backline combinations that began to click saw Burnside outmuscle and outpace Port for much of the first. Port Adelaide was clearly missing Captain Tim Mattin who was out with a forearm/wrist injury once again.
In the second half however things started to click for port Adelaide, as they became more aggressive and capitalized on a number of mistakes made by a possibly complacent Burnside team. In the end it wasn't enough however, as nice play from Nigel Lam Sam, who scored a hatrick from the flank and Dan Hartman, who scored two tries, to keep Burnside in control. Inside center Callum Walton had a strong game with the boot as he saw Burnside to a good win. For Port it was try scorers Peter Garden, Brian Ridley who were leading the charge, as Ani Kane scored a brace out wide.
Old Collegians 54 def Southern Suburbs 3
After a great performance against WOODVILLE LAST week, Souths were taken back to reality by an excited Old Colls team that continues to grow in confidence. Whilst Southern Suburbs were competitive at scrum time, their dysfunctional lineout provided Old Colls with easy turnover ball and a lot of possession. After a preseason commitment to improved discipline by head coach Tyrone Tepiaho, South's coaches will be left scratching their heads after seeing three of his players receive yellow cards for repeated infringements and reckless.
For Old Colls it was a well-executed game as they continue to build on an already impressive year. Man of the match for Old Collegians must go to fullback Will Saddler, who scored 3 tries, hit 4 conversions and two penalties to amass 29 points for the day. Other standouts, were Chris Bartlett and Paddy Macklin, who both performed well out wide for Old Colls, while in the forwards, it was long time Old Colls players Timothy Dawes and Jack Campion who were outstanding, both scoring tries. Despite the defeat, Craig Earnshaw, Tomassi Ranamanuamu and Arno Ziervogel were fantastic in getting South's going forwards with some strong running.Old Colls will also be excited by the return of Henry Nutt to first grade action after shoulder surgery.
Second Grade
Onkaparinga 65 def Woodville 10
Burnside 60 def Port Adelaide 0
Old Collegians 55 def Adelaide Uni 7
Brighton 36 def Elizabeth 3
Women's Premier Grade
Onkaparinga 49 def Woodville 5
Old Collegians 20 def Southern Suburbs 0
Burnside Bye
Third Grade
Southern Suburbs 24 def Old Collegians 13
Onkaparinga 24 def Adelaide University 6
Brighton 20 def Barossa 0
Fourth Grade
Port Adelaide/North Torrens 22 def Burnside 17
Onkaparinga 43 def Adelaide University 10 
Old Collegians v Bye
Ladder
Coopers Premier Grade

  Team

P

W

D

L

F

A

Df

BP 4t

BP <7p

Pts

Burnside

2

2

0

0

149

25

124

2

0

10

Old Collegians

2

2

0

0

84

22

62

1

0

9

Onkaparinga

2

2

0

0

74

37

37

1

0

9

Brighton

2

1

0

1

137

33

104

1

0

5

Southern Suburbs

2

1

0

1

35

64

-29

1

0

5

Woodville

2

0

0

2

32

58

-26

0

1

1

Port Adelaide

2

0

0

2

40

93

-53

0

0

0

Barossa

2

0

0

2

3

222

-219

0

0

0
Next Round's Fixtures
Next Round:  Round 3 – 10/05/2014

Home Team

v

Away Team
Location
Time
Burnside

v

Brighton
Parkinson Oval / 1
3:20pm
Onkaparinga

v

Old Collegians
Wilfred Taylor Reserve / 1
3:20pm
Port Adelaide

v

Woodville
Riverside Oval / 1
3:20pm
Southern Suburbs

v

Barossa
Bailey Reserve / 1
3:20pm