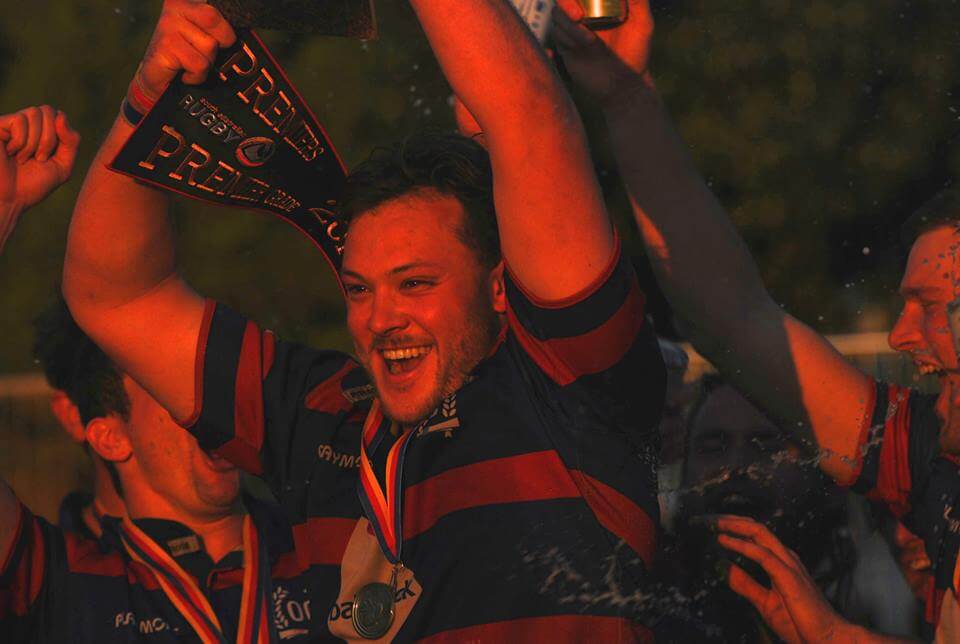 SA Rugby 2014 Grand Final: 20/09/2014, Victoria Park
So that's it SA Rugby fans. Over the weekend we were treated to a feast of highly competitive action. There were some truly intense matches, a number of historical results and just some awesome rugby all round. At the end of the day, South Australian Rugby crowned its 2014 Coopers Premier Grade champions, the Old Collegians Rugby Union Football Club.
Coopers Premier Grade Grand Final Review:
Old Collegians 41 def Burnside 19
The winds of change were blowing, as on Saturday SA rugby saw its first Premier Grade final not featuring Brighton since 2002. It was a picturesque setting, with the old grandstand of Victoria Park overlooking all the rugby action of the day. Conditions were excellent, with blue skies for running rugby and a moderate breeze just to keep things interesting. Old Colls were the hot favourites for this one, after a stellar season that saw them lose only one match all year. That wasn't going to faze the underdogs though as Burnside came ready to play from the kick-off.
First Half
And the nerves showed early for an Old Collegians team heaped with expectation. The initial kick failed to travel 10m, awarding Burnside an early scrum and immediate momentum. With an early intercept and length of the field dash by Burnside's Fraser Green, saved only by a desperate tackle five metres out by the opposite Old Colls winger Mitchell Oak, we were off to an exciting start.
It didn't take Burnside long to capitalise on a fast start, when their flyhalf Matt Love darted through the stretched College line to cross after 8 minutes of play. But when the conversion was missed, as was a following penalty soon after, Burnside was failing to capitalise on their opportunities.
It was only eight minutes later when old Colls struck back. After finally gaining some territory, a five metre scrum found Burnside short on the blindside, as winger Chris Bartlett crossed for his first of the day. Will Sadler was having a great first half at fullback for Collegians, with some terrific tackles and composed kicking setting the example for his teammates.
But it was Burnside responding quickly, with a try very similar to their first. Fullback Mac Heaney was able to squeeze through a stretched defense as Old Colls were caught short out wide again. Second rower Dan Hartman was very good here for Burnside, both in the lineouts and as a primary ball carrier.
But in a back and forth affair, the minor premiers didn't take long to respond. Their set play was doing them all sorts of favours, as a ten metre driving maul from the lineout saw their No8 score.
With the first half winding down, a stunning try from Will Sadler saw him come into the line from fullback, break one tackle before stepping twice off his right foot and crossing under the posts. Burnside again failed to convert a penalty, leaving a total of 8 points on the field. After a dominant start, they went into the half trailing 12 – 17.
Second Half
That was as close as they got. After another missed penalty early in the second half, Old Colls completely took over the game. Through the first ten minutes of the second half were scrappy, with neither team able to grab the momentum, it was Burnside who looked to suffer from the level of intensity displayed throughout the game so far.
A 20-minute period showed the crowd just how good the Old Collegians team were, and why they deserved this year's trophy. Gary Mann was strong, running the ball and thrilling some immense tackles. Likewise, Henry Nutt provided a huge spark off the bench, as his play around the rucks and off his five-eight set up numerous tries.
Those 20 minutes saw Old Collegians No12 Paddy Macklin power through a pack under the post, No10 Rob Smedley similarly swoop through after numerous phases, Chris Bartlett score his second with a length of the field sprint from a Burnside turnover and Will Sadler cross in the corner, also for his second of the day.
Few teams would have been able to stop the composure, power and speed of Old Colls in that period, as they lifted their intensity like only championship teams can. The final few minutes saw Burnside flanker *** cross for a consolation try, to give us our final score.
After a dominant season, Old Collegians were simply the best team in the league this year. A big congratulations to Burnside on their finals run, and to Old Collegians on their championship.
G&G Man of the Match: Old Collegians Fullback, Will Sadler
Second Grade
Old Collegians 32 def Onkaparinga 5
Women's Premier Grade
Southern Suburbs 19 def Onkaparinga 12
Third Grade
Southern Suburbs 20 def Brighton 12
Fourth Grade
Adelaide University 18 def Onkaparinga 15
Thanks for a great season SA rugby fans, get ready to do it all again next year.