The Melbourne Rebels ended Sunday in damage control. Unfortunately, their ten-try drubbing at the hands of the Sharks in Durban overnight was only half the story.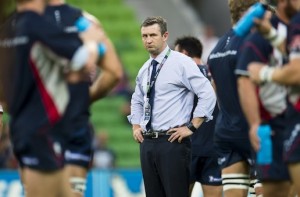 I'll admit it, I've been putting this off. I didn't watch the game this morning, as I had Run For The Kids early Sunday morning. The radio woke me up in time to hear the sports report, and I learnt that the Rebels had been shellacked. Disappointing, yes, but not particularly unexpected.
The Sharks were wounded after falling victim to the rampaging Brumbies last week. They were determined not to let the slow start that cost them that match happen again, and pressured the breakdown from the whistle, causing Gareth Delve to concede a penalty a minute in. Though it was missed, the Sharks would cross five minutes later, Keegan Daniel taking advantage of a Rebel handling error and Louis Ludik crossing for his first of two tries for the evening.
The Sharks pack dominated, pushing Marcell Coetzee over in the 23rd and Jacques Botes in the 31st. After Daniel crossed four minutes later, the Sharks had eclipsed the amount of tries they had scored in the previous four games, and led 24-0 at half-time.
I'm not sure if you'd call it a classic Rebels second-half fade-out – as you usually need to be faded-in at some point for it to qualify as a fade-out – but the second half only got worse for the hapless visitors, with the Sharks piling on another six tries, including four in ten minutes. Kyle Cooper in the 41st, Cobus Reinach in the 45th, Tendai Mtawarira in the 49th, and Ryan Kankowski in the 51st made the Victorians look stupid, and even made the Sharks' first-half efforts look a little lazy. It was 50-0 after 51 minutes. For maths geniuses out there, that's basically a point a minute.
Louis Ludik scored his second in the 55th, and Riaan Viljoen put an end to it just on the hour, grabbing the record with the Sharks' tenth try. The fact that Delve was held up over the line a few minutes later, and Higginbotham would go on to score in the 70th minute, serves only as the most useless window-dressing possible to a disappointing night for Rebels fans.
Disappointing, I can excuse. It's part and parcel of following a new club. What I can not, and will not excuse, are the events that followed.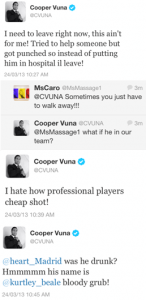 As broken right here on GAGR, there was an altercation between Cooper Vuna and Kurtley Beale on a team bus following the match. Allegedly, the bus was returning from a bar to the team hotel, when Kurtley took his shirt off. After being told to put it back on by Gareth Delve, Kurtley lashed out at the captain. When Gareth was defended by Cooper Vuna, Kurtley threw a punch.
This raises so many questions, I don't know where to start. Why is the team going to a bar when they've just been thrashed by 57 points? They should still be doing laps of Kings Park after that performance. Why is Kurtley with the team if he's not expected to play, and if he was visibly drunk, why was he not disciplined beforehand and taken away from a group? In fact, why is he even drinking when he's in the middle of mediation for an assault charge?
The thing that gets me, though – the thing that really gets me – is what I heard later, from a South African friend of mine who met the players in the hotel after the match, where some were, apparently, still drinking. According to them, very few of the Rebels looked like guys who had just lost by nine tries. They were having a jolly old time.
As I said, I've been disappointed with the Rebels before, but I've always been proud to be a part of the club. Until tonight.
Congratulations, Rebels, you climbed Everest, because tonight, I'm ashamed.
I'm ashamed because I've come to the realisation that there are people in this club who don't appreciate the privilege of representing the great state of Victoria. We are the home of the longest continuous state rugby competition in the nation. We are the state of Sir Edward 'Weary' Dunlop, of Ewen McKenzie, of Ioane, Elsom and Fitter.
We are not Super Rugby's Animal House.
If these people don't care enough about how they make this team, this city, this state and this jersey look, then why the hell should I?
The Melbourne Rebels are suffering from a culture that rewards failure, and leadership that lacks either the power or the will to stand up and defend the club that thousands of ordinary Victorians fought for so long to obtain.
I hope they read this, and realise that they have no right to treat my club, their club, our club, this flippantly. If nobody has the courage to defend what we've built, and the foundations that we built it on, then we might as well pack up and go back to supporting the Brumbies.
I thought going to Bruce Springsteen tonight would cheer me up, but apparently it hasn't. So I'll leave you with this, in the hope that you can forget this sorry mess a lot quicker than I.
Tries: Louis Ludik 7′ 55′, Marcell Coetzee 23′, Jacques Botes 31′, Keegan Daniel 35′, Kyle Cooper 41′, Cobus Reinach 45′, Tendai Mtawarira 49′, Ryan Kankowski 51′, Riaan Viljoen 59′
Conversions: Patrick Lambie 8′ 24′, Meyer Bosman 42′ 46′ 49′ 52′ 55′
MELBOURNE REBELS 7
Try: Scott Higginbotham 68′
Conversion: James O'Connor 69′
GAGR REBEL MOTM = Lachlan Mitchell. Gave his all for the entire match as his teammates were crumbling around him. An honest trier.