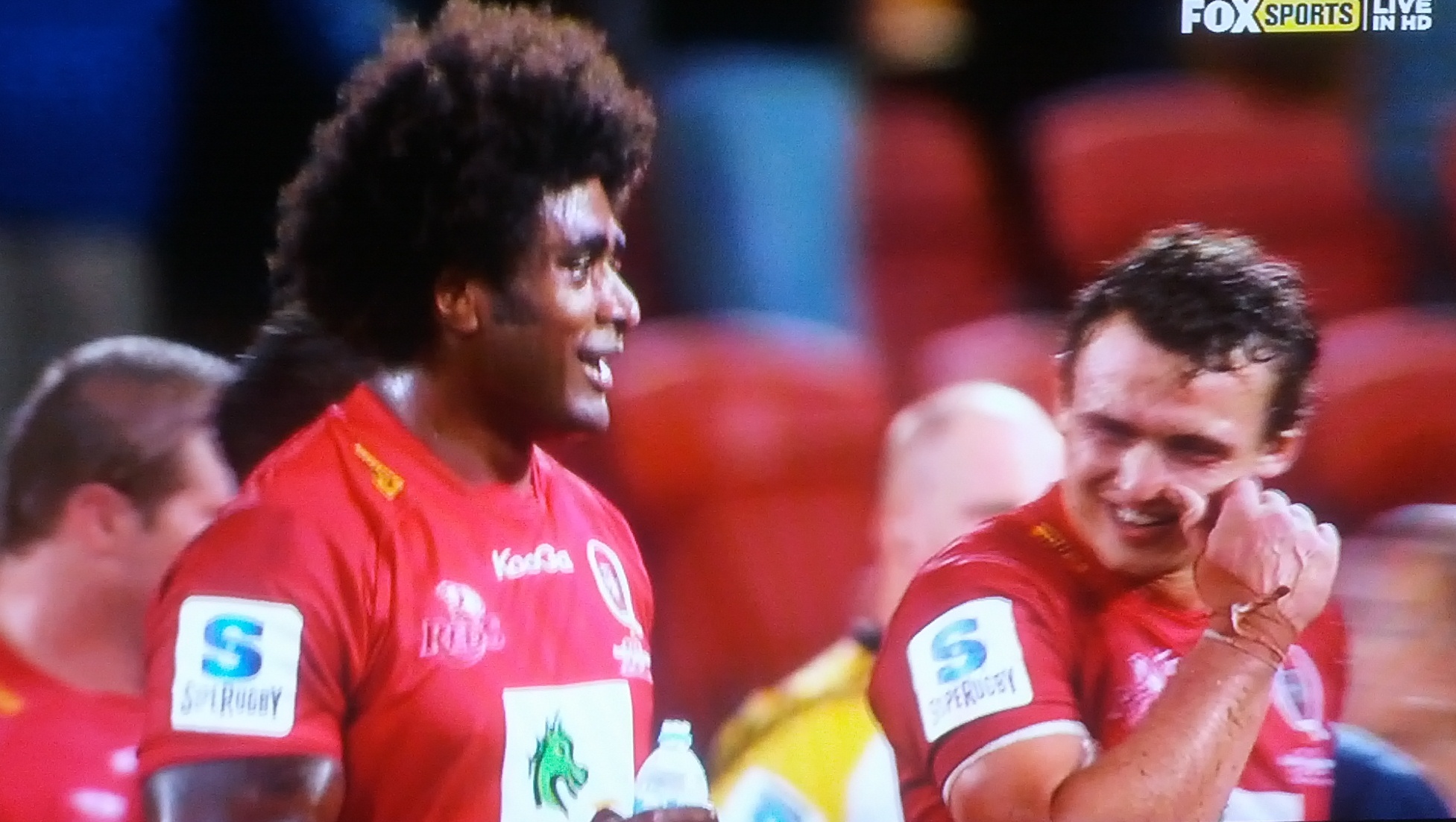 The Queensland Reds gave us our first opportunity to see an Aussie side take on a Kiwi one, when they faced their NZ Bogey team the Hurricanes at fortress Suncorp.
The Match
The teams traded penalty shots as they felt each other and the ref out, Quade Cooper proving he was accurate enough to cover the boot of Mike Harris who was riding the pine. The Reds were obviously working to avoid giving the Hurricanes any ball at all, so much so that the stats had the Reds at 100% possession 9 minutes in. When the Hurricanes finally did get the ball, it was clear that was the right tactics as they threatened every time.
Some forward rumbling eventually paid when Digby Ioane hit the line – at pace and on a good angle – after rolling phases from the Reds to score the first try of the night. Quade Cooper missed the conversion. The score remained 11-9 as the game reached half time, but it wasn't from a lack of trying as both teams attacked hard.
The Reds came out and were ready to work. For the first ten minutes the Reds pack did a great job, eventually resulting in a Rob Simmons try. They kept it tight, ground away and in the end it was a short step over for the Queensland lock's first Super Rugby try. Quade Cooper continued his good form with the boot and added the extras.
The last quarter was punctuated with some stoic defence and some baffling (and brilliant, Andrew Lees) officiating. The Reds however dug deep to eventually take the game 18-12. A match they should be able to take plenty from, both in effort and ability to follow the game plan, as the season wears on.
---
The Game Changer
Digby Ioane worked hard all night and his first try at Suncorp since he scored in the Final in 2011 certainly was good. It could have been the try from Rob Simmons early in the second half that really gave the forwards the belief that their hard work was getting results. But really it was the 60th minute (roughly) brain farts by ref Steve Walsh as he shoved players out of the way and invented obstructed defenders.

The G&GR MOTM
From their grinding play that led to the first try, to the tight head they won to open the first half, It had to be the Reds forward pack. Especially their back row, which is really developing a nice balance to it. Yep, I'm not picking one and you can't make me. Official MoTM was Liam Gill.

Wallaby watch
The Reds pack as a whole were good and there were some flashes of brilliance (and lost-headedness) from the Reds backs, but I honestly don't think any one player would have changed any selectors minds tonight. This was a team win more than one built on any individual.

---
The Details
Crowd: 30,995
Score & Scorers
Home Team: Reds
Tries: Ioane, Simmons
Conversions: Cooper 1/2
Penalties: Cooper 2/2 Away Team: Hurricanes
Tries:
Conversions:
Penalties: Barrett 4/7