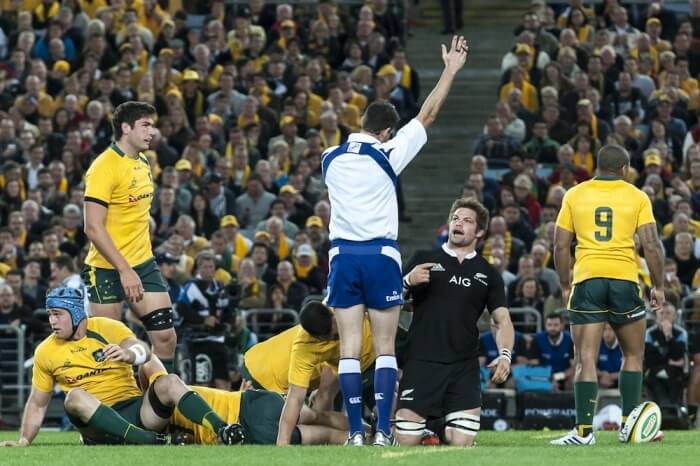 The match officials for the RWC quarter-finals were announced today, with Wayne Barnes, Nigel Owens, Jerome Garces, and Craig Joubert getting the nods.
Owens will referee the blockbuster between France and New Zealand on Saturday at the Millenium Stadium, soothing a nationwide blood pressure surge at the prospect of Wayne Barnes getting the job in a reprise of 2007.
Craig Joubert will look after the Wallabies v Scotland encounter. His no-nonsense approach towards slowing the ball down, cynical play, and players rolling into the 9 should be good news for a Wallabies team that will look to play up tempo rugby, so long as they don't commit discipline suicide again themselves.
The big surprise is the appointment of Garces (26 tests refereed). Romain Poite (43), Jaco Peyper (24), and even Chris Pollock (21) might have been seen as better candidates for the money rounds and certainly the first two will be bitterly disappointed at their exclusion. Peyper has received plenty of top level appointments over the last eighteen months and really is the rising star of the SANZAR cohort, while the very experienced Poite controlled the highest pressure pool fixture, Australia v England, close to faultlessly.
The designated tournament Assistant Referees head home to look after their respective domestic competitions, doubtless with their appetite whetted for higher honours in four years' time.
Saturday, October 17
QF 1 – South Africa v Wales
@ Twickenham Stadium, London
Referee: Wayne Barnes  (England)
Assistant referees: George Clancy (Ireland), JP Doyle (England)
TMO: Graham Hughes (England)
QF 2 – New Zealand v France
@ Millennium Stadium, Cardiff
Referee: Nigel Owens (Wales)
Assistant referees: Jaco Peyper (South Africa), John Lacey (Ireland)
TMO: Shaun Veldsman (South Africa)
Sunday, October 18
QF 3 – Ireland v Argentina
@ Millennium Stadium, Cardiff
Referee: Jérôme Garcès (France)
Assistant referees: Romain Poite (France), Chris Pollock (New Zealand)
TMO: George Ayoub (Australia)
QF 4 – Australia v Scotland
@Twickenham Stadium, London
Referee: Craig Joubert (South Africa)
Assistant referees:  Glen Jackson (New Zealand), Pascal Gauzere (France)
TMO: Ben Skeen (New Zealand)