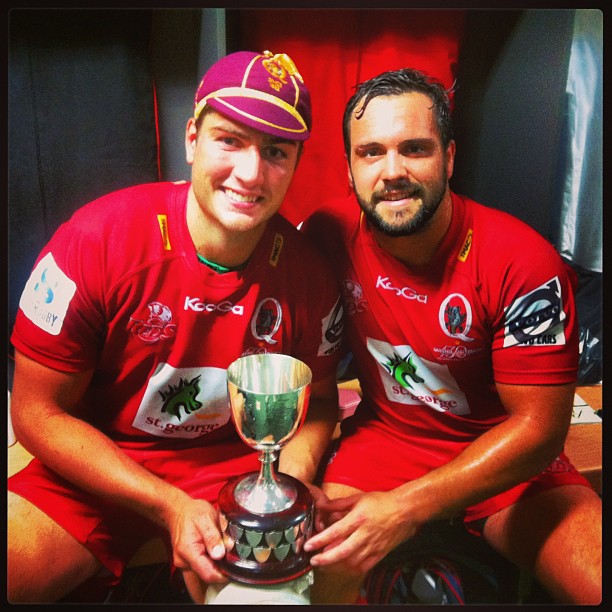 There's a lot to get excited about when the Hurricanes come to Brisbane. As a Reds supporter you know that this is a team that knows how to beat us. They play fast exciting rugby that's great to watch. When they're not playing the Reds! When they do play the Reds it's edge of my seat stuff with a touch of "oh please let us win this time" muttered under my breath over and over again.
So I thought I'd look at 5 things that's got me excited about Friday night.
The 13's: Chris Feauia-Sautia V. Conrad Smith
To me Conrad Smith is the best 13 in the world. He plays the way I think an outside centre should play. He's fast and goes hard with the ball in attack and hard at the ball in defence. He sets up space for his back 3 and because people know this it makes more room for him to run himself. Chris F Sautia is a very talented young player with a huge rap from his schoolboys days. The whispers coming out of Ballymore say he's strong and fast with an amazing step. Can he keep up with Conrad. I don't know but I'm eager to see the young buck have a real go.
Up Front: James Slipper V. Ben Franks
Ben Franks is a monster of a prop with a McGaw like ability to "accidentally" fall on the wrong side of a ruck. Famous for chucking huge amounts of weight around a gyms and being one half of the Franks brothers. This year he's left his brother and moved up the road to Wellington to strengthen an already pretty damned good scrum. While Slipper is one of the smaller tighthead props running around in Australian rugby he's no mug. He quite regularly accounts for himself quite well while doing a mountain of work around the field. This is a key match up and has me salivating like an old Prop at a great Steakhouse.
Number 2's: Saia Faingaa V. James Hanson
I know i know. They're both Reds players but they are having a ding dong battle for the Reds number 2 jersey at it's just wonderful to watch to guys going as hard as they can for the same jumper. The look on Saia's face when he was pulled a little early in round 1 would melt paint at 20 metres. In round 2 he cut down heavy timber all day and really put in the hard yards. I can't wait to see what Hanson comes back with this week. The rivalry between these two could be special.
Blindsided: Ed Quirk V. Victor Vito
Victor Vito burst on to the Super Rugby stage like a runaway train. And Ed Quirk did a pretty good imitation of that train last week. There have been rumblings about Quirk for years but he's had to bide his time behind the free running Higginbothan for a few years now. Higgers had gone south to freeze his butt off and sip lattes for the Rebels and Ed has grabbed his old jersey with both hands. There are a glut of young backrowers around Brisbane right now so he's going to have to play well to keep it. Getting the better of Victor would keep the pack at bay for a fair while I reckon. If I know 1 thing about Ed Quirk it's that we won't die wondering. He'll give everything he's got.
The Comeback Kid: Radike Samo
We love Radike! He's my daughters favourite player. The first 20 minutes of the 2004 Super Rugby final where he tore the Crusaders apart is some of the best rugby I've seen. But as a Red in the twilight of his career he's been a revelation. Not as a second rower but as a #8. The one handed pick ups, the long distance tries, the afro what's not to love. You can pick him in nearly every photo I've seen of him. He's the guy towering over everyone else. Remember to give him a big sheer when the Reds reserves warm up. Maybe we can even get a wave out of him.
The Lineups:
| | Reds V. Hurricanes | |
| --- | --- | --- |
| Date: | Friday 01 March | |
| Location: | Suncorp Stadium, Brisbane | |
| Kickoff: | 8:20pm (L), 9:20pm (AEDT) | |
| Reds | | Hurricanes |
| Greg Holmes | 1 | Ben Franks |
| Saia Faingaa | 2 | Dane Coles |
| James Slipper (c) | 3 | Jeffrey Toomaga-Allen |
| Rob Simmons | 4 | Jeremy Thrush |
| Ed O'Donoghue | 5 | Jason Eaton |
| Ed Quirk | 6 | Victor Vito |
| Liam Gill | 7 | Karl Lowe |
| Jake Schatz | 8 | Brad Shield |
| Ben Lucas | 9 | TJ Perenara |
| Quade Cooper | 10 | Beauden Barrett |
| Digby Ioane | 11 | Julian Savea |
| Ben Tapuai | 12 | Tim Bateman |
| Chris Feauia-Sautia | 13 | Conrad Smith (c) |
| Dom Shipperley | 14 | Alapati Leiua |
| Aidan Toua | 15 | Andre Taylor |
| | Reserves | |
| James Hanson | 16 | Motu Matu'u |
| Albert Anae | 17 | Reggie Goodes |
| Adam Wallace-Harrison | 18 | James Broadhurst |
| Radike Samo | 19 | Faifili Levave |
| Mick Frisby | 20 | Chris Smylie |
| Mike Harris | 21 | James Marshal |
| Luke Morahan | 22 | Reynold Lee-Lo |
| | | |
| Referee: | Steve Walsh | |
| Assistant Referee 1: | Andrew Lees | |
| Assistant Referee 2: | Damien Mitchelmore | |
| TMO: | Steve Leszczynski | |
The Fearless Prediction
This is a bloody good Hurricanes side. And this is a Reds side still missing key players. But after going with my head last week this week I'm going with my heart. The Reds will take it! By 8! But I'll be the guy muttering into his beer. "Please let us win this time" "Please let us win this time" "Please let us win this time"