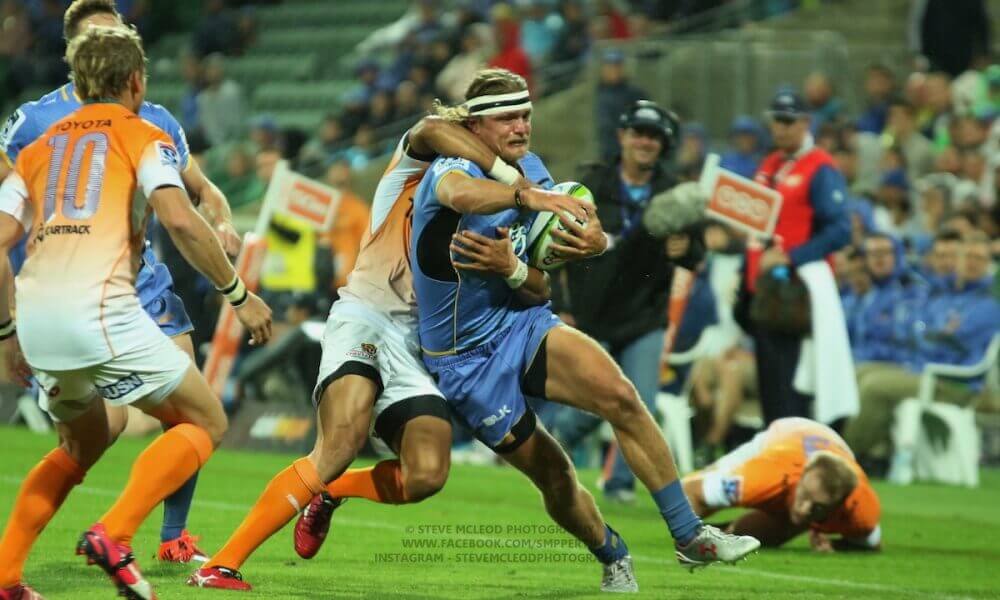 The Western Force kick off their 2019 season with a hastily arranged match up against an invitational World XV outfit.  Billed as a Rapid Rugby Showcase, the match will act as a prelude to the recently announced 2019 Global Rapid Rugby Showcase which commences Friday week in Perth.
The Teams:
Force coach, Tim Sampson, has named a familiar line-up with the starting team filled with players who featured for the Force through last year's World Series Rugby as well as the National Rugby Championship.   The team is again built around their backrow workhorses in Chris Alcock and Brynard Stander and their experienced halves in Ian Prior and Andrew Deegan.
The international centre combination of Henry Taefu (Samoa) and Marcel Brache (USA) are sure to be a focus of the team's attack.  New recruits Andrew Ready and Nick Jooste, both most recently based in Brisbane, are set to make their GRR debuts from the bench.  Perth born Jooste joins the Kieran Longbottom  and Clay Uyen as locals in the team, while the likes of Brad Lacey and Tevin Ferris have come through the Perth system.
Western Force: 1. Cameron Orr, 2. Feleti Kaitu'u, 3. Kieran Longbottom, 4. Johan Bardoul, 5. Jeremy Thrush, 6. Henry Stowers, 7. Chris Alcock, 8. Brynard Stander, 9. Ian Prior, 10. Andrew Deegan, 11. Clay Uyen, 12. Henry Taefu, 13. Marcel Brache, 14. Brad Lacey, 15. Jack McGregor.
Replacements: 16. Andrew Ready, 17. Harrison Lloyd, 18. Chris Heiberg, 19. Leon Power, 20. Tevin Ferris, 21. Issak Fines, 22. AJ Alatimu, 23. Nick Jooste
The World XV will be coached by GRR fan, Robbie Deans and feature a few players with strong connections to the west. Former Wallaby outside backs, and Force players, Digby Ioane and Nick Cummins are sure to receive a strong welcome when they run out on Friday night. They will be joined by other Aussies including centre Dylan Riley, backrowers Michael Oakman-Hunt and Jack Cornelson and prop Tom Moloney.
Former All Blacks Andy Ellis, Corey Flynn and Wyatt Crockett are the stand out international names, while Gio Aplon, Leonardo Senatore and Kosei Ono provide further test match experience.
World XV Squad: Gio Aplon (South Africa), Yoshikazu Fujita (Japan), Nick Cummins (Australia), Digby Ioane (Australia), Jamie Spowart (New Zealand), Dylan Riley (Australia), Inga Finau (New Zealand), Kosei Ono (Japan), Leon Fukofuka (Tonga), Andy Ellis (New Zealand, captain), Leonardo Senatore (Argentina), Hugh Renton (New Zealand), Michael Curry (New Zealand), Shota Fukui (Japan), Michael Oakman-Hunt (Australia), Jack Cornelsen (Australia), Hamish Dalzell (New Zealand), Tom Moloney (Australia), Chris King (New Zealand), Shohei Hirano (Japan), Wyatt Crockett (New Zealand), Greg Pleasants-Tate (New Zealand), Corey Flynn (New Zealand)
The Players:
Jack McGregor – built his way into the season for the Force last year having seemingly taken a little while to adjust to the new team and a new position at fullback.  By the end of the season his play from fullback was equal parts threatening and composed.  Plays a 2nd playmaker role alongside Deegan to allow the hard running centres to run their attacking lines.  Definitely a player capable of going further in the game.
Nick Cummins – The Honeybadger last played for the Wallabies in 2014 and then had a few games for the Aussie 7s team in the hope of an international comeback.  Despite moving to Japan to further his career, Cummins is arguably the highest profile rugby player in the country due to his time on The Bachelor TV show. A much underrated player in his day, he was a fantastic finisher and hard worker across the park, it will be fascinating to see how much he has to offer these days.
The Rules:
A quick recap of the laws in play for this game:
Nine points for a try that begins within a team's own 22m zone.
Kicks out in the full inside your 22m are a lineout to the opposition from where the kick occurred.
A 10/22 kicking rule. Basically kicks from behind the defensive 10m line (no passing backwards) that land and go out in the opposition 22, the kicking team gets the ball.
Tactical substitutions (max of 10 a match)
35 minute halves.
The Expectations:
The Force have been training hard while they have waited for the season structure to be confirmed.  If the intent is truly to play fast and free flowing rugby they should win this in a canter.  Ben Darwin's cohesion theory will be in full effect as the Force combinations remain strong.  They should be finely tuned from a fitness perspective too so expect them to blast out of the blocks early.  With rolling interchanges and a mighty impressive bench, they should be way too strong for a team that has somewhat recently come together.
In saying that, there's no doubt that Deans will have the team focusing on fun footy as well, so expect some scrappiness as combinations struggle, but expect some fairly loose play as well. Will it live up the hype? Unlikely, but it should still be fun to watch.
The Match Details:
Friday 22 March, 2019
HBF Park (Perth)
Kick-off is 7:30pm local time
Broadcast details:
2230 – 0030 AEDT
SBS VICELAND and SBS OnDemand – LIVE to Eastern states only
Kayo Sports Live