Other than the loss of the much hyped AIC 1 team to GPS 2, the first day of the Queensland schoolboy trials went much the way that was expected.
GPS 1 showed they are still the benchmark in Queensland schoolboy rugby, AIC 1 lost two crucial players early on in their loss to GPS 2, the CSS teams showed they have the grit and determination to punch well above their weight but weren't able to scratch up a win and AIC 2 defeated GPS 3 in an evenly matched game.
GPS 1 vs CSS 1
In the last game of the night GPS started strongly with tackle breaking runs from hooker Alex Mafi and flanker Luke Papworth and they opened scoring when scrum-half Isaak Fines-Leleiwasa sniped from the back of the ruck and passed to centre Landon Hayes after drawing the fullback.
CSS then ventured into the GPS half and came back with three points after centre Sam Hicks converted a penalty.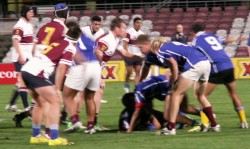 However GPS were back in CSS's 22 off the kick-off and a simple movement through the hands with an overlap saw winger Richard Aitsi cross in the corner.
GPS closed out the first half with another try in a 60 metre effort when fullback James Todd received an offload at lightning pace from his Ipswich Grammar schoolmate Hayes and slipped the defender with some stuttering footwork to score. All conversion were nailed by fly-half Mitchell Third to have the scores GPS 1: 21 – CSS 1: 3 at half-time.
GPS started the second half much like the first with flanker Patrick Morrey taking the kick-off and running 15 metres untouched into the CSS half.
A minute later after sucking defenders in with numerous pick and drives right on the CSS tryline, creating an overlap out-wide, Third threw a 3 man cut-out pass to Aitsi on the wing who strolled over untouched for his second.
GPS scored again after a short ball to Hayes broke the CSS line and put defenders on the back foot, creating space out wide for winger Isaac Nathan to streak down the touchline and run over.
The CSS team showed real grit and that they were determined to play running rugby against a much bigger and well-drilled opponent and a linebreak by winger Sioni Mapitoa got them into the GPS 22.
But sporatic spirited performances throughout the match by individual players such as fly-half Guy Hamilton  was not enough to challenge the GPS defence.
GPS scored twice in the last five minutes exploiting another overlap on the CSS try line putting Hayes over for his second and off the ensuing kick-off they spread the ball wide scoring another runaway try with no. 8 Maclean Jones running under the posts. Third kept an unblemished record with the boot nailing all 7 conversions.
GPS 1 – 49 (tries: Hayes 2, Asiti 2, Todd, Nathan, Jones, cons – Third 7) CSS 1 – 3 (pen Hicks)
GPS 2 vs AIC 1
The match started with a high intensity and the AIC team looked to be on top with some bullocking runs from Australian schoolboys Brad Wilkin and Junior Fakaosileo.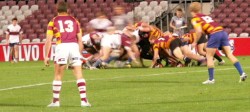 But AIC lost two high profile players in Junior and centre Henry Devine to injuries early on and GPS pushed back, opening the scoring after prop Joe McColl burrowed over, phases after a five metre lineout in the AIC 22.
After 10 minutes AIC managed to level the scores when a short pass by Wilkin put his Iona schoolmate prop Carter Ozanne over from five metres out.
AIC looked to have taken the lead before the break when a cut-out pass found replacement centre Dawson out wide who split through the defence, but the pass was ruled forward. The first half ended with scores level at 5 – 5.
In the second half GPS fullback Josh Bowyer ignited their attack, running through a disjointed defensive line after a clearance kick to get them into the AIC 22, and shortly after fly-half Nathan Russell barged through a two man tackle to score.
GPS then added another through winger Tyrone Southron five minutes later.
AIC answered GPS's two second half tries, after a linebreak by winger Liam Roberts created space out wide for fullback Adrian Henley to run 70 metres down the left hand touchline and dive over in the corner.
AIC continued to search for a third try to get within touch of GPS and an intercept and chip kick by winger Narhyl Bennett resulted in a five metre scrum after Bowyer had diffused the situation by kicking the ball out his own try area.
But a loose pass ruined the promising attacking opportunity and GPS managed to boot the loose ball into the AIC half were the match ended.
GPS 2 – 19 (tries: Russell, Southron, McColl, cons – Bowyer 2) AIC 1 – 10 (tries – Ozanne, Henley)
AIC 2 vs GPS 3
AIC managed to gain territory early on after strong running from the back of the scrum by 8. Ikaika Fa'aoso and scrum-half Laughlin Lewis putting flanker Sam Clarke through a gap.
However both teams could only be split on the scoreboard after a dropped ball was scooped up by centre Regan Glynn who ran 5o metres to score, giving AIC the first points.
The lineouts became hotly contested and GPS managed to secure a fair amount of ball.
With this possession and through strong running by no. 8 Jamason Fa'anana-Schultz and hooker Bronson Tauakipulu along with some pinpoint kicking by fullback Fred Dorrough GPS managed to pin AIC down in their 22.
Despite some skilful and unconventional clearance kicking from Lewis, GPS were able to camp themselves in the AIC 22 and a mistake at the back of the scrum on the five metre line gifted their first try to winger Ben Pearce to end the half tied at 5 – 5.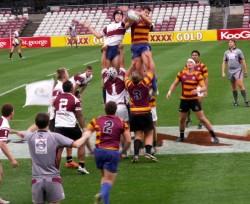 GPS continued on this trend and the first points of the second half came through winger George Partridge after a quick tap in the AIC 22.
However AIC replied through Partridge's opposite number, winger Jacob Manning after centre Todd Dawson ran through a gap out-wide and drew the fullback before passing.
AIC then took the lead after a GPS winger was wrapped up and turned over on his tryline fielding a kick from Lewis.
They managed to play the ball quickly and replacement centre Josh Tam exploited an overlap to score.
GPS came back looking for an equalising try, however their last effort was held up over the AIC tryline after the siren and the match ended on that note.
AIC 2 – 15 (tries: Glynn, Manning, Tam) GPS 3 – 10 (tries: Pearce, Partridge)
Chairmans XV vs CSS 2
Despite the exciting opening of running rugby the scores were opened with a 40 metre drop goal by CSS fly-half Robert Fuz.
But the Chairman's XV took the lead shortly after when winger Iziah Tittor made a streaking run down the right touchline, passing to a supporting Te Rupe who beat the fullback on the inside to score.
Te Rupe then grabbed his second late in the first half dummying through the line after the Chairmans XV piled considerable pressure on the CSS tryline. Scores at half time read Chairman's XV 14 – CSS 2: 3.
Chairman's XV centre Conrad Quick split the CSS defence on numerous occasions and after getting into their half, flanker Joshua Woods dived over for the first try of the second half after a quick tap in CSS's 22 caught the defenders off guard.
However CSS got more points on the scoreboard after getting deep into the opposing 22 and with an overlap Fuz sent a 2 man cut out pass to fullback Sigalu Collins who walked over.
The Chairman's XV hit back, regathering a bomb left untaken and phases later winger Serge Panochini crossed in the corner after some expansive play.
A break by CSS lock Scott Moreton got them back in the Chairman's 22 and they muscled their way over for a try.
But it came to late in the game and the Chairman;s XV walked away with a win by a margin of 11 points.
Chairmans XV – 24 (tries: Te Rupe 2, McHugh, Woods, cons: Quick 2) CSS 2 – 13 (tries: Collins, no. 19, drop-goal: Fuz)