After losses last week to the Waratahs and the Rebels this week is shaping up as a battle of the underwhelming head coaches for the Queensland Reds and the Western Force.  However, most [media] attention will be paid to Japanese import Ayumu Goromaru as he starts at fullback, with Hunt moving to inside centre.  Ben McCalman returns to the Force bench after a time in the Japanese Top League and I don't think it will be long before he is back in the starting XV.
The Reds' fans will be there to support this team of relatively green players but won't be there to support Graham.  Two trials and one Super Rugby match into the season and there are the inevitable calls for his head (made easier by the early departure of Reds chairman Rod McCall).
The Force have three ex-Reds playing (Jono Lance, Luke Morahan and Ben Tapuai in his first season away from the Reds) and a very solid forward pack to go up against the Reds pack coached by Nick Stiles.
Key matchups
Coleman v Simmons – As Reds captain, Simmons lasted 13mins before being sent to the bin, so hopefully he and his pack are much more disciplined this week.  However, I think this matchup is more around lineout than anything else.  The Reds have good set piece play in this space (last year it was a singular high point), occasionally let down by Saia, but there is a reason that Simmons is the lineout caller for the Wallabies.  Expecting that against a good lineout (the Rebels not known for theirs), Coleman will falter and Simmons will dominate here.  Both need to be clean around the rucks with referees on the whistle more in the first round this year than last.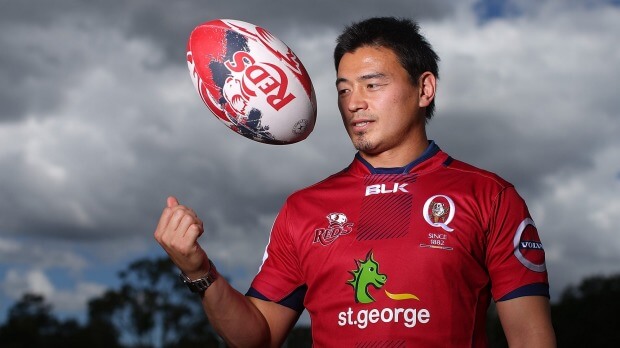 Goromaru v DHP – Goromaru certainly impressed in the 2015 World Cup and in only his third match for the Queensland Reds is starting at fullback.  He seems destined to take the kicking duties from Jake McIntyre, but the Japanese fans and Reds fans alike will be watching to see how he operates with this green backline.  Dane Haylett-Petty had a good 2015 for the Force (and a good match last week), but similarly is working with a newish backline with the introduction of Benny Taps and the elevation of Junior Rasolea because of last weekend's injury to Kyle Godwin.  Communication between Goromaru and his backline has been a key point in training, so tipping it pays off for his first start.
Saia Fainga'a v Referee – Let's be honest here, Saia is a serial infringer, plays loose with the rules and clearly has NOT perfected his 'it wasn't me' face despite years of practice.  He needs to clean it up or the Reds will be a man down again.  Andrew Ready had a great NRC and was in the starting XV for the Reds in their two trials.  Am tipping that with Ready's increased time at Super level and Saia's constant infringements, that Ready will be starting before the season is halfway through.
Prediction
Reds need to win here, with tries, to have any hope of holding their head high at the end of the season – start as you mean to go on and all that.  The Force need to win for similar reasons, but perhaps without the level of anti-coach sentiment.  Matt O'Connor should hopefully start to have an impact on the backs' ability to score tries and I think that the Queensland Reds set piece play will outpoint the Force.
Reds by 15 (fingers crossed)
Queensland Reds
1. Ben Daley
2. Saia Fainga'a
3. Greg Holmes
4. Cadeyrn Neville
5. Rob Simmons (C)
6. Hendrik Tui
7. Curtis Browning
8. Jake Schatz
9. Nick Frisby
10. Jake McIntyre
11. Eto Nabuli
12. Karmichael Hunt
13. Samu Kerevi
14. Chris Feauai-Sautia
15. Ayumu Goromaru (run-on debut)
Reserves
16. Andrew Ready
17. Sef Fa'agase
18. Sam Talakai
19. Ben Matwijow
20. Michael Gunn
21. Scott Gale
22. Sam Greene
23. Junior Laloifi (Queensland/Super Rugby debut)
Western Force
1. Pekahou Cowan
2. Nathan Charles
3. Guy Millar
4. Steve Mafi
5. Adam Coleman
6. Brynard Stander
7. Matt Hodgson
8. Angus Cottrell
9. Alby Mathewson
10. Jono Lance
11. Semisi Masirewa
12. Solomoni (Junior Rasolea)
13. Ben Tapuai
14. Luke Morahan
15. Dane Haylett-Petty
Reserves
16. Heath Tessmann
17. Chris Heiberg
18. Jermaine Ainsley
19. Ross Haylett-Petty
20. Ben McCalman
21. Ian Prior
22. Peter Grant
23. Marcel Brache