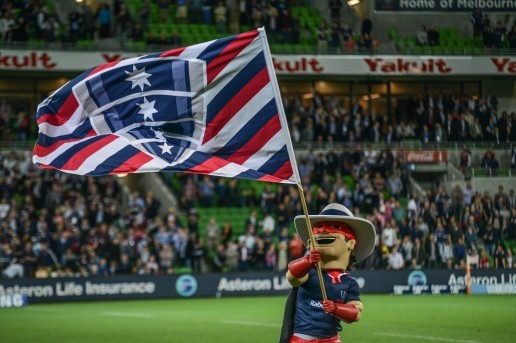 G'day sports fans, and welcome to another edition of RebelTalk ™, broadcasting in mono to all parts of my house. Great to be talking to myself for another week.
And so it all comes down to this; two teams with nothing to play for except pride, and the chance to be a temporary smudge on Cheika's weekly "Wallaby Watch" whiteboard.
The phone lines are open, so let's get your feedback. Call 13YAWN and let's get it on!
While we are waiting for the callers to start rolling in, let's recap the year so far for both teams.   Why don't we start with everyone's fiffh favourite Oz conference team, the Western Force. Gee, what can you say about the blokes in blue from the West? Well, my mum once told me that if you can't say anything nice, don't say anything at all. Luckily for me I stopped listening to the old duck years ago, so there is no reason I can't put the boot in.
We often complain about the unfairness of blaming the coach for the team's woes.  In many cases, the coach does cop a whack that should rightfully be directed to the players. Unfortunately for Mr Foley, this is not one of those occasions. OK, challenge time: The first Sandgroper caller through with an example of a single bit of progress Foley has brought to the Force wins one of Gina Rinehart's spare iron ore mines.
My completely unreliable sources tell me that the Force are fielding calls from France and Japan regarding Foley's availability.  Although, it appears that it is just teams from those countries asking the Force board to stop trying to palm Foley off on them. I swear I even heard calls last week to bring back the Firepower dude as a major drinks sponsor.
No-one on the phone yet? No, my producer (me) is shaking his (my) head and the lines have completely failed to light up so far. Never mind, I'll keep plugging on.
Credit where it's due, you have to give the Force fans some credit.  The fans keep turning up week in and week out, even though they know they are going to be as disappointed as someone on a six-figure salary trying to buy a house in Sydney.  A year to forget, no doubt?  Do all true Oz rugby fans hope that after all these years in the Super comp, the Force start to realize their potential.
Ha, gee, I couldn't get through that last bit without laughing; all true Oz rugby fans are delighted the Force are this bad, as it saves the rest of us from worrying about the wooden spoon. The only person in Oz rugby who would be more grateful for Michael Foley's existence is Richard Graham.
And what of the Rebels? Well, knock off the Force and it is a season that has wiped its face; even stevens in the win/loss ratio department. Hell, we'll take that. After pre-seasons from recent years that promised much and delivered sweet FA, at least there appears to be tangible improvement this year. I hate to say I told you so, but Tony and his coaching department have proven beyond doubt that the team is better than when he came on board. Excellent recruiting and one hell of a team spirit is paying dividends; the proof is in the early and consistent re-signing of players throughout the year.
Have to say though, that the talk of finals in the latter half of the year was optimism on a grand scale.  This only proves  that the Rebels faithful (myself included) have a tenuous grasp on reality.  Having said that, 2016 will be fraught with expectation, especially if the Melbourne Rebels Rising in the NRC have another solid campaign.
Any calls? No? Is anyone even listening?
Well, let's talk about match-ups. No, actually, let's not.  The team sheets are listed below, you can bloody well see for yourself who is playing against who.
As always, the last game is traditionally tinged with sadness as we say thanks and farewell to departing players.  So to Burgo, Higgers, PAE, Cadeyrn and any others who are moving on, all the best boys.
And a special shout-out to the Rebels faithful; you lot bring the Stockade to life every home game, and I love how 10,000 at AAMI Park has the same decibel levels of 80,000 at the MCG
So, my fearless prediction is that the Rebels will grab this game by the throat and run out winners by at least 20 points. That's right, I said it.
So we bring the curtain down on Rebels Rugby in 2015, and also on this radio broadcast.  My agent has not received a contract renewal from GAGR (supposedly due to "legal issues" and "consistent lack of output quality").  So, I will be seeking new opportunities elsewhere as well.
Don't fret listeners, like an Oz rugby player turning his back on national representative glory, I too shall be looking to the northern hemisphere for a retirement payday. In fact, le club du Lille Métropole Rugby have been promoted into the French D2 and entraîneur Morgan Turinui has offered me a wedge of smelly cheese and a bottle of plonk to not write about them. Money for nothing. Perfect!
Rebels v Force
| | | |
| --- | --- | --- |
| | | |
| Toby Smith | 1 | Pekahou Cowan |
| Pat Leafa | 2 | Nathan Charles |
| Paul Alo-Emile | 3 | Tetera Faulkner |
| Luke Jones | 4 | Sam Wykes |
| Lopeti Timani | 5 | Steve Mafi |
| Sean McMahon | 6 | Chris Alcock |
| Colby Fainga'a | 7 | Matt Hodgson (c) |
| Scott Higginbotham | 8 | Angus Cottrell |
| Nic Stirzaker | 9 | Alby Mathewson |
| Jack Debreczeni | 10 | Zack Holmes |
| Cam Crawford | 11 | Nick Cummins |
| Mitch Inman | 12 | Kyle Godwin |
| Tamati Ellison | 13 | Marcel Brache |
| Dom Shipperley | 14 | Luke Morahan |
| Mike Harris | 15 | Dane Haylett-Petty |
| | Reserves | |
| | | |
| Tom Sexton | 16 | Heath Tessmann |
| Cruze Ah-Nau | 17 | Chris Heiberg |
| Tim Metcher | 18 | Guy Millar |
| Sam Jeffries | 19 | Wilhelm Steenkamp |
| Jordy Reid | 20 | Brynard Stander |
| Ben Meehan | 21 | Ryan Louwrens |
| Bryce Hegarty | 22 | Luke Burton |
| Tom English | 23 | Patrick Dellit |
| | | |
| | | |
| Location: | AAMI Park, Melbourne | |
| Kickoff: | Friday 12 Jun 19:30 | |
| Referee: | Andrew Lees | |
| Assistant Ref 1: | James Leckie | |
| Assistant Ref 2: | Ed Martin | |
| TMO : | Peter Marshall | |