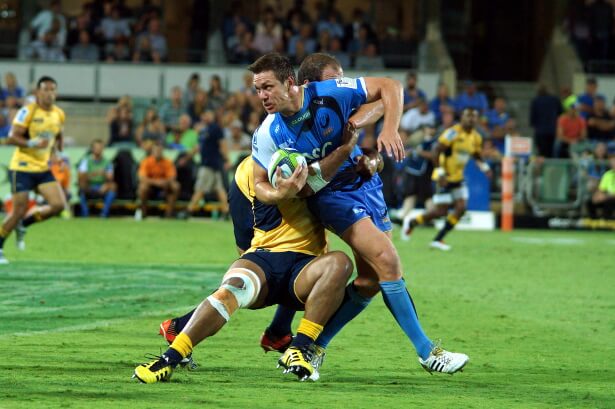 The Force go to Palmerston North knowing that they have beaten the Hurricanes just once in nine attempts and that was by one point at home in 2007.
And they probably recall the thrashing the Canes gave them in Perth last year.  But that's history; the Force will be more concerned about 2016.
James Marshall scoring one of five tries against the Force in 2015

The form
The Force lost a winnable game against the Rebels in high humidity in Perth, then had a good win against a hapless Reds' team, before showing poor discipline in Round 3 against the Brumbies at home, and losing comfortably.
Last year's finalists, the Hurricanes, got belted in Canberra to start their season, lost a squeaker to the Clan, the team that beat them in the 2015 final, but got their first win in Round 3 in another close game, against the Blues.
Neither team is scoring many points and that's because they are not scoring many tries. This is an old Force problem, but not one you expect from the 'Canes.  Lets hope that Hurricanes v Force produces a few more tries.
One scoring area where the Force has done better than the Hurricanes is kicking goals; but that dog won't hunt in Palmerston North because flyhalf Jonno Lance, who has a perfect record, is likely out for the season. Scrumhalf Ian Prior has to cover the new starting 10, Peter Grant, if required.
Winger Luke Morahan will be missing also, through foot soreness; so Marcel Brache has the delicious prospect of dealing with a large 'Canes winger, whose name I believe is Julian Savea.
But the 'Canes have their own injuries: brilliant winger Nehe Milner-Skudder is also crocked for the duration with a bung shoulder. Others unavailable are Goodes and Apisai through concussion, plus Proctor (knee) and Shields (thumb).
Matt Hodgson – has done more tackles than anybody else this season
Key Match-ups
Ardie Savea v Matt Hodgson
These two are like chalk and cheese. Hodgson, the old bull, is the European-type grafter who has made more tackles than anybody else in the tournament, but gets penalised a lot at the breakdown.
Savea, the young bull, is a pocket version of big brother and his family speed gets him early to the ruck. He has good anticipation and is strong at contact with the ball, or stopping bigger guys than he is, when they have it.
James Marshall v Dane Haylett-Petty
Fullback Haylett-Petty has been the form ball-runner in Super Rugby, even nudging Ben Smith in metres gained. The way he can plot a path through tacklers like the said Smith, is as though he is hooked up to Spidercam.  There is something else of the All Black in his play: the way he can make the right decision in real time.
Marshall is a quick utility player who can also play first- and second-five as well as fullback, but he is capable of brilliant action: the try he scored against the Highlanders last year was one of the best individual tries of the season.
 Adam Coleman (right) – could this be his year?
Lineout v lineout
The Hurricanes have a better lineout success rate but Adam Coleman has one of the highest lineout reception counts in the competition; so Blade Thompson and Mark Abbott will be targetting him.
This is the year when the giant Tasmanian has to make his move into Wallaby contention and we will looking at more than his lineout work in Palmerston North.
Prediction
This is the first game of three in NZ, in a row, for the Western Force; the next two are against the Chiefs and the Highlanders. They would have budgeted one win out of three, more as an exercise than anything, but I can't see any joy for them on Friday.
Neither team would be happy with how they sit on the ladder, nor with how they have played, but the 'Canes have the bloodlines.
It is ten years since the Western Force won their first game ever and it was in that Hurricanes' game mentioned above, in 2007.
One of my abiding rugby memories is of Tana Umaga on the sideline after being subbed, showing his delight for the Force when Cam Shepherd scored in the corner and afterwards converted the try to win the match. During the post-match interview it was as though his team had won the game instead of the Aussie team—what a class act.
However I am not expecting another fairy tale ending.
Hurricanes by 15
 Tana Umaga playing for Hurricanes v Western Force 2007 – a class act
Match details

Team lists
Hurricanes
Forwards – 1. C. Eves, 2. D. Coles, 3. J, To'omaga-Allen, 4. B. Thomson, 5. M. Abbott, 6. V. Fitita, 7. A. Savea, 8. V. Vito.
Backs – 9. TJ Perenara, 10. B. Barrett, 11. J. Savea, 12. N. Laumape, 13. V. Aso, 14. C. Jane, 15. J. Marshall.
Reserves – 16. R. Riccitelli, 17. L. Uhila, 18. B. May, 19. Michael Fatialofa, 20. C. Gibbins, 21. J. Gibson-Park, 22. W. Halaholo, 23. J. Woodward.
Force
Forwards – 1. P. Cowan, 2. N.Charles, 3. T. Faulkner, 4. R. Haylett-Petty, 5. A. Coleman, 6. A. Cottrell, 7. M.Hodgson (c), 8. B. McCalman.
Backs – 9. A. Mathewson, 10. P. Grant, 11. S. Masirewa, 12. S. Rasolea, 13. B. Tapuai, 14. M. Brache, 15. D. Haylett-Petty.
Reserves – 16. C. Heiberg, 17. H. Tessmann, 18. J. Ainsley, 19. S. Mafi. 20. B. Stander. 21. R. Louwrens. 22. I. Prior, 23. A. Nikoro.
Date : Friday 18 March 2016
Venue : CET Arena, Palmerston North
Kick-off: 19:35 local time; 17:35 AEDT
Referee: Paul Williams
Assistant Ref 1: Ben O'Keefe
Assistant Ref 2: Kane McBride
TMO : Shane McDermott
Stats by Opta Sports
.